Disclosure of Material Connection: Some of the links in this post may be "affiliate links." This means if you click on the link and purchase an item, I will receive an affiliate commission. Disclosure in accordance with the Federal Trade Commission's 16 CFR, Part 255. This site is a participant in the Amazon Services LLC Associates Program, an affiliate advertising program designed to provide a means for sites to earn advertising fees by advertising and linking to Amazon.
Environmentally Friendly Gifts
Do you need some eco friendly gift ideas for that special, green person in your life? Don't worry! I have come up with 20 super amazing gifts that everyone will love, mother nature included. What are you waiting for? Check them out!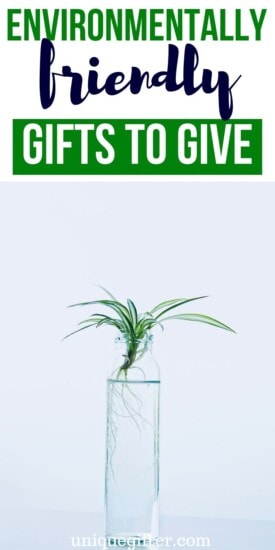 Reusable Storage Bags
Say goodbye to Ziploc sandwich bags, and check out this set of reusable storage bags! They come in a variety of sizes, and are even freezer safe!
Bee's Wrap
Plastic wrap, and aluminum foil are a great way to wrap and cover leftover foods, but they're not at all eco friendly. Bee's Wrap, on the other hand will do the same, and can be washed in cold water, and reused! It even comes in three different sizes!
Reusable Straws
This is the ultimate eco friendly straw set. First of all, the straws come in a handy pouch, to make traveling with them more hygenic. Second, there are a variety of silicone and stainless steel straws. And lastly, they include a cleaning brush!
Washable Grocery Totes
Reusable grocery bags can harbor dirt and bacteria if not frequently washed, however so many of them are not washable. These totes are washable, durable, and fold up for easy storage.
Produce Bags
Everyone thinks about bringing reusable grocery bags to the store, to tote their groceries home in, but what about all of those plastic produce bags that get tossed when you get home? These mesh produce bags are washable, durable, and well worth the money!
Biodegradable Paper Straws
Silicone and stainless steel straws are great, but these biodegradable paper straws don't require any cleaning!
Cloth Diaper Inserts
Some parents may be a bit picky on their cloth diapers, and inserts, but if not, this set is sure to help save both money, and the environment!
Reusable Swim Diapers
Reusable swim diapers are an excellent gift for someone with a little one still in diapers!
Bamboo Towels
Who would've thought that paper towels could be reusable? Well, these bamboo towels can replace ordinary paper towels, and can be washed and reused!
Biodegradable Trash Bags
Trash is inevitable! Fortunately, these trash bags are compostable!
Washable Bamboo Cotton Rounds
Cotton rounds have so many purposes! Take a look at this set of bamboo cotton rounds, that can be tossed into the washer.
Compostable Coffee Cups
These compostable coffee cups are great for on the go, when it isn't convenient to carry a tumbler around.
Scrubbing Gloves
Sponges get tossed after use, but these gloves will not! They have scrubbers on the palm, and can easily be washed after each use.
Compostable Tableware
This set includes all that would be necessary for a picnic, or a meal, while camping! Best of all, it is fully compostable!
Biodegradable Toothbrushes
Biodegradable?! Yes, pleases! These toothbrushes are available in both child and adult sizes.
Reusable Wet Bags
Many people use wet bags for cloth diapers, however they are also great for transporting other wet items like shoes, and swim gear!
Biodegradable Poo Bags
Dog lovers may just get a bit more excited about these biodegradable poop bags than you would think!
I hope you have enjoyed these fantastic environmentally friendly gifts! They are all lovely and a great way to keep our world in great shape.