Disclosure of Material Connection: Some of the links in this post may be "affiliate links." This means if you click on the link and purchase an item, I will receive an affiliate commission. Disclosure in accordance with the Federal Trade Commission's 16 CFR, Part 255. This site is a participant in the Amazon Services LLC Associates Program, an affiliate advertising program designed to provide a means for sites to earn advertising fees by advertising and linking to Amazon.
Terrific Tomb Raider Gifts
Tomb Raider. One of the most iconic video games in all of creation. Lara Croft has been exploring tombs and gunning down baddies for over two decades and with the reboot breathing fresh air into the franchise, I highly doubt that the game series is going anywhere anytime soon!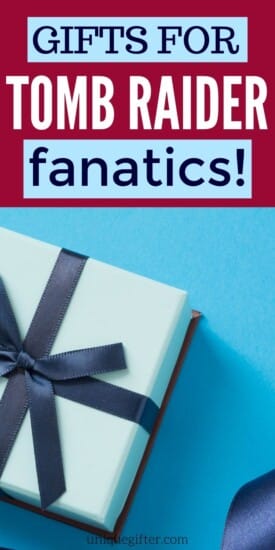 Raiding For Gifting Treasures
There are fans out there that have been following the game since its initial release from way back in 1996 and when a franchise has such a devoted fanbase, it stands to reason that there is going to be an absolute ton of merchandise. With all of this stuff floating around, how are you supposed to find that perfect present? That's where I come in! Here are 20 terrific Tomb Raider gifts!
Classic Lara Croft Funko Pop Figure
I'm fully aware that there is a version of the updated Lara Croft but there's really no beating the classics, right? Any Tomb Raider fan worth their salt would adore this collectible sitting proudly upon their shelf!
Alternate Tomb Raider Video Game Poster
Sure, the authentic video game poster designs are pretty decent but check out this awesome artwork. Your loved one is certain to hang this one up immediately so it can be met with equal parts admiration and envy.
Tomb Raider Glass Candle
This one is pretty nifty. It's not every day that you see candles based on video games but Numskull manages to pull it off with quite a rad effect!
Lara Croft's Necklace
Do you know anyone that admires Lara Croft's necklace from the newer Tomb Raider games? Give them the gift that they really want with this absolutely superb replica!
Lara Croft Style Shorts
I'm sure that some of you have that fan in your life that's looking to complete that awesome Tomb Raider cosplay right? I've got you guys covered as well! These shorts are nearly identical to the ones that Lara Croft herself sports in the series.
Ice Axe Keychain
One of the cooler accessories from the newer games, this ice axe keychain is a must-have for the majority of fans out there. It is also way bigger and far more detailed than you'd imagine at first glance!
Tomb Raider Glass Night Lamp
Some of the coolest gifts are custom made and this lamp is definitely no exception! Laser etched and featuring Lara Croft suspended in the center of the glass globe, this one is definitely a new and unique addition to your fan's collection.
Tomb Raider Collectible Bust
A very cool collectible here. A very detailed statue of the revamped Lara Croft. Standing 5.5in tall and just itching to fill that empty spot on your fan's shelf!
Lara Croft Minifigurine
Do you have a fan on your hands that loves Tomb Raider and Legos? You've got the perfect gift for them with this sweet little Minifig!
Tomb Raider Omnibus: Volume One (Paperback)
This collection from Dark Horse takes place after the events of 2013's Tomb Raider reboot. If the fan in your life is curious about the events that transpired after that situation, it's time to put their mind at rest about it!
Tomb Raider Wall Clock
This unique wall clock design is made from reclaimed vinyl records and features the Femme Fatale herself! With this hanging on your fan's wall, they'll always know that no matter what time it is, it's always Tomb Raider time.
Tomb Raider Wall Scroll
I'm personally a fan of well done wall scrolls and this one is definitely no exception. Featuring Lara with her infamous bow, the art is sure to capture a fan's adoration immediately.
Tomb Raider Lamp
Even room decor isn't safe from the influence of hit video games! This lamp is made of sturdy metal and features art from the new Tomb Raider games. You are guaranteed to nail it with this one.
Ice Axe Replica Kit
Just in case the ice axe keychain wasn't quite up to speed with the gift you wanted to give, I've found this wonderful replica as well! With 1:1 scaling, it's as close to the real thing as you're going to find.
Shadow Of The Tomb Raider Knife Replica
Since we're on the subject of replicas, I've also stumbled upon this beauty here. This is a replica of the makeshift knife from Shadow Of The Tomb Raider and it's incredibly detailed and quite an awesome gift for any fan of the series!
Rise Of The Tomb Raider: The Official Art Book (Hardcover)
If you've ever played the games, you're fully aware of the amazing environments that the developers drop you in. Those awesome graphics have to come from somewhere, right? This hardcover book guides you through all of the art from the Tomb Raider games!
Tomb Raider Legends: The Board Game
Whether it's to stay in the box as a collectible or a reason to gather friends for game night, this board game is sure to be a cherished gift. With over a dozen areas to discover and threats from other players, animals, and traps, this gift is sure to make for a thrilling family game night!
Shadow Of The Tomb Raider: Definitive Edition (PC, Xbox One, PS4)
How could I create this list without including the latest Tomb Raider video game? Beloved by fans and critics alike, the latest installment is sure to keep the fan in your life busy for hours!
Well, we've raided the tomb of gifts and we've plundered quite a few treasures! I'm certain that there's a few things on this list that your fan can't live without. Maybe you're a Tomb Raider fan also and you picked up an item or two for yourself? Feel free to give us a shout and let us know on Twitter (@ugifter) or Instagram (@uniquegifter) and thanks for checking out 20 Terrific Tomb Raider Gifts!