Disclosure of Material Connection: Some of the links in this post may be "affiliate links." This means if you click on the link and purchase an item, I will receive an affiliate commission. Disclosure in accordance with the Federal Trade Commission's 16 CFR, Part 255. This site is a participant in the Amazon Services LLC Associates Program, an affiliate advertising program designed to provide a means for sites to earn advertising fees by advertising and linking to Amazon.
A cooperating teacher is the best person in a student teacher's career life. They are the people who help other people make a difference, and in that respect, they make a huge difference of their own. If you are looking for a gift for a cooperating teacher, as either their student teacher or simply because you want to. Check out these gift ideas for cooperating teachers!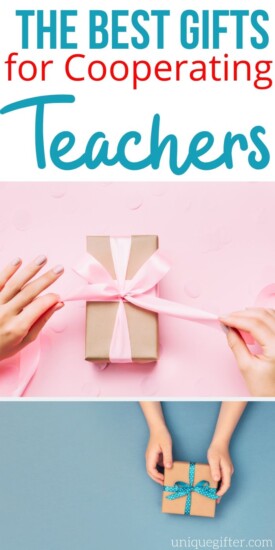 Thoughtful Gift Ideas for Cooperating Teachers
Browse through some of our mentorship in education inspired gift ideas! These are a great send off gift if you're finishing your program, or just want to show your mentor you notice their passion.
"You make a difference" Cuff Bracelet
They have made a huge difference in your life and many others along the way.
"The influence of a teacher can never be erased" Soy Candle
The influence of a teacher is something that can never be erased. I know that I still remember my teachers and the impacts that they had on my life, most for the good!
Kind Quote Pencil Case Organizer
This small but sweet gift doubles as a pencil case and organizer! It let's them know just how much they help you grow and develop in the start of your teaching career.
Golden Apple Award Gift Idea
This is the golden apple award! It's a sincere gift you can present to the one person who made all of the difference in your mentorship.
Teachercorn Funny Mug
This hilarious mug celebrates the 'Teachercorn", a kind of mythical, all-knowing and inspirational being. Sound familiar? Gift one of these to the teacher who left the biggest impression on you during your mentorship.
Inspirational Teacher Tee
This t-shirt is the perfect gift for a teacher who embodies everything it means to be a great educator. Especially if it's the kind of example you want to set in your very own teaching career.
"A great mentor is hard to find, difficult to part with, impossible to forget" Personalized Mug
Great mentors are hard to find and difficult to part with. One thing is for sure, you will always carry the lessons they taught you with you as you move onto the next part of your life.
"A lot of people have gone further than they thought they could because someone else thought they could" Quote Notebook
Because of your cooperating teacher, you will go much further in your career and life. Let them know what a huge impact they have had on both, with this quote notebook.
"To teach is to touch a life forever" Printable
When a teacher teaches, they touch a life forever. As I mentioned earlier, that impact stays with them for a long time, possibly even their whole lifetime.
"Thank you for helping me grow" Tree Necklace
They helped you grow, and now they can wear that knowledge proudly around their neck.
"Best. Mentor. Ever." Mug
They certainly are the best mentor ever, and the best mentor to impact you.
Teacher Appreciation Basket
If you still can't find the "right" gift, a Teacher Appreciation basket with bath salt, candles, lip balm, and soap that all smell amazing.
"Teaching creates all other professions" Mug
A cooperating teacher teaches their student teacher, who goes on to teach children and they go on to serve the world.
Custom Pet Portrait Tote
If your cooperating teacher loves their pet, a custom pet portrait of their very own on a tote will make carrying around all the stuff they need to carry even more fun.
Monogrammed Makeup Bag
With the monogrammed makeup bag, they can carry their makeup in personalized style.
"Soul Model" Mug
They are your role model, but also your soul model.
"You're the best leader ever" Printable
They are really the best leader ever, and have influenced you as a teacher in so many ways. Print this up and frame it for them to hang on the wall.
"Readers are leaders" Shirt
The best leaders are ones who have read books along the way to strengthen their knowledge.
Imagine the surprise they will get from everyone who sees their beautiful pen! It would be perfect to pair up with the quote notebook or the clipboard, or even both too.
The gift that your cooperating teacher will love is just beyond your fingertips. They have given you so much, a nice gift is a great way to show them how much you appreciate that.