Disclosure of Material Connection: Some of the links in this post may be "affiliate links." This means if you click on the link and purchase an item, I will receive an affiliate commission. Disclosure in accordance with the Federal Trade Commission's 16 CFR, Part 255. This site is a participant in the Amazon Services LLC Associates Program, an affiliate advertising program designed to provide a means for sites to earn advertising fees by advertising and linking to Amazon.
Check out this amazing list of gifts to learn coding for kids. With the future being so technologically driven, it's important to introduce kids to coding as easy as possible. These gift ideas are perfect for kids who are interested in coding or ones you want to get excited about it.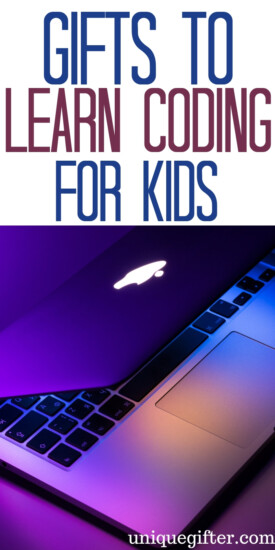 Useful Gifts To Learn Coding For Kids
Make learning fun with any of these presents.
Kano Computer Kit
Building your own computer has never been so accessible or fun! This kit has everything kids need to create working computer all on their own.
Code-a-Pillar
Perfect for the littlest coder in your life. This caterpillar can be assembled differently and carries out a sequence of actions based on how you put together its body. Pretty cool!
How to Code Book
If you'd rather them coding on the computer this book is a great place to get them started. The lessons are kid-friendly, so they'll be able to do everything on their own.
Sphero Robot
These little robots are great STEM support. You can program this robot across multiple platforms, and it's even waterproof!
Kids Coding Set
This set is great for younger kids. It introduces them to the basics like sequencing and uses AR technology to bring it all to life.
Bloxels
This uses a combination of pixel art and coding to help kids create their own video game levels. Create the scene with the Bloxels then play the level on your tablet.
Programming Board Game
If you're looking for a low-tech coding gift that you can use together this game is the answer. Kids can practice their programming logic and coding skills in a fun way.
Little Bits
Do they like inventing as much as coding? Little Bits lets kids build their own inventions and program them through the app.
Coding Doll
The companion app lets kids program this doll to undertake exciting adventures and missions while they learn to code. Other dolls fit the scooter too if your kid has a favorite.
Cubelets
These modular robots are easy for kids to use and put together. Each one has a different function that makes the robot behave in different ways.
Coding Watch
This kid-friendly watch lets kids stylishly practice their coding. What's great about this wearable technology is it has them coding in C++, not a drag and drop language.
Osmo
A great way to have a more hands-on approach to coding. Set up your code on the table with the tiles then see it in action on your tablet screen.
Boolean Box
Another computer kit but this one plays Minecraft. It also comes with their own lessons so kids can keep working on their coding after the kit is complete.
Bee Bot
Great for groups, classrooms, and young kids. Beebots are programmable and have a bunch of mat options so kids can learn to sequence.
Mouse Robot
A bit like the BeeBots, you have to program this mouse to navigate the maze. It's kind of a game and learning activity rolled into one.
Root Robot
If you have access to a 3D printer, this robot can be accessorized, or you can feed markers through it to have it create art on the included whiteboard.
Wonder Workshop
This kit has all kinds of options to make it a complete STEM learning kit for kids. The little robots and included activities will keep them busy for hours having fun and learning to code.
My First Coding Book
Get youngsters off to the right start by introducing coding with a book like this. These puzzles and games require no new technology to use.
Makeblock Robot
The little pet robot has hundreds of emotions and a bunch of different sensors. It's also Lego compatible for extra fun.
Ultimate Coding Kit
Go big or go home with your coding gift. This kit has everything they need to get started coding in 10 minutes and kid-friendly step by step instructions. You'll have a little programmer in no time.
Exposing kids to coding early on will give them an advantage, and these gifts to learn coding for kids is a perfect way. As someone who codes myself, I know how critical these skills are.