Disclosure of Material Connection: Some of the links in this post may be "affiliate links." This means if you click on the link and purchase an item, I will receive an affiliate commission. Disclosure in accordance with the Federal Trade Commission's 16 CFR, Part 255. This site is a participant in the Amazon Services LLC Associates Program, an affiliate advertising program designed to provide a means for sites to earn advertising fees by advertising and linking to Amazon.
Have yourself a little mariner on your hands? Then these sailing gifts for kids are going to make them pretty excited! But really, what kid isn't interested in sailing?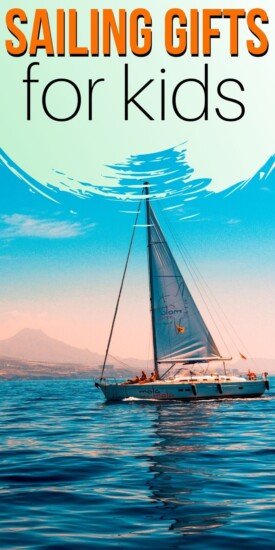 Sailing Gifts for Kids
Whether they're out on the boat or just a sailing enthusiast, kids are going to love these gift ideas. Because you're never too old, or too young, to love sail boats.
Learning to Sail Book
The first step to riding on a sailboat is actually learning how to sail. This book is perfect for kids to get started and learn the basics.
Sailing shirt
Kids are probably going to love any kind of sailing shirt you get them, let's be honest. But getting something like this will at least make the adults in their life laugh too.
First Sail Book
This cute picture book will help younger kids learn the ropes of sailing. Pun intended.
Sailboat Hat
The sun can be bright when you're out on the water so make sure little ones have hats on when you set sail. Bonus points for sailing hats that have sailboats on them.
Life Jacket
Speaking of things kids should wear while sailing, make sure your sailing gifts for kids include a life jacket. They should always be wearing one while on the boat!
Compass
Not only is it fun to play with, a compass is perfect for young sailors to work on their navigating skills.
My First Book of Knots
One of the most important things a sailor must know is their knot tying. Anything to do with knots makes perfect sailing gifts for kids.
Toy Sailboat
For babies who are too young to sail you can always get them their own toy sailboat. This would be cute in a nautical room too.
Sailboat Bedding
Kids love to have whatever they're interested on their bedding. Don't disappoint them – pick up this adorable sailboat bedding for your nautical obsessed kid.
Ship and Boat Coloring Book
There are so many types of cool sailboats out there! Kids will love coloring them all in this fun themed book. You can even add it to a gift basket with some art supplies.
Sailor's Alphabet Print
This adorable print comes framed and ready to hang in your kid's room. If you're looking for decorative sailing gifts for kids this is a perfect choice.
Sailor Costume
Being a sailor might mean more than looking like one but that doesn't mean kids won't have fun looking the part. An adorable addition to the dress up box.
Ship in a Bottle
The classic ship in a bottle! This set is kid-friendly and comes with everything they need to build their very own ship in a bottle.
Little Boat Board Book
This is more for the parents, let's be honest. A cute, baby and toddler friendly introduction to sailboats and perfect for sailing enthusiast families.
Knot Tying Practice Set
If kids are interested in learning knot tying this would make be a perfect kids sailing gift idea. It comes with different colored rope and helpful cards to practice with.
Kids' Binoculars
What kid isn't delighted by a pair of binoculars? Not only are they fun to play with they're also great to have while sailing. Binoculars are perfect sailing gifts for kids because they can actually learn some practical navigation skills while using them.
Nautical Bag
Cute on their own as a kid sized tote bag or to wrap up your sailing gifts for kids inside of.
Whether it's a baby or an older child, sailing gifts for kids are going to be a hit with young nautical lovers and sailboat enthusiasts.