Disclosure of Material Connection: Some of the links in this post may be "affiliate links." This means if you click on the link and purchase an item, I will receive an affiliate commission. Disclosure in accordance with the Federal Trade Commission's 16 CFR, Part 255. This site is a participant in the Amazon Services LLC Associates Program, an affiliate advertising program designed to provide a means for sites to earn advertising fees by advertising and linking to Amazon.
Ghoulish Gift Ideas For Tim Burton Fans
Millennials had it pretty good growing up. We most definitely had the best cartoons and movies as children, and Tim Burton had a huge part in why we had so many awesome things to watch. From the iconic Nightmare Before Christmas to Pee Wee's Big Adventure, and everything in between – everyone in our generation loves at least one of his movies! And that's why you're here. You've got a die-hard Tim Burton fan you need to shop for and we've found the perfect gift for them!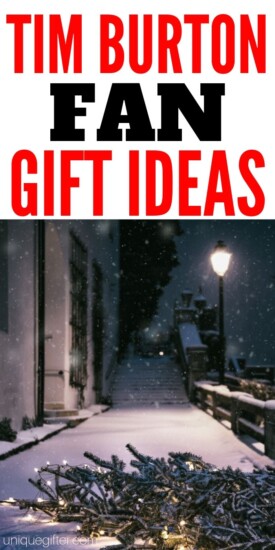 Gifts For Anyone Who Loves Tim Burton
We're excited to show you what we found so let's get started!
The Nightmare Before Dinner Cookbook
Yes, there is a burger called "Edward Burger Hands" and it sounds delicious.
The Art of Tim Burton
This book contains over 1000 illustrations by your fan's favorite artist! Over forty years of work!
Beetlejuice Statue
Standing at almost 5 inches tall, this gross booger of a character plays audio clips and is sure to bring a smile to any fan's face!
Tim Burton Movie Collection
This collection includes a whopping SEVEN of Tim Burton's best movies! What's even better is that all of the movies are good, so this find is a steal!
Mars Attacks T-Shirt
This officially licensed t-shirt is a must-have for any true Tim Burton fan!
Corpse Bride Poster
A poster is a perfect gift for fans of any age and this one is gorgeous!
Edward Scissorhands Necklace
Edward Scissorhands passes the test of time with flying colors. This necklace would be a most welcome addition to any fan's collection!
Large Marge Retro T-Shirt
This shirt is a nod to one of the most memorable moments from Pee Wee's Big Adventure. It may give them nightmares, but that's a price we're willing to pay.
Minimalist Style Movie Art
This art bundle includes six prints in the elegant minimalist art style. This set is gorgeous!
Tim Burton Character Commission
For a small fee, you can get an artist to draw a portrait of your fan in the likeness of their favorite art style. No doubt you'd win best gift award with this one.
Handbook For The Recently Deceased
From Tim Burton's Beetlejuice! One day we all must own this book, so give your fan a head start thanks to Amazon!
Mars Attacks Decorative Pillow
This totally-not-scary-at-all Martian is looking for a place to crash and we think he'll feel perfectly at home on your favorite Tim Burton fan's couch!
The Melancholy Death of Oyster Boy & Other Stories
Not only does the man of the hour create amazing films, he also writes books! These stories will allow your fans to spend hours with their favorite creator!
Queen of Hearts Funko Pop!
No, Alice in Wonderland isn't an original Tim Burton, but he did create the best film based on the stories, though. And the Funko Pop collectibles are inspired by his movies – that's why they look so cool!
Edward Scissorhands & Kim Decal
This adorable vinyl decal is the perfect way to decorate any fan's laptop or car!
Wooden Spoon Set
What's cooler than these wooden spoons? They are awesome and make a fabulous gift idea.
Cosmetic Bag
Carry cosmetics and other small items in this terrific bag.
Jack Skellington Pumpkin
You will enjoy some hot chocolate or tea out of this unique mug.
Nightmare Before Christmas Tumbler
Take your drinks on the go in this incredible tumbler!
Nightmare Before Christmas Zero Apron
Spending time in the kitchen is even more fun when you are wearing this terrific apron.
A ton of awesome stuff, right? If you absolutely had to grab something from our guide, let us know what you got on Twitter (@ugifter) or Instagram (@uniquegifter)! We
love hearing from our readers!