Disclosure of Material Connection: Some of the links in this post may be "affiliate links." This means if you click on the link and purchase an item, I will receive an affiliate commission. Disclosure in accordance with the Federal Trade Commission's 16 CFR, Part 255. This site is a participant in the Amazon Services LLC Associates Program, an affiliate advertising program designed to provide a means for sites to earn advertising fees by advertising and linking to Amazon.
Aloha! Though Lilo and Stitch may have come out almost 20 years ago (yes you're reading that correctly), it still has a special place in many hearts. Stitch may be mischievous but he is always lovable and a very popular character to boot.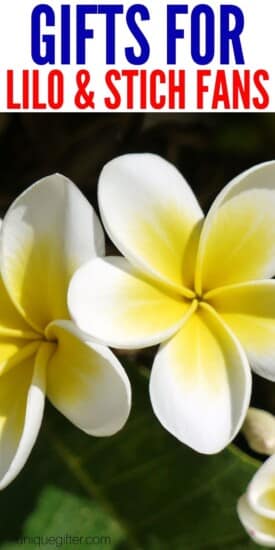 Best Lilo and Stitch Gift Ideas
Look at these great gifts below to see the Best Lilo and Stitch Gift Ideas!
"You're My Ohana" Necklace
A great present for a loved one to remind them they are family. An elegant accessory for everyday wear.
Lilo and Stitch Mickey Ears
Perfect for showcasing your favorite movie in the parks. Wear them to dinner at Ohana or a trip to Aulani!
Personalized Stitch Charm Bracelet
A cute stitch charm that can be customized for the wearer. Cute for women of all ages!
Stitch Spirit Jersey
Comfy and cute! A great way to show your Stitch spirit.
Stitch Car Decal
This sticker will look so adorable on any car. Might help them find their car in a parking lot quicker too!
Stitch Hoodie
Great quality with an even better character on the front! Good for the friend who won't leave the house now that Disney+ is out.
Lilo and Stitch Knotted Headband
Perfect for that tropical vacation or an added pop to your daily outfit. All the convenience of a headband with the style of a bandana.
Lilo and Stitch Mini Bath Bomb Set
A relaxing gift with a crazy cute theme! The attention to detail is sure to wow your gift recipient.
Crocheted Scrump Doll
A perfect replica of Lilo's cutest friend (besides Stitch of course). It can also be made to be baby-friendly.
"Just Do It Later" Stitch T-Shirt
A t-shirt made for lazy days in. And how adorable is Stitch in his nightcap?
Stitch Family Mug
"This is my family. I found it all on my own. It's little and broken, but it's good." A sweet sentiment to start your morning with.
Ohana Means Family Sign
Ohana means no one is left behind or forgotten! Make sure to hang this in a living room or family room.
Stitch iPhone/Samsung/Pixel Case
Fourteen different designs to choose from! Each one more adorable than the last. The hardest part is choosing which one!
Lilo and Stitch Bedding Blanket
This blanket is "beyond cool"! From cribs to comforters, this blanket can work for anyone.
Stitch Earrings
Instead of wearing your heart on your sleeve, wear your favorite character on your ear! That was a stretch, but these earrings are a must-have.
Lilo and Stitch Low Top Sneakers
In men's and women's sizes! It can work for Disney bounding or ordinary wear.
Experiment 626 Infinity Scarf
Add a dose of Stitch to your wardrobe and stay warm too! May infinity scarves never go out of style.
Lilo And Stitch Bedding
Sleep in pure comfort when you have a lovely Lilo and Stitch bedding set.
Lilo And Stitch Backpack
This adorable backpack is great for any Lilo and Stitch fan.
Lilo and Stitch Nightlight
These nightlights are just plain awesome! They come with a remote and change to all sorts of colors.
'Ohana' means 'family.' 'Family' means 'no one gets left behind.' Make sure no one gets left behind with all these great gifts! Let us know which one is your favorite below.