Disclosure of Material Connection: Some of the links in this post may be "affiliate links." This means if you click on the link and purchase an item, I will receive an affiliate commission. Disclosure in accordance with the Federal Trade Commission's 16 CFR, Part 255. This site is a participant in the Amazon Services LLC Associates Program, an affiliate advertising program designed to provide a means for sites to earn advertising fees by advertising and linking to Amazon.
When you need some toys that begins with the letter K, there are many to choose from. Keys, kickball, king, and kitchen are just a few words that start with the letter K that can also make awesome toys. Check out some of the other ideas in the list below! I will share a variety of toys by different age groups. Make sure to scroll through and find the perfect gift that little one in your life. If the loved one in your life happens to be an adult, we got you covered there too.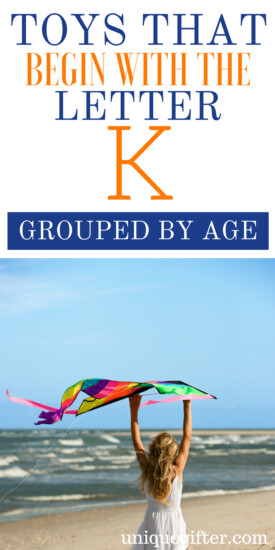 Find more toys for the rest of the alphabet:
20 Toys that Begin with the Letter K for Ages 2-5
If your kiddo has a letter theme at their school this week or you are teaching them about certain letters, and the letter happens to be K, this list is for you. It has so many toys that begin with the letter K. From kites, to keyboards, to keys, and more. Check them all out below.
Kite Shaped Like an Octopus
Children of all ages can enjoy this kite shaped like an octopus as it flies through the sky.
Keyboard Playmat
This large 71" keyboard playmat will have your kiddo making music for hours. They can dance, walk, stomp, jump, and more on the playmat to create musical notes.
Keychain Flashlight
While this "toy" requires more supervision than some, a keychain flashlight can help your kiddo overcome fear of darkness or just have fun in the dark in general.
Kids Musical Instruments
Ready for the house to be full of music? This kids musical instruments set is a great choice!
Kick Scooter with Removable Seat
Whether they want to sit and ride, or stand and ride, the kick scooter with removable seat fits their desires.
Kick & Learn Soccer Ball
What could possibly be better than learning while you kick a soccer ball around? After all, play is the best way to learn!
Keywind Musical Stuffed Dog
Yet another musical toy that starts with the letter K, this keywind musical stuffed dog can keep them company when they need it.
Kiss Fish Soother
Baby or toddler, either way sometimes they need a little extra soothing, and that is where this kiss fish soother comes in handy.
Kitchen Set Compact Toy
This compact kitchen set will have your kiddo baking and cooking up a storm!
Kids Piano
If the keyboard playmat doesn't fit your needs, then your kiddo can enjoy playing this kids piano instead.
Keys to the Kingdom Toy Keys
Your little prince or princess would love to have keys to the kingdom!
Kissing Lips Funky Retro Party Shades
Oooh, how fun are these kissing lips funky retro party shades? For dress-up, parties, or just being silly, these sunglasses will be fun for them to wear.
Kate and Mim Mim Magic Twirl Talking Plush Toy
The Kate and Mim Mim magic twirl talking plush toy can also keep them company, because it can talk to them.
Kidoozie Shape N Lock Barn
Help them learn and sort shapes with the Kidoozie shape n lock barn.
Kids Bowling Set
They will spend hours trying to knock over all of the bowling pins, as long as they don't get distracted before it happens.
Kennedy Children Wooden Puzzle Toy Dinosaur
Puzzles are such a great way for young children to learn, and even fun for adults too. Help your child learn and have fun with the Kennedy children wooden dinosaur puzzle.
Know-it-All Educational Nature Books
Know-it-all may have a negative connotation, but learning about nature is always fun and such a great idea.
Kids Binocular Set
You can even pair this kids binocular set with the nature books above so that they can study animals without getting too close!
Kate Rainbow LOL Doll
A kid can never have too many dolls!
Kickity Baby Toy
This kickity baby toy will allow your toddler to explore how things work, such as cause and effect.
As I discovered more and more toys that began with the letter K, I became aware of how many amazing and exciting toys there were!
Toys that Begin with the Letter K Ages 6-8
Keys & Cars Wooden Rescue Vehicle & Garage Toy
This keys & cars wooden rescue vehicle and garage toy will keep any kid who is interested in cars entertained for awhile.
Kick Scooter
Kick scooters are great for playing on their own, or with their friends who also have a scooter or bike. When I was a kid, I would pretend my scooter was a dog sled and I had dogs pulling me through the neighborhood, it is one of my fondest memories.
Kid Digger Toy Backhoe
They can use this kid digger toy backhoe in the backyard, at the beach, in a sandbox, or wherever else it will work. It is even more fun because they can actually sit on it and feel like they are driving a backhoe or excavator.
Kendama Toy
They can practice hand-eye coordination, agility, balance, and more with their very own Kendama toy.
Kickback Soccer Goal and Pitch Back
Now they can play soccer anywhere with this kickback soccer goal and pitch back.
Key Education Sentence Building
Help them learn key education sentence building with this set of cards.
Kion Lion Guard Plush
Kion is a new character, but there are also Kiara and Kovu too.
Kingdom Hearts Sora Figure
This Kingdom Hearts Sora figure is a great K toy choice if your kid is into the game.
KISS Buildable Figures
Whether you are into KISS, or they are, they can have a ton of fun with their very own KISS buildable figures.
Kitchen Toy Set
A kitchen toy set is a classic toy for all ages and has the potential to help them learn how to cook and prepare food as well.
King Crown
Your kid needs a king crown to add to their costume collection, or for other pretend play too.
Kids bowling sets are super fun to play in the hall at home, especially on rainy days.
Knot-A-Quilt Pattern Kit
They can learn more about knitting with this Knot-a-Quilt pattern kit.
Kung Fu Panda Funko Bobble Head Toy
Bobbleheads are awesome, and Kung Fu Panda was a great movie, why not combine the fun of both?
Kids Mermaid Sequin Purse
For dress up, or when going somewhere, a kids mermaid sequin purse will make the best accessory.
Knuckles Sonic the Hedgehog Action Figure
Knuckles from Sonic the Hedgehog action figure can bring hours of fun and action into their lives.
Knot Ball Pillow Plush
How awesome would this knot ball pillow plush look in their room?
Kung Fu Panda Po Plush
A Kung Fu Panda Po plush can keep them company wherever they go.
KidKraft Vintage Kitchen
This KidKraft vintage kitchen is great for the kiddo who is interested in playing house or likes to pretend cook.
Kari the Kangaroo 3-Foot Plush
Kari the Kangaroo is a giant plush who can keep them company, cuddle with them, or provide a pillow when they need it.
K is a fun letter, as you can see from this long list! Which one draws your attention the most for your child?
20 Toys that Begin with the Letter K for Ages 9-12
Kick, kite, king, and more, are all awesome letter K words, which means that there are some awesome toys that begin with the letter K. You will find many of them here, but this isn't all! Check out this super cool list:
Kick Scooter
Kick scooters are something that were popular nearly twenty years ago, when I was this age, and they are still great fun for kids of all ages.
Kaskey Kids Baseball Guys
If they love baseball, they will certainly love the Kaskey Kids baseball guys set.
Kickball Official Regulation WAKA Ball
The Kick Off team soccer game just might help them learn more about playing as a team, soccer, and having fun too.
Kaboom! Explosive Combustion Science Lab Kit
Oh my, something that goes kaboom! An explosive combustion science lab kit might help them gain more passion for science, and kids can always use that! Here some gift ideas if you're a science nerd too.
Klutz LEGO Chain Reactions Craft Kit
With the Klutz LEGO chain reactions craft kit, they will learn more about cause and effect.
Kimicare Kitchen Toys Fun Cutting Fruits and Vegetables Playset
You can't have a list of toys that begin with the letter K without something kitchen-themed, right?
Kidizoom Smartwatch by Vtech
The Kidizoom smartwatch by Vtech is great for taking pictures, learning how to tell time better, playing games, and encouraging your kid to be more active.
Klutz Make Your Own Mini Erasers
Now your preteen child can learn how to make their own mini erasers with the Klutz craft kit at hand.
KidKraft Tasty Treats Play Food Set
Play food isn't just for young children, older children can have fun with it too, and this KidKraft set has a lot of tasty treats in it.
King Pig with Angry Birds Magic
Perfect for pairing with the app and game, the King Pig helps them do even more.
Knuckles Plush
Knuckles from Sonic is a cool guy!
King Kong of Skull Island Action Figure
My nephews love King Kong of Skull Island, and what could be better than actually having an action figure of King Kong?
Kim Possible Costume
Kim Possible might be an old show, but if your kid watches reruns, they will love being able to dress up as Kim.
King Kool Inflatable Lounge
The King Kool inflatable lounge makes pool time even more fun.
Kingdom Hearts Sora Sword Pewter Keyring
If they are carrying a house key around and love Kingdom Hearts, they definitely need a Sora sword pewter keyring.
Kung Fu Panda- Tigress Figure
Tigress from Kung Fu Panda is fierce!
Kingdom Hearts 2 Master From Yellow Sora Action Figure
If the keyring isn't attractive enough, then the Kingdom Hearts 2 master from yellow Sora action figure just might be.
Kung Fu Panda 2 Fierce Fighting Po Figure
Oh, how strong and fierce Po looks!
K'NEX K-Force Dart Pack and Target
Shooting darts is fun for your preteen, and now they can practice with a target and have more darts because, let's face it, they get lost easily!
Knight with Crest Figure
A knight with crest figure is the perfect way to end this list. This figure has the potential to teach them to keep fighting and to stay strong, no matter what life throws their way.
As you can see, the letter K is pretty fun for preteens. So many great choices here and so many more to choose from too!