Disclosure of Material Connection: Some of the links in this post may be "affiliate links." This means if you click on the link and purchase an item, I will receive an affiliate commission. Disclosure in accordance with the Federal Trade Commission's 16 CFR, Part 255. This site is a participant in the Amazon Services LLC Associates Program, an affiliate advertising program designed to provide a means for sites to earn advertising fees by advertising and linking to Amazon.
Never again will you face difficulty settling on the right gift for your plumber. Have a look at some of these gift ideas for plumbers and you will find something useful and in line with your personal taste. We also have gifts for your carpenter and mechanic.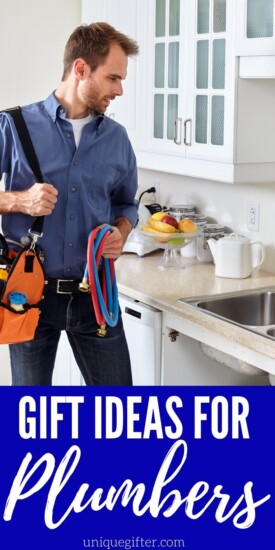 Here is a favorite list
So you can let them know you're thankful. 
1. Customized Leathercraft
The removable metal frame partition will slide to customize storage needs. In addition, the multi-use pockets will make it easier to organize a broad range of tools and accessories.
Custom LeatherCraft Tool Box
Buy Now
2. Kneeling Pad
Ideal because of the frequent kneeling. The shock absorption and cushioning properties will protect the knee from any aches.
Extra Large Kneeling Pad
3. Adjustable Wrench
This gift should be a top priority. The fact that it is adjustable means it comes handy when performing some repairs.
Apex Slide Adjustable Wrench
4. Multi-Function Hack Saw
This gift will assist in performing some cuts, including flush and jab. Its multi-function feature gives it more flexibility and room for adjustment depending on the assignment at hand.
Metal Hacksaw Set – Black
5. Safety Glass
The safety glass protects the eye when working in an outdoor environment. In addition, the glass protects against UV rays. Help them keep their eyes protected from pieces of metal that may come down unannounced.
Dewalt Protective Eyeglass Sleeve
Buy Now
6. Magnetic Torpedo Level
Enhance the plumber's accuracy with this gift. The level is able to reflect ambient light and aid easy reading in an environment with insufficient light.
Johnson Magnetic Torpedo Level
7.Pipe Clamp
Another thoughtful gift. The handle provides easier clamping with less hand fatigue
IRWIN Pipe Clamp
Buy Now
8. Tape Measure with Magnetic hook
A tape measure is to a plumber what a pen is to a student. Critical for taking measurements and has bold numbers for clear readability.
Etronic Tape Measure
Buy Now
9. Plumbers Kit
Everything the plumber needs! The kit contains almost all the tools required by a plumber.
Milwaukee Plumber's Kit
Buy Now
10. Support-Crew Sock
Plumbers need socks for all day comfort. The socks have great cushioning that protects high-impact areas around the foot. Apart from an anti-odor technology, the socks also have a moisture system that absorbs sweat.
Under Armour Socks
11. Work Gloves
The plumber will be prone to injuries around the palm and at the fingertips. With working gloves, you will help reduce those risks. The glove is adjustable and helps in securing the palm of the hand.
 Superior Tool Lighted Plumbers Work Glove
Buy Now
12.Plumbing Guidebook
If you are considerate enough, you can get the plumbing ultimate guide. This is an expanded plumbing book, covering the latest products and techniques.
Ultimate Guide: Plumbing (Paperback)
13. Plumber belt buckle
Just can spice things up by buying them a plumber belt buckle. This gift will serve as motivation.
Plumber – Pewter Belt Buckle 
14. Drain Plunger
Unclogging drains is a task they perform on a regular basis. Therefore, a drain plunger is an asset
MINTCRAFT Drain Plunger
Buy Now
15. Plumbers light
Now, this is the answer to tight spaces and tough jobs. This light can be used to illuminate those dark corners under the sink.
Powerful LED Flashlight  
16. Professional Kneepads
A great fit because a plumber mostly works while kneeling. Padding on the knees relieves the knee of any injuries.
Custom LeatherCraft Gel Kneepads
Buy Now
17. Drain Cleaner Snake
Once a plumber has this brush, there will be no need for pouring down chemicals or using electrical tools. This brush clears the shower, bath and sink drains without the need for homemade drain cleaner.
Drain Cleaner Snake Brush
Buy Now
18. Plumbing Solder
Perfect for general hot water heaters, copper pipes, and general repair. Joining pipes is part of their work and this gift will serve well.
BernzOmatic Plumbing Solder
Buy Now
19. Hands cream
A hands cream is vital because of regular hand use. This odorless cream will hydrate the skin and prevent frequent cracking by retaining moisture.
 O'Keeffe's Hands Cream
Buy Now
20. Motivating T-shirt/Safety T-shirt
The plumber will most likely be wearing a regular outfit or an oversized overall. Get them a safety T-shirt to show that you care.
Max-dry Moisture Long Sleeve Safety T-shirt
Buy Now
More Gift Ideas for Plumbers
He is among the handiest of folks. He handles the dirtiest of tasks. He plunges into the unreachable, so you don't have to. Your plumber may not spend his days castle-hopping to save the princess, but he still deserves some serious accolades. Here you will find great ideas to help him celebrate that special occasion, or simply give him a token of your gratitude.
Here's To Showing Appreciation To A Very Essential Tradesman
Let's get to it and find some great presents for your plumber, shall we?
"Plumber Fuel" Travel Mug
More likely than not, he starts his day early. Help him keep his joe hot wherever he goes.
"We Finish What Your Husband Started" Hoodie
The truth will set you free!, and in this case, keep you warm too.
Plumber's Funny Pencils
If you're going to spend the day jotting down measurements and marking spots, you might as well add some mirth to it.
"Rookie Plumber" Baby Body Suit
The perfect outfit for the heir or heiress, be they recently born or yet to arrive.
"Prayer For Plumbers" Plaque
For the pious handyman, this will be a great addition to any wall.
Carhartt Waterproof Industrial Boot
For this sort of job, simple sneakers won't do. This gift will keep him protected and comfortable.
ToughBuilt ClipTech Pouch + Hub With Shoulder Strap
A handyman needs his tools handy! With its many pockets and loops, this pouch can hold just about anything close to the vest (literally). Its kickstand will keep it upright if you need to set it on the floor.
Small Chocolate Wrench
Shaped appropriately and full of flavor, this "Barry Callebaut" is also low-cost. Two wrench sizes and two chocolate types available.
"Yoda Best…" Mug
I know, I know. It's not Baby Yoda… but it comes close enough!
Carhartt Quilt Lined Overalls
The go-to for many while on the job. This water-resistant garment features chest utility pockets, double knees, tool pocket at the leg and metal rivets to make it even tougher.
"I Just Call Him Daddy"
Keep the little one mess-free and salute the proud father in one go. With 4 colors to choose from, it's great for gifting at baby showers!
"Annoy At Your Own Risk" Magnet
An inexpensive way for a plumber to give fair warning about his no-nonsense attitude.
"Trust Me, I'm A Plumber" Cuff Links
For the tradesman who favors a classy look. For a personal touch, you can get a message of your choosing engraved on the box.
Business Cards
Is that plumber in your life just starting out? Help him get new business with this gift!
8-Bit Super Mario Bros Mario Keychain
Odds are he's already heard all the jokes, so why not go for it? Show your appreciation without breaking bank with this shiny throwback to the 80s.
"World's Best Dad By Night" T-Shirt
A good gift for Father's Day, or just to let him know that his commitment to parenthood has not gone unnoticed.
Plumber personalized Christmas Ornament
'Tis the season? Celebrate his trade with this ornament, complete with a caption of your choice!
Now you're ready to show your plumber how much you appreciate his work! Just be sure not to ask him for a discount, or it will all be for nothing.