Disclosure of Material Connection: Some of the links in this post may be "affiliate links." This means if you click on the link and purchase an item, I will receive an affiliate commission. Disclosure in accordance with the Federal Trade Commission's 16 CFR, Part 255. This site is a participant in the Amazon Services LLC Associates Program, an affiliate advertising program designed to provide a means for sites to earn advertising fees by advertising and linking to Amazon.
Must Have Gifts For Programmers
Everybody knows somebody who's a programmer! These wonderful nerds are the backbone of our society because they're what makes everything work nowadays! Let's show your programmer friends and family your appreciation with these awesome gifts just for them!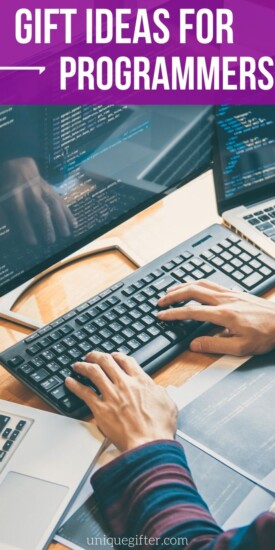 The Nerdiest Gift Guide You'll Ever Need
Get comfy and let's get some shopping done!
Computer Glasses
Eye strain is a huge problem for anyone who works at their computer multiple hours a day. These glasses are designed to help combat that!
Raspberry Pi
This little device is incredibly versatile and the perfect new project for a programmer to do this weekend!
Fitness Tracker
Programmers lead very sedentary lives working at their desk for a minimum of 8 hours a day. Help them stay fit with this tracker!
Code Mug
This gift is hilarious and true! Any programmer will appreciate it.
Geeky Doormat
Another way of saying "home" – this doormat will show you're trying to understand what they do and that you also understand home is where the best WiFi is.
ASCII Shrug T-Shirt
This hilarious shirt is sure to get some attention around the office. They'll be asking where you got it from for all of their coworkers!
Eat Sleep Code Keychain
This keychain speaks the truth. Coding isn't just a career; it's a lifestyle!
Software Engineer's Humor
Lighten up any programmer's day with this book!
Logitech Keyboard
This keyboard is well made, ergonomic, and it has RGB lights!
Ergonomic Mouse
Carpal tunnel is a serious problem for anyone who spends as much time on a computer as a programmer does. Help them with this mouse!
Intel Compute Stick
What's more portable than a smartphone or a laptop? A friggin computer in a stick!
Digital Timer
Sometimes programmers find it hard to concentrate on just one project and it's said that timers help them with that! This one's digital and sleek – they'll love it!
USB Fan
Computers give off heat and during the warm months that can mean sucky working conditions. Cool your programmer off with a USB powered fan!
Memory Foam Seat Cushion
Computer chairs can get uncomfortable really quick. Cushion their tush with this memory foam pillow!
Ergonomic Foot Rest
Another way to make their lives easier is this foot rest! It helps alleviate lower body pain from sitting all day!
Sun Lamp
Staying inside all day while coding can affect one's mood and cause depression. Give them what their body craves with this sun lamp!
Bluetooth Headphones
These are perfect for when your programmer wants to block all the sounds of the office out while they're tapping away at their keyboard for 8+ hours a day!
Coffee Maker
It's coffee. Do we really need to say more about this?
Dual Monitor Mount
One monitor is never enough when you're a programmer! This dual mount is the perfect way to clear up a ton of desk space!
Laptop Bag
Programmers need the perfect bag to carry their entire life in. Call it a nerd purse, if you will. They will thank you for this!
These gifts are sure to make you any programmer's new favorite human! If you grabbed something off this list, give us a shout on Twitter (@ugifter) or Instagram (@uniquegifter) and show us what you got!