Disclosure of Material Connection: Some of the links in this post may be "affiliate links." This means if you click on the link and purchase an item, I will receive an affiliate commission. Disclosure in accordance with the Federal Trade Commission's 16 CFR, Part 255. This site is a participant in the Amazon Services LLC Associates Program, an affiliate advertising program designed to provide a means for sites to earn advertising fees by advertising and linking to Amazon.
20 Gifts For Studio Ghibli Fans
Since being founded back in 1985, Studio Ghibli has been responsible for amazing cinematic works that have touched the hearts of thousands. There is an insane amount of fans when it comes to their films, and you know what that means: A ton of gift ideas to swim through!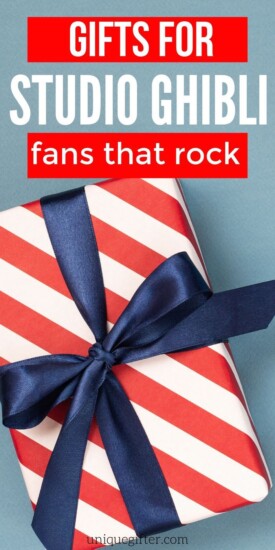 Spirited Away To A Land Of Great Gifts
As it is with any popular franchise, you've got a lot to choose from when it comes to Studio Ghibli's films. It's bound to get frustrating trying to nail down exactly what you're looking for, and that's where I come in! I've compiled a list of the greatest gifts you're going to find for the fan in your life so that you can relax with these 20 gifts for Studio Ghibli fans!
Studio Ghibli 6 Disc Collection Set
What's better than giving a fan one of their favorite films? 17 different films! Presented with wonderful packaging, this item is sure to please any collector.
Studio Ghibli Sticker Set
From My Neighbor Totoro to No Face Man, there's a sticker here that's going to please any fan that you give it to!
Soot Sprite Plush
What's cuter than this Soot Sprite window cling? There may be something, but I can't think of anything at the moment.
Totoro Key Holder
What a cute yet classy way for a fan to hang their goods! This unique gift is sure to please even the pickiest fan.
Totoro Hoodie
This cute hoodie is going to fill the gift recipient with glee. Featuring assorted characters from the film, it's a fan-pleaser!
Kiki's Delivery Service Necklace
What's cuter than Jiji? Jiji clinging adorably to your fan's necklace!
Abaddon Cross Body Phone Purse
There are a ton of anime fans out there that are also fans of tiny things. This cell purse is sure to make a lot of fans out there happy as it's a petite purse made simply for carrying their cell!
Ghibli Monster Sock Set
What's better than new socks? Adorable socks that are from your loved one's favorite film franchises!
Calcifer Pancake Pan
Pancakes that are shaped like Calcifer? Sign me and every other fan in the world up for that one!
Tree Elf Gardening Ornaments
Are they cute? Are they creepy? That is a question your fan is going to decide while they adore these awesome little ornaments.
The Art Of Spirited Away (Hardcover)
Spirited Away is undoubtedly one of the most popular of the films in Studio Ghibli's arsenal, and I'm pretty positive that any fan of the film is going to love having this book handy.
Catbus Plush
It's a cat. It's a bus. It's one of the best plushes you're going to come across for the fan in your life!
Kiki's Delivery Service Black Cat Mini Lamps
More cute and tiny stuff for the anime fan in your life! These mini lamps feature the kiki cats and are sure to look fantastic on any desk or end table.
Studio Ghibli Coloring Book
Know what goes great with a set of wonderful animated films? Coloring books from their favorite movies for your fan to enjoy!
Studio Ghibli Pillow Cover Set
When the fan in your life wants to decorate every aspect of their home with Studio Ghibli merchandise? I've got these awesome pillow covers for their living room!
My Neighbor Totoro Slippers
Every person needs a pair of comfortable slippers. The fan in your life? They need a pair of comfortable Totoro slippers!
Jiji Plush
There are fewer characters that are cuter than Jiji, and this plush is here to seal that deal. Crafted in Beanie Baby fashion, this little guy is certain to look adorable laying around any surface in your fan's home.
Haku Pin
Got a fan in your life that wants to add some anime flair to their everyday wardrobe? This Haku pin is the elegant, yet nerdy way to pull that off!
Studio Ghibli Vinyl Wall Clock
These clocks are made with reclaimed vinyl and are nearly as much of a work of art as the films themselves. Perfect for any fan's wall!
We've made it to the end of the retail road with this list! I'm certain that there is more than one gift on this list that's perfect for the fan in your life. Did you find anything that they went crazy over? Maybe something you just had to snag for yourself. Let us know on Twitter (@ugifter) and Instagram (@uniquegifter), and thanks for checking out 20 Gifts For Studio Ghibli Fans!