Disclosure of Material Connection: Some of the links in this post may be "affiliate links." This means if you click on the link and purchase an item, I will receive an affiliate commission. Disclosure in accordance with the Federal Trade Commission's 16 CFR, Part 255. This site is a participant in the Amazon Services LLC Associates Program, an affiliate advertising program designed to provide a means for sites to earn advertising fees by advertising and linking to Amazon.
20 Essentials For The PC Gamer
There are different types and different levels of gamers. Separated by interests, genres, and the platforms that they play on, gamers are a fairly diverse crowd and are difficult to shop for sometimes because of this. PC gamers are definitely no exception as they consider themselves to be the cream of the crop when it comes to gaming and there is no end to the gadgets and peripherals that they equip themselves with when it comes to their preferred hobby. Check out our favorite gifts for the PC gamer to find some inspiration when gifting for the techie in your life!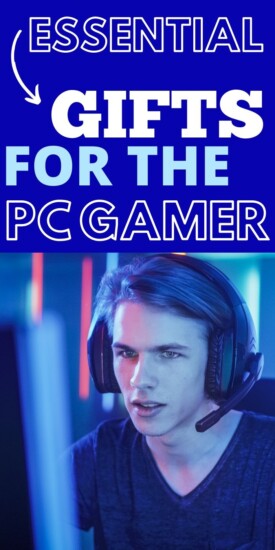 Gearing Up For Gaming
With the never ending selection of things that come with the territory of PC gaming, it can leave you scratching your head when it comes to the perfect gift for that certain someone in your life. We completely understand that and we're here to help you navigate the retail minefield with this list of 20 essential gifts for the PC gamer!
Gaming Office Chair
Let's start with the basics, shall we? One of the first things in PC gaming is comfort and what better way to sit in stylish comfort than with this chair? We're sure that special gamer in your life will thank you for this one!
Gunnar Eyewear
Eyestrain is a big deal when it comes to staring at a computer screen all day. Help filter that harmful blue light and add some protection with these gaming glasses. Gunnar makes some of the most quality and affordable eyewear when it comes to PC accessories as well! Who said gifts for the PC gamer couldn't be practical, too?
Logitech G600
Logitech is a very popular brand when it comes to gaming peripherals and this mouse is no exception. Perfect for MMO players, this mouse has over 20 programmable buttons so they'll never run out of keybindings in the middle of combat!
RGB Gaming Mousepad
Every mouse needs a mousepad and we've found the perfect one for that gamer of yours! RGB lit around the borders with a solid build, it's got plenty of room to roam with that mouse of theirs.
SteelSeries Gaming Controller
Sometimes even PC gamers get tired of sitting at the desk with their mouse and keyboard and just want to sit back and relax with a solid controller and lounge around while they play their favorite games. This controller will not only give them the ability to do that, it'll do it very well. SteelSeries is one of the best in the business and this controller is one of the highest rated!
AFK T-Shirt
Gamers aren't exactly the most sociable people and PC gamers are likely the most notorious when it comes to this. Make sure that your gift recipient is able to relay this message with style via this awesome t-shirt announcing the plans they had to put on hold to be present!
Atlantic Gaming Desk
Obviously the platform that PC gaming takes place on, the desk is the most essential part of the entire operation (Besides the PC itself, that is). This one is built with gamers in mind, including all kinds of storage options. I mean…this thing even has a drink holder!
SADES Gaming Headset
Whether they are using it to listen to instructions from teammates or to shout expletives at other players, no PC gamer should be without a decent headset. SADES makes one of the highest rated, sleek looking headsets on Amazon and is a fitting gift for that keyboard commander!
Headphone Stand
If they have a headset, they're going to need a place to store it right? No one wants to let their headset just lay around collecting dust or getting tangled up in its own wires. Help them solve that problem with this headphone stand that even includes USB chargers for their mobile devices!
Noob Slayer Coffee Mug
From FPS to MMO games, noobs are abundant. There are certain players that keep these noobs under control and if your PC gamer is one of them, help them proclaim that fact loud and proud!
Party Favor Gaming Bracelets
Not all PC gamers are older players and with Fortnite being such a massive success, there are more young players by the day. If you've got a young PC gamer with a birthday coming up, these bracelets are sure to be a smash at their party!
Gaming Laptop Backpack
If you've got a gamer on the go in your life, this backpack is certain to have all the nooks and crannies they need to store their gamer gear! Some PC gamers prefer to trade cooling elements and desks for the convenience of mobility and being ready to game at a moment's notice and this backpack is sure to aid with that!
USB Microphone
If you know a PC gamer that's starting to get into the streaming thing, then you should know that a basic headset isn't going to suit their needs when it comes to quality content. Help them capture their moments with the best audio with this USB microphone!
Sceptre Gaming Monitor
PC gamers can't afford to lose a millisecond when it comes to frames per second, so they need their equipment to be as quick and agile as they are. Help them out with this monitor from Sceptre monitor that has a 75Hz refresh rate, measures out at 24 inches and has a curved screen!
AUKEY Gaming Keyboard
You didn't think we'd have a mouse without including a keyboard, right? This AUKEY keyboard is fully backlit with anti-ghosting and is even water resistant for those times where there are accidental spills or maybe just a gamer that's raging and spits their drink all over it!
Red Dragon Gaming Keypad
In addition to a gaming keyboard, a multitude of PC gamers use a separate keypad to make movement around their keys easier without all of the pesky, non-essential keys getting in their way. Red Dragon makes affordable, yet wonderfully made gaming products!
Multiple Monitor Mount
We included monitors on this list but we'd also like to mention that the majority of PC gamers use multiple monitors for the ease of access that comes with having a game on one screen and their other activities on the other. This mount cleans things up and gives a neater appearance for their desk area!
There is more than enough gift ideas here for beginning PC gamers and veterans alike, so we hope that we were able to help you nail that gift that you were looking for! PC gamers are hard to shop for but with the plethora of great ideas that we've compiled here, there's gotta be a perfect fit for that friend or family member that you can't pry away from their desk. Do you own anything or did you buy anything from this list that a PC gamer loved? Thanks for checking out these gifts for the PC gamer! Feel free to give us a shout out and let us know on Twitter (@ugifter) or Instagram (@uniquegifter)!