Disclosure of Material Connection: Some of the links in this post may be "affiliate links." This means if you click on the link and purchase an item, I will receive an affiliate commission. Disclosure in accordance with the Federal Trade Commission's 16 CFR, Part 255. This site is a participant in the Amazon Services LLC Associates Program, an affiliate advertising program designed to provide a means for sites to earn advertising fees by advertising and linking to Amazon.
When a friend is having a rough time, a little pick me up is in order. Lunch or flowers are often nice but if cut plants annoy them, they're on a special diet, or you're too far away to swing by for a meet up, try dropping a card and a little gift in the mail to let them know you're thinking of them.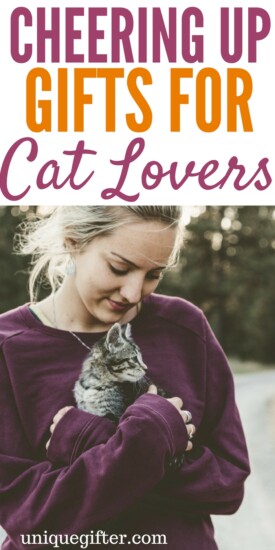 They say it's the thought that counts, and they're not wrong, but it's also what you do that counts and I think that's even truer.
Stainless Travel Mug and Bottle Brush
The mug is cute as all get out but the bottle brush really makes this gift perfect. Who wants to drink out of a gift they can't get clean?
Cat Lover Shower Curtain
Functional and beautiful, this shower curtain brightens up any bathroom.
Cat Butt Coasters
Let's be honest, odds are high this is one of the most common views of your cat as they demand butt scratches.
Save a Life, Send Kittens Mug
Best for the misanthropic cat-lover, but also good for those hard work days when everyone is getting on their last nerve!
Cat Memo Clip
A cat that'll hold notes and NOT eat or shred or bury them!
Roman Pudgy Pal Garden Figure, 75263, Standing Cat, 7.25 inches tall
https://www.amazon.com/dp/B00EDL7MSU/
This charming roundish cat would be a perfect addition to their garden, or perhaps a doorstep guardian.
Fluff You
If your friend has ONE OF THOSE cats, this is guaranteed to put a smile on their face every time they enjoy a warm beverage.
Handmade Cat Figurine
If your friend enjoys little trinkets, this adorable figurine would be perfect on their shelf.
Insulated Wine Tote
Deliver a bottle of wine in style and make it very clear who it's for so no one tries to snag that bottle.
If The Cat Is Home Wine Glass
This argument absolutely doesn't work for the carpool lane, trust me, but it does for that bottle of wine!
Zendoodle Coloring Presents Nice Kitty!: A Cat Lover's Coloring Book
Coloring is such a good destresser. If you can't take the source of the stress away, at least you can help remove some of the stress.
The Crazy Cat Lover's Handbook: A Human's Guide To Serving Our Feline Overlords
They do say that laughter is the best medicine, don't they? I think all cat owners know who really owns who in a human-cat relationship.
Stray Tiger Cat Planter
More goofy than cute, someone with a black thumb might appreciate the lower stakes when you grow one small plant at a time, well guarded by this stray kitty.
Mini Ceramic Kitty Succulent Planter
This is intended for succulents but as they're not included, there's absolutely nothing saying they couldn't turn into candy dishes instead. Who wouldn't want a sweet treat presided over by happy cats?
Crafting with Cat Hair
Either your friend is going to laugh, or pick up a new hobby. Win win either way, right?
Cat Wine Stopper
Who among us hasn't had a cat drink out of their glass? The wine bottle isn't so much of a stretch!
Kitty Tape Dispenser
Unlike the real cat, THIS kitty will help wrap gifts and repair torn books.
Cat Paper Clips
Bring your cat to work, in an acceptably hypoallergenic way.
Cat Place Mats
The sort of cats who are most welcome, and helpful, on the dining table unlike the adorable furry ones who thieve the best bits off your plate!
Cat Paw Bookmark
A cute colorful paw marks the spot.
When someone you care about is going through a rough spot, whether at work or in their personal life, even the littlest gift to tell them you're thinking of them can lift them up.