Disclosure of Material Connection: Some of the links in this post may be "affiliate links." This means if you click on the link and purchase an item, I will receive an affiliate commission. Disclosure in accordance with the Federal Trade Commission's 16 CFR, Part 255. This site is a participant in the Amazon Services LLC Associates Program, an affiliate advertising program designed to provide a means for sites to earn advertising fees by advertising and linking to Amazon.
50 Gift Ideas for the Seahawks Fan
Best defense in NFL history. Earth-shaking plays. Guinness world record for loudest stadium. It's no wonder if you or someone you know has made the Seahawks a core part of who they are. When it comes to gifting time, there are many great ways to celebrate team pride, well beyond jerseys and foam fingers!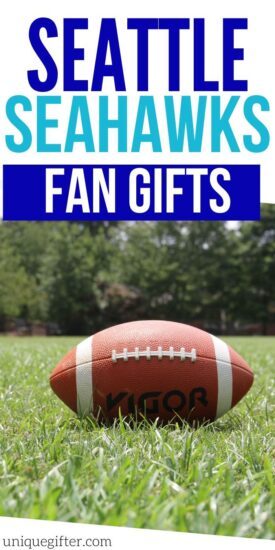 For The Cherished 12, Only The Best
Blue Pride membership not an option? Here's how to make up for it!
"Game Is On" Socks
Kick off your shoes. Get comfortable. And let them take the hint.
Personalized Classic Decanter & Whiskey Glasses
Put your name on that triumphant toast to your team's success!
Spirit Series BBQ Grill Set
This cannot be missing from your next barbecue. You don't even have to switch tools when it's time to pop your beer! Made in stainless steel with brass rivets for extra durability.
Replica 2013 Seattle Seahawks Super Bowl XLVIII Ring
It doesn't matter if it's not the real thing, what matters is to commemorate a memorable season! You can get it with a display cube or cherry box.
Moscow Mule Mug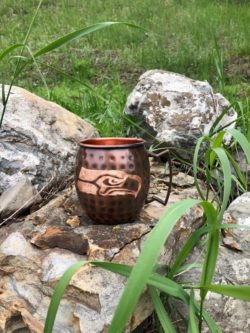 Solid, pure copper, hammered mug. You can add text to it, in any of 10 available fonts. While it is usually intended for Moscow Mules, it can handle whatever drink you favor.
MasterPieces Playing Cards
Just because it's called Texas Hold'em doesn't mean it has to be Cowboy-themed! This officially licensed set will suit any traditional card game.
Wireless Charger and Desktop organizer
Two birds, one stone: this Qi compatible charger will take good care of your newest devices while sporting your team colors! It can hold your pens, pencils, knives, anything you need to keep handy without cluttering your work space.
Seahawks Earrings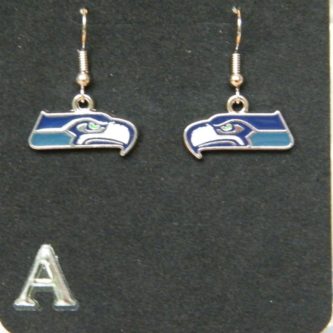 Choose from four styles the one that better suits your fancy! The Seahawk logo is enameled on a metal base, making them durable yet lightweight. And they come already gift-packaged!
Personalized Seattle Seahawks Rompers and Bibs
Add their name to the bib, and 12 or any number you like to the onesie for the ultimate little fan look. Get them in navy blue or pink!
Seahawks Satin Ribbon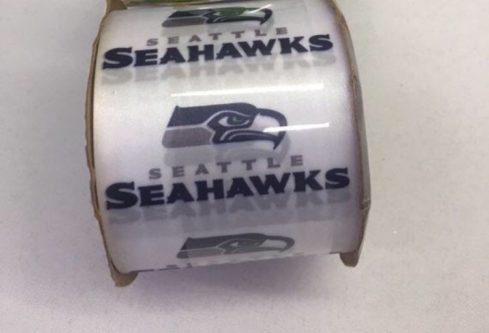 Whatever the gift is, might as well wrap it properly! It's an easy way to add the Seahawks vibe to other items, too.
"Join the Hawk Side" T-Shirt
Perfect for saluting two of their fandoms at once! 3 colors to choose from.
Trivia Quiz Book
This 500-question book covers a range from the days at the Kingdome to the Pete Carroll era. Even hardcore fans may be left stumped!
NFL Seahawks Giant Inflatable Lawn Helmet
This is giant inflatable Seahawks helmet for the most dedicated football fans out there!
Seattle Seahawks Decorative Outlet Cover Switch Plate Cover
Give your walls the Seahawk livery they deserve without breaking bank!
Seahawks Wedding Garter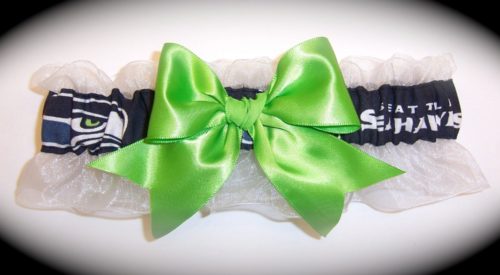 Themed wedding coming? Then you definitely need this!
"Newest Seahawks Fan"Baby T-Shirt
You gotta start them young! Seven colors to choose from, sizes 3-24 months.
Seahawks Ornaments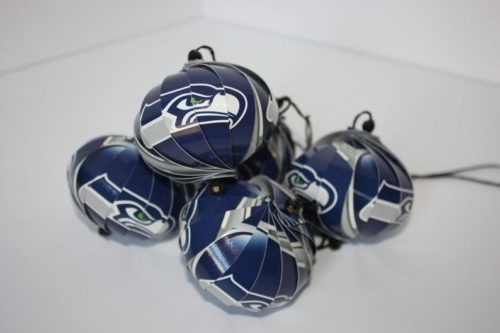 Oh Seahawks tree, oh Seahawks tree! Made of playing cards, these ornaments come individually or in sets of 5.
Pet Bandana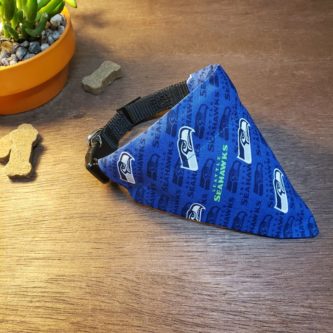 Now the whole family can wear the team's colors! This accessory will easily fit over the collar, with sizes starting at toy dog breed and cat, and going all the way to labs and German shepherds.
Apron and Chef Hat Set
Team-themed aprons may be a common sight at tailgates, but how many grill master 12s are seen sporting a chef's hat? My money is on, not many!
Kitchen Knife set, 5-pc
Officially licensed! This set features 430 stainless steel blades and ergonomic non-slip handles. Includes: chef's knife, bread knife, carving knife, utility knife and paring knife.
Imprinted Golf Balls and Golf Tees, Multi Colored
Did they not care about ponds in the golf course before? Well, now they will have a reason to! Both tees and balls are regulation size.
Football Field Design Large Gaming Mouse Pad
Protect your desk and elevate your gaming experience! This water-resistant, non-slip mouse pad will give your work area a decorative surface that will also improve mouse tracking.
Pet Jersey
Make your dog or cat one of the 12s, in style! Sizes from XS to XXL.
Seahawks Oven Mitts
This set of oven mitts is perfect for serving up homemade tailgate snacks!
5-Pen Pack
This practical gift is good for when you can't spend that much, or for stuffing the stocking.
3D Team StadiumViews Coasters
Official team colors. Non-slip backing. If that doesn't make them good enough, there's the 3D replica of the CenturyLink Field to sweeten the deal!
"I ♥ Seahawks and Coffee" Starbucks Cup
Show off your team pride and get 10 cents off your drink, with this reusable 16Oz coffee tumbler. 3 color choices, you can get it gift-ready.
Car Front Seat Cover
Dress your car interior appropriately and protect your seat from dirt and spills. Stretchable fabric, fits most vehicles. Comes with a pocket at the back.
Seahawks Dog Toy
Give your dog the chance to burn off some energy during halftime with this adorable, and incredibly durable, football shaped throw toy!
Hawk-Aholic T-Shirt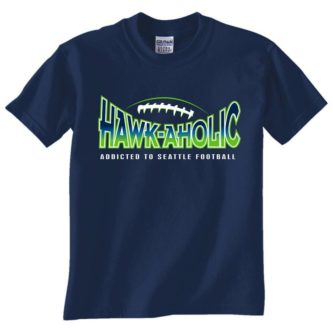 It's an obsession. It's an addiction. Why deny it?
Retractable Badge Holder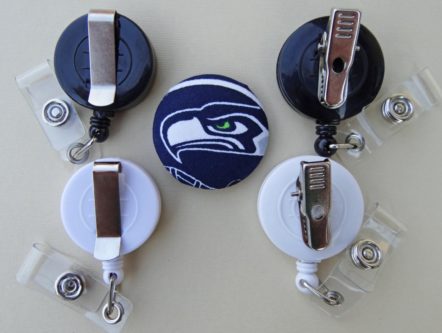 No more excuses not to wear the team colors at the office.
Embroidered Logo Carpet Floor Mats
Protecting your car does not have to be a dull affair! Dress up your interiors and keep them safe from dirt and debris.
Tumbler Sticker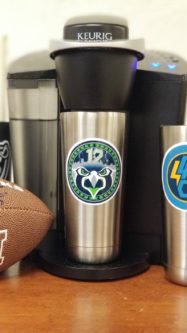 Decorate all the things! Put them on laptops, phone cases, cabinets, whatever you need. Inexpensive and fits nicely into any stocking.
Leather Steering Wheel Cover
Officially licensed and made of genuine high grade leather. Doesn't get much fancier than that!
Remote Control Monster Truck
Zoom around the tailgate or at home! This truck is big enough to power through rough terrain and small enough to take anywhere. 80-feet range means you won't be wanting for distance!
Football Can & Bottle Holder
Keep your drink at optimal temperature in true football fashion, no matter the vessel!
Collapsible Hardback Portable Seat
Watch the next game properly seated! The back is angled for comfort, and it comes with two hinged clips on the bottom to secure it to the bleacher.
Lighted Wine Bottle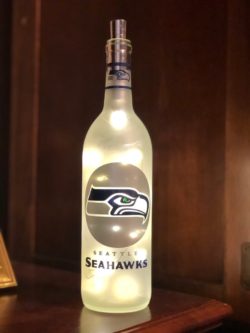 There's no wine in it, but it sure spruces up any shelf! This 750ml bottle includes a string of 20 LED lights hanging from the cork into the bottle (battery included!) Further personalization available.
Large Folding Tailgating and Camping Chair
Sit comfortably while showing off your team! 275lb weight capacity means this chair will hold anybody who needs it, and its carrying case will allow you to take it anywhere without losing style.
Collapsible Round Table with 4 Cup Holders and Carry Bag
The ideal pair for your themed chairs! Its sturdy surface has the team logo in full display, and its cup holders will take good care of your drinks. It folds up easily and it includes a zip up bag to carry it around without any complications.
Crochet Mr or Mrs Seahawk Hats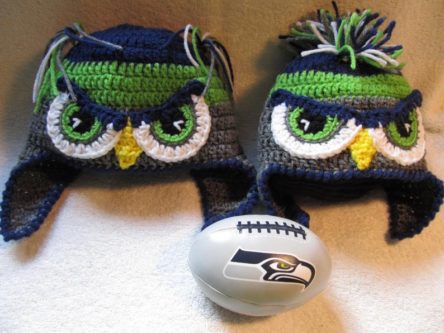 Mohawk or ponytails. Baby or adult. Even your dog can have one of these!
Engraved Water bottle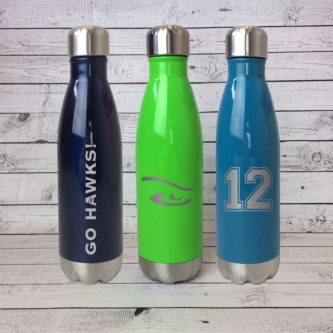 This 17Oz water bottle is made in stainless steel, double walled with insulation capable of keeping your beverages at the desired temperature for hours. It is laser engraved, so it will never wear off!
Personalized Seattle Seahawks Keychain Plate Tag
Customize it with a name or any text you want! You can even throw a heart into the mix for that special couples token.
Funko POP! NFL: Griffin Brothers 2PK
The discerning collector will love them! These Griffin Brothers Funko figures stand at 9cm and come in a window display box for proper showing.
NFL Seat Belt Pads (Pack of 2)
Safety first, style and comfort a close second! Now, no corner of your car shall be without the proper livery.
Soft-Sided Insulated Cooler and Lunch Box Bag, 9-Can Capacity
Keep your drinks (or your lunch) at the desired temperature with this lunch bag with capacity for 9 cans. Its liner repels odor and mildew, easy to clean. Its external front pocket can store your condiments, utensils or small essentials. Perfect for work or for the tailgate!
Zippo Lighters
A genuine Zippo, this all-metal, windproof lighter works virtually anywhere! Refillable for long term use.
Plastic Hip Flask, 7-Ounce
It's plastic, so it won't set off any metal detectors! Its texture leather wrap is team colored, with the logo in prominent display. Includes a funnel for easy filling.
Collapsible Multi Function Pop-Up Barrel
A cooler, a trash can, a hamper: this item can be all of that and more! Its interior is lined with leak-proof PVC, making it useful for preserving temperatures. It folds flat, with strap buckles to keep it collapsed in transit. True portable functionality… in team colors!
There you have it! Now, it's time to show that special 12 how much they mean to you!