Disclosure of Material Connection: Some of the links in this post may be "affiliate links." This means if you click on the link and purchase an item, I will receive an affiliate commission. Disclosure in accordance with the Federal Trade Commission's 16 CFR, Part 255. This site is a participant in the Amazon Services LLC Associates Program, an affiliate advertising program designed to provide a means for sites to earn advertising fees by advertising and linking to Amazon.
Nursing home residents need to be shown love. The best way is to visit them and spend quality time with them. If visiting them is not possible, what can you do to show that you still love and care for them? Simple! Just buy them a gift. Now you'll need gift ideas for nursing home residents. These are also great gifts to give someone who's in a nursing home that you do visit, but want to be thoughtful towards their unique living situation.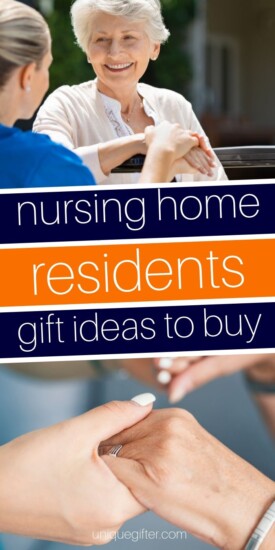 Hmmm, is it still that simple? Finding a gift idea for assisted living residents can be challenging because seniors have usually done a lot of downsizing in their lives already. They had stuff – now they don't need it! There are gift ideas here that are perfect for both men and women in nursing homes to help find something for all the hard to shop for seniors on your list.
Related Posts:
Let's look at the best ideas gift ideas for nursing home residents.
While you show your love to the seniors in your life, you may also want to help them select a gift for the nurses and care aides who help them every day.
Body Lotion
Dry skin is a common problem experienced by seniors. Therefore, a good lotion that will keep their skin moisturized is recommended.
Paintings and Wall Art
Paintings will make their rooms lively and attractive. Be thoughtful of the space, and if possible, bundle any wall art you give with some removeable adhesive hooks so it doesn't damage the walls.
Editor's Choice Best Nursing Home Resident Gifts
"Merry Christmas Ya Filthy Animal Snowflake and Reindeer Ugly Christmas Sweater (Size: XL)"
Nursing home gifts can be one of two things, practical or uplifting. Celebrating the holidays can be a great time for residents to be social and express their lifetime of personality. Grab a funny, unique or eye catching 'ugly Christmas sweater' so they can make something fun out of an ordinary Christmas dinner, or social. Maybe inspire them to start an inaugural ugly Christmas sweater competition in their home!
Picture Frames
A picture frame with their favorite pictures taken in years back will be a good way to remind them of their past. You could also give them a frame with new family photographs from the last few months.
Bath Towel
They also need soft towels to keep them dry after a bath, and everyone loves a luxurious new towel.
DVD Player or Streaming Device
A DVD player is equally important, together with old school CDs for them to listen to their favorite songs. If you're shopping for a more tech-forward nursing home resident, you could also get them a streaming device like a Roku and set it up so they'll have their pick of shows on demand.
Large Print Books
Seniors love reading, especially if it is a habit they had from childhood. A large print book will be appropriate to keep them busy and entertained.
Large Print Crossword Puzzles
This is an excellent indoor game to keep the mind working and trigger some good memories.
Low Vision Playing Cards
Ideal for indoor games with friends or solitaire. Even if your gift recipient doesn't have low vision, making sure any cards you buy are senior friendly will mean that all their friends can join in on the fun even if they have low vision.
Flowers
Most people love to have flowers in their rooms to brighten them and make them attractive. Surprise your loved one with flowers and replace them frequently to keep their room bright and cheery.
Fleece Blankets
Let the older folks enjoy the comfort and warmth of a fleece blanket. They are especially handy for wheelchair rides.
Grabber
Due to their health problems, old age nursing home residents can be greatly assisted by having a grabber to help them around their room.
Magnifying Glass
A magnifying glass comes in handy because, with old age, our eyes lose the ability to see small prints.
Hats
Hats are essential for helping them stay warm during the cold seasons.
All Occasion Greeting Cards
This will help them to always have a card for all occasions like birthdays, wedding, and friendships. While you're at it, get some for yourself and make a habit of sending folks in nursing homes cards even when you're not giving gifts; it's a nice way to say "I'm thinking of you" when you can't be there.
Address Book
The address book should contain addresses for family members and friends. You can pre-populate it as part of the gift.
Clock
The clock should have large numbers. The clock will help them in keeping track of their daily activities. Dinner time is a big event in a nursing home!
Combs and Brushes
Pamper them with combs and brushes to help them keep their hair neat all the time.
Editor's Choice Nursing Home Resident Gift Idea
Engraved Mesh Medical I.D. Bracelet

This is a practical gift, and one less thing for your resident to worry about. This personalized medical I.D. bracelet provides peace of mind for families and residents alike. Thankfully, it's as practical as past oval and chain bracelets, just more subtle and stylish for everyday wearing. Check out this site for personalized gifts like these!
Sweaters
Old age comes with its own problems, and feeling cold is one of them. A warm sweater will help the old feel warm and avoid health issues. I love giving comfortable sweaters as Christmas gift ideas for nursing home residents.
Shaving Kit
Nursing residents need to keep clean and organize their stuff too!
Calendar
For the nursing home resident to remember their family member's birthdays and anniversaries for special events, they should have marked calendars. Every year make sure that you present them a marked calendar that includes birthdays, anniversaries, and important occasions like graduations.
Sound Machine
Sometimes it can be loud in nursing homes even during the night. Having a pleasant sound machine can drown out some of the other noises that could keep the residents up.
Captioned Telephone
When you are hard of hearing, it's usually worse when you are talking on the phone. When you are able to read the words, it will make it a lot less frustrating for everyone involved.
Flameless Candles
The ambiance of flameless candles is so relaxing. For nursing home residents, it's nice when they can enjoy their day and relax in a peaceful environment.
Editor's Choice Nursing Home Resident Gift Idea
Zippo Hand Warmer
One aspect of living in a nursing home can sometimes be getting a bit chilly. If you're less active, a high quality hand warmer like this one can be a really nice creature comfort. Pair with a blanket and some slippers for a heartwarming gift for nursing home residents.

Walker Bag
Having a walker bag is fantastic because they can conveniently take the necessities with them when they go on a stroll. Perfect as gifts nursing home residents or anyone in your life who uses a walker on a regular basis.
Window Bird Feeder
Is there anything more enjoyable than watching the birds play and nibble on food? When you aren't able to go outside and watch, this window feeder is the next best thing.
Active Minds Jigsaw Puzzle
Keep the resident's mind working and remembering with these jigsaw puzzles. There are many different designs to choose from. If your grandparent or family member loves puzzles, senior-friendly board games also make great gift ideas for nursing home residents. Even better when you come over and play too!
Heating Pad
Ease pain in sore muscles and body parts by using a great quality heating pad. This one has an easy to use remote too. Heating pads and heated blankets are also great as gifts for nursing home residents who are always cold but aren't able to turn up the heat in the building.
Echo Dot
Using an Echo Dot is so simple! All they need to do is speak and say what they are wanting. Music, weather, interesting facts, or anything else they would like to know.
Weighted Blanket
You will be amazed by how much better a person sleeps with a weighted blanket. You may even want to get one for yourself.
Memory Foam Massage Seat Cushion
You can adjust the settings to have a softer or deeper massage depending on what you feel like that day. It's great in the winter because it has the heat on it too.
Non-Slip Fuzzy Socks
Having some cozy socks is always lovely. These are non-slip, so there is less worry when the residents are up and moving around.
Big Button Remote
Changing the channel and adjusting the volume shouldn't be frustrating, but when you can't see the buttons, it can be. This remove makes it easy for you to adjust!
Weather Forecast Station
Even if the residents don't get the luxury of going outside all the time, it's nice to know what the weather is doing. This large display is easy to read too.
Editor's Choice Nursing Home Resident Gift
Personalized Throw Pillow Cover
Ordering a personalized throw pillow cover is a great way to bring some new life and memories to a nursing home resident's space. Customize it with your shared family name for a sentimental decorative gift idea for nursing home residents!

Creative Name Art
This art is delightful and sure to bring a smile to the recipients face. Each piece is customized and unique.
Recordable Book
Sometimes living in a nursing home can be lonely even though there are many other people around. Give this recordable book, and they will love hearing the voices on the other end.
Adult Coloring Books
You can never be too old for this adult coloring book. These pictures are printed large, so they are easy to see.
Birthstone Necklace
Customize each necklace with the birthstones of the kids or grandkids. It's a beautiful gift that is sure to be cherished.
Memory Quilt
Add a bunch of lovely family photos to the memory quilt. It's impossible not to love this gift idea. One of the most thoughtful gifts for nursing home residents you can buy, or even better, make yourself.
Companion Pet
This cat will make sounds like an actual cat, plus it feels like a real cat too. It's the closest thing to a pet you can have in a nursing home setting. Ideal for people with dementia or pet lovers.
Moon Lamp Night Light
This nightlight can be turned on and off by a simple touch. Easy to use and provides a subtle light, perfect for the middle of the night.