Disclosure of Material Connection: Some of the links in this post may be "affiliate links." This means if you click on the link and purchase an item, I will receive an affiliate commission. Disclosure in accordance with the Federal Trade Commission's 16 CFR, Part 255. This site is a participant in the Amazon Services LLC Associates Program, an affiliate advertising program designed to provide a means for sites to earn advertising fees by advertising and linking to Amazon.
Behind every piece of software, you love using is a software developer that banged their head against a keyboard to make it happen. These gifts ideas for a software developer are a great way to say thanks to those special people that make our lives better.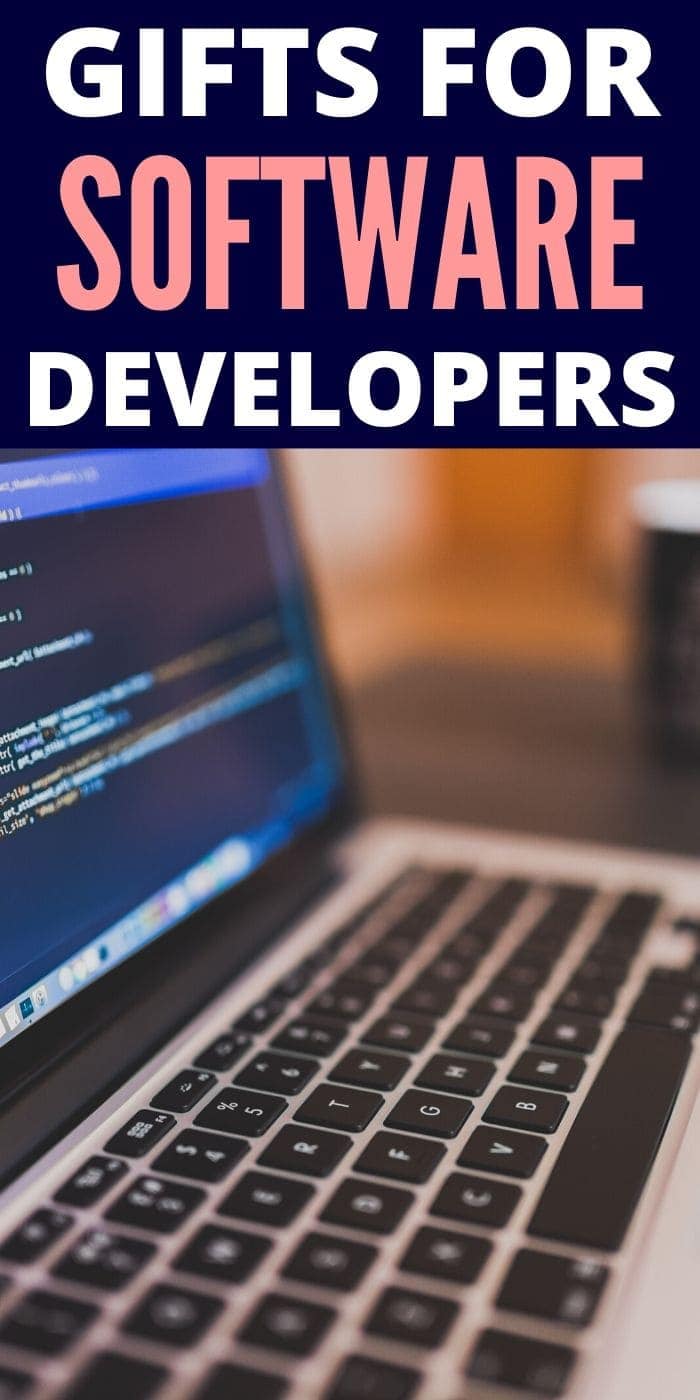 Gift ideas for a software developer
Whether they're programming for the web or a computer, there's something for all types of software developers in this list.
No Bugs Art
Sometimes you have to turn a negative into a positive. You know, like when your code develops unexpected 'features.' A fabulous art print for a software developer's home or office.
Root Access Card
If you don't want to get a gift, this card is a wonderful choice for software developers. It's oh so sweet and means a lot to those who understand it.
Roses Are Red Shirt
A lovely poem was written by a software developer. (Seriously, this one is too real it hurts.) This would make a funny work shirt gift idea!
Software Developer Life Book
This book is full of perspectives on what life is like as a software developer. Great for newbies or veterans who want to look at what others have to say.
Semicolon Mug
Anyone who's programmed anything will relate to this mug. One teeny out of place character is enough to break all of your code. Finding it's the hard part.
Software Developer Career Guide
Great for new software developer graduates or someone who's looking at changing up their career. This book has everything they need to land their dream job.
Test My Code Shirt
I mean, it's kind of true. If you have someone who's going to find all your bugs, why bother testing, right?
Code Coaster
This funny coaster is a perfect addition to a software developer's desk. "Coffee.drink()" is vital when coding!
Stack Developer T-shirt
Well, if you don't understand this shirt, you're probably not a software developer.
Software Engineer Humor Book
This little book is full of geeky software developer humor. What's nice is you even get to personalize it inside, which makes it a great gift.
Coding Mug
Let the mug do the talking when you don't want to. Or don't have time.
New Keyboard
You might not always know what kind of keyboard they need (or if they need one at all), but most computer people appreciate a new keyboard. This Razer one is probably one of the best out there. At least it should be said that most software developers are going to want one with mechanical keys.
Circuit Board Jewelry
You can get all types of circuit board jewelry online to fit the personality of any software developer. This cute owl necklace is nice enough to be worn at work.
Hello Word Art Piece
This lovely art is hand-drawn and painted, which makes it a unique piece. It's nice to have some original art, and not just prints, in your home or office. Art like this makes for great gift ideas for a software developer.
Metal Sculpture
As far as gift ideas for a software developer are concerned, this metal sculpture takes the cake. It's uniquely made and has kind of an industrial or cyberpunk feel to it. Super cool.
How Software Developers Swear Coloring Book
Doesn't everyone need an adult coloring book or two? This one is fabulous for a software developer!
In Code We Trust Lanyard Pack
Now they can head into work with this fancy lanyard! They will love the humor on it too.
'Do Not Disturb, I'm Coding' Funny Ankle Socks
Everyone will know when working is being done when they prop up their feet so you can read these socks. They are comfy and funny too.
Best Programmer in The World Apron
Grilling enthusiasts who are also programmers need this apron. Perfect for wearing when preparing the next big meal too.
Coding Keychain
I laughed so hard when I saw this keychain. It's hilarious, and anyone who does coding will appreciate the humor.
These gift ideas for a software developer are perfect for birthdays and holidays. You can also check out other gift ideas for computer geeks for more ideas.