Disclosure of Material Connection: Some of the links in this post may be "affiliate links." This means if you click on the link and purchase an item, I will receive an affiliate commission. Disclosure in accordance with the Federal Trade Commission's 16 CFR, Part 255. This site is a participant in the Amazon Services LLC Associates Program, an affiliate advertising program designed to provide a means for sites to earn advertising fees by advertising and linking to Amazon.
Unlike adults, children seem to have just one or two interests at a time. If a child is fixated on a particular show or character, it's likely you will own all the toys, room décor, and blankets out there. After a while, it can be difficult to find original ideas. If you're tired of trying to find the perfect Lion Guard gift, look no further than this list! We did the research, and hopefully one of the below ideas will be a winner.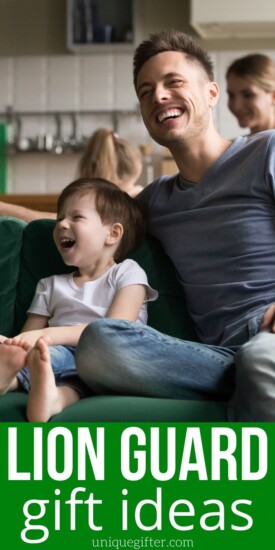 Peel and Stick Wall Decals
Just when you think you've got all the room décor out there, you find out that wall decals are out there! A simple and damage-proof way of decorating your child's room, decals are sure to bring a bit smile to your kid's face.
Bedding Set
If you haven't purchased bedding yet, why not? This particular set is toddler bedding, and since interests change so often at this age, instead of buying all new wall décor, why not trade out sheets, pillowcases, and blankets! It's a fairly inexpensive way to make a big impact on a bedroom.
Deluxe Figure Set
A figure set is a great gift to fuel a child's imaginative play! This particular set comes with almost every Lion Guard character your kids could hope to play with.
Plush
Many kids enjoy sleeping with a favorite stuffed animal or using a plush for imaginative play. This plush is Kian, but you can also easily find Fuli and Bunga to round out the crew.
Coloring Book Bundle
Have an artsy child? Be sure to check out this coloring book bundle! This set includes two coloring and activity books along with markers, pencils, erasers, a mini notebook, and stickers. It's sure to keep your kid busy for hours.
T-Shirts
A three-pack of Lion Guard t-shirts is sure to get your child through the summer months with a smile! It's both practical and fun.
Board Book Box Set
Sometimes an interest in reading starts with your children being interested in what they're reading. If you're trying to instill a love of reading in your little ones, try a box set of Lion Guard books. A box set will all but guarantee that you won't have to read the same book on repeat.
Bed (or floor) Tent
Play tents can help garner imaginative play or even sibling bonding. A bed tent is a fun way to add some incentive to stay in bed, too! Let your child get used to sleeping in a tent before a camping trip or simply use it at home for fun. Whatever your reasoning, a tent is always a hit.
Action Figure
Action figures are a great tool to spur imagination in kids. This Kion figure is equipped with lights and sound. A few other characters are available at the eight-inch size, too, so lots of fun playtime is in store for your children!
Board Game
Cooperative board games are a great way to encourage teamwork and bonding in your family. This particular game will teach counting and number recognition, too. The game pieces are also a great size for imaginative play, so it's a two for one deal!
Throw Blanket
Throw blankets are the perfect size for a kid's bed. The weight is great for summertime and for taking something fun and lightweight on trips.
DVD
Whether watching movies in the car, or those rare moments when the internet goes down, a DVD is still helpful to have around. Your Lion Guard fan will love 137 minutes of his favorite show.
Time Teacher Watch
Child learning to tell time? A time teacher watch can help give your child a little help along the way. This Velcro watch is not waterproof, but it will be comfortable to wear and if their favorite character can help them tell time, you both win.
Socks
Tired of battling with your kids to get socks on? Let your child keep their favorite characters close all day long with Lion Guard socks!
Puzzle
Encourage your child's cognitive development with a puzzle of their favorite Lion Guard characters! This particular puzzle comes in a collectible tin, so long after half the puzzle pieces are missing, the tin can be used for other small treasures.
Ornament
Your kid will remember forever how much he loved Lion Guard if he has a keepsake Christmas ornament on the tree every year. Hallmark ornaments are well made, long-lasting, and always adorable.
Read-Along Story Book and CD
Tired of the screen fight in the car? Try a read-along storybook and CD! They can look at the book, read it themselves, or listen to the story being read to them and follow along in the book. It's a great way to encourage a love of reading, plus it will give them something interactive that doesn't require a charging cord.
Finding a unique gift for a kid is not always an easy task. Whether for Christmas, birthday or just for the fun of it, any of these Lion Guard gifts will make your tiny lion smile. And when they decide they love the next show, be prepared to own all the same things, just with a different theme.