Disclosure of Material Connection: Some of the links in this post may be "affiliate links." This means if you click on the link and purchase an item, I will receive an affiliate commission. Disclosure in accordance with the Federal Trade Commission's 16 CFR, Part 255. This site is a participant in the Amazon Services LLC Associates Program, an affiliate advertising program designed to provide a means for sites to earn advertising fees by advertising and linking to Amazon.
It takes quite a bit to inspire me, but I was truly inspired by the amazing eagle gifts there are available for those who love eagles! An eagle is not only the United States bird, it is interesting and honorable. All of these gifts listed below are fun and unique, and will be very pleasing to that special person in your life who loves this bird.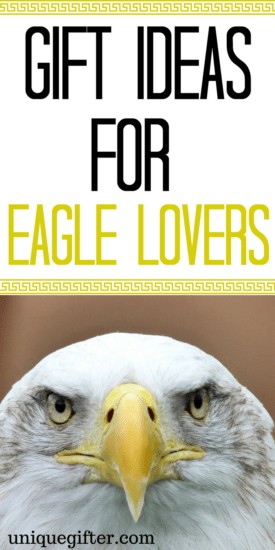 For folks who love other animals, we have an epic alphabetical list of gifts for animal lovers.
Gift Ideas for Eagle Lovers
3D Sculpted Flying Bald Eagle Wall Shelf
A magnificent place to store your books, collectibles, and anything else they want to put on display in their home or office!
Eagle Yeti Cup
This eagle yeti cup is perfect for on-the-go drinks, when they just don't have the time to drink their coffee or other choice beverage before leaving for work or to run errands.
Wood Art Eagle Jewelry Box
There isn't a more perfect place to keep the eagle lover's jewelry safe and in one place, than the wooden eagle jewelry box that is really a piece of artwork.
Eagle Cedar Wood Print
Unique and pleasing to the eye, the cedar wood eagle print will look nice on their wall or in a frame on their desk.
Eagle Necklace
Nothing a woman loves more than a necklace that represents their passion for eagles, and this necklace is simple and elegant, which means it will go perfectly with whatever outfit they choose to wear with it.
3D Eagle Crystal Ball Lamp Nightlight
If they are afraid of the dark, whether a child or an adult, they will certainly enjoy the 3D eagle lamp nightlight to bring light into their darkness.
Bald Eagle Salt and Pepper Shaker Holder Figurine
Perfect as a centerpiece on their table for a dinner party, or a simple dinner at home, this bald eagle salt and pepper shaker holder will make everything much more interesting.
Bald Eagle Glass Mug
The bald eagle lover in your life will enjoy their beer even more from their bald eagle glass mug.
Eagle Zipper Charm
Zipping up their shirt, jacket, or backpack will be exciting with an eagle zipper charm.
American Eagle Fleece Throw Blanket
Help keep them warm with their favorite bird on a fleece throw blanket, especially handy in the colder months!
Drinking Bald Eagle Wine Bottle Holder
What a better way to put their wine on display than with a drinking bald eagle wine bottle holder?
Eagle Car Mirror Accessory
The eagle car mirror accessory will give their car the flair and fun it needs.
Eagle Wine Glass
A wine glass with their favorite bird on it will give drinking a new level of enjoyment.
Silver Eagle Keychain
Is silver a girl's best friend? If not, this silver eagle keychain might change her mind!
Gifts of an Eagle by Kent Durden
If they love eagles, they will certainly love reading an inspiring story about an eagle and the gifts it gave, in this book.
Eagle Rechargeable Flameless Electronic Cigarette Lighter
They can light their cigarettes and cigars with a rechargeable flameless electronic eagle cigarette lighter.
Eagle Walking Stick Handle
Know an eagle lover who uses a walking stick…? They need an eagle handle for it! It will make them the talk of town, in a good way.
Eagle Flying Over Water Coffee Mug
Drinking coffee with their favorite bird each morning will help them perk up much faster!
Eagle Cufflinks
Give them the gift of added style with these eagle cufflinks to go with their suit!
Civil War Eagle Stationery
Snail mail may not be super popular these days, but they can learn to enjoy the process of handwriting a letter or note, and sending it through the mail, with the Civil War eagle stationery at their fingertips.
Eagles are magnificent birds, and intriguing as well. Make sure to get the eagle lover in your life a wonderful and thoughtful present for their birthday, holiday, or other special occasion! One of those listed above will be the perfect idea!