Disclosure of Material Connection: Some of the links in this post may be "affiliate links." This means if you click on the link and purchase an item, I will receive an affiliate commission. Disclosure in accordance with the Federal Trade Commission's 16 CFR, Part 255. This site is a participant in the Amazon Services LLC Associates Program, an affiliate advertising program designed to provide a means for sites to earn advertising fees by advertising and linking to Amazon.
Let's face it, it can be hard to buy for any young man, but eighteen-year-olds are even more difficult. So what is one supposed to get for Christmas Presents for 18 year old boys? There are some fun gifts here, and some that will help set them up for success as they explore adulthood. Check them all out and figure out which one, or ones, will be best for the young man in your life. Make this holiday memorable with these gifts for your 18-year-old boy below!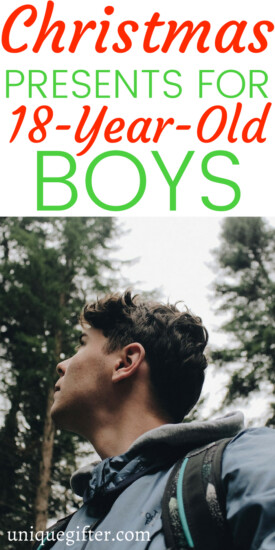 Epic Christmas Presents…
for those old and young!
The Lord of the Rings and The Hobbit 4 Books Collection Set
The Lord of the Rings are classic books and will give him many hours of entertainment. If he's a big sci-fi and fantasy buff, we have a cool list of gift ideas here.
Samsung Gear S3 Frontier Smartwatch
Every young man wants a smartwatch. It might not be as fancy as an Apple Watch, but it is a great choice for him!
Complete Shaving Kit
They just might need help keeping their facial hair under control, and this complete shaving kit will help them do just that.
"Not today" Game of Thrones Shirt
If they love Game of Thrones, they will love receiving this "Not today" shirt for Christmas this year.
Man Meets Stove: A cookbook for men who've never cooked anything without a microwave by Jim Madden and Thomas Jacques
Help them learn the skills necessary to cook for themselves, without just a microwave and a toaster, with this Man Meets Stove cookbook as a guide.
Camera Lens Kit for Smartphones
They can take better pictures with a special camera lens for their smartphone. If they are into photography or making videos, then they will certainly enjoy tinkering with this camera.
Keurig Single Serve K-Cup Coffee Maker
Coffee is life to a young adult, getting ready for college, and a single serve Keurig coffee maker makes it even easier.
The Walking Dead Mug
For the fan of The Walking Dead, this is the perfect mug to help prevent them from feeling like a zombie every morning.
Beard Balm Vanilla and Mango
Sometimes all they need is a little beard balm that smells like vanilla and mango to keep their beard in excellent shape.
Wireless Sports Noise Canceling Headphones
The noise of the world can become a bit much sometimes, and that's where these wireless sports noise canceling headphones will come in handy.
Chicago Bears Pot Holders and Oven Mitt
Fans of the Chicago Bears will love having these handy when they cook, otherwise they just might burn their hands on accident when taking something out of the oven with a towel.
Beats Pill+ Bluetooth Speaker
Bluetooth speakers are great for all the raging parties he wants to throw, whether he gets a chance to do so or not.
Desktop Miniature Dartboard Game
Help the eighteen-year-old guy in your life stay entertained and having fun, with a desktop miniature dartboard game. It will help him let off a little steam on occasion too.
"They see me rollin" Moon Emoji Coffee Mug
While this song was popular long ago, the young man in your life will appreciate the quote and moon emojis.
Slim RFID Blocking Wallet
Keep him safe from someone stealing his identity, or money, with a slim RFID blocking wallet.
Thor Ragnarok Poster Set
This young man in your life definitely needs this Thor Ragnarok poster set to hang up on his wall at home or in the dorm. If superheroes are his thing, check out this list of cool superhero shirts
The Maze Runner Complete Book Series
An amazing novel series for young men, the Maze Runner book series is another one to keep him busy.
Rampage Movie
Action-packed movies are usually a young man's favorite, and Rampage is just that.
Waterproof Sneakers Winter Hiking Boots
Waterproof sneakers winter hiking boots will help him keep his feet dry on any winter hiking trips.
Iron Man Magnetic Bookmark
If he is a bookworm, he definitely needs an Iron Man magnetic bookmark to keep his place in his books.
Christmas presents are hard to get sometimes, but this list will leave you handling the shopping like a pro.