Disclosure of Material Connection: Some of the links in this post may be "affiliate links." This means if you click on the link and purchase an item, I will receive an affiliate commission. Disclosure in accordance with the Federal Trade Commission's 16 CFR, Part 255. This site is a participant in the Amazon Services LLC Associates Program, an affiliate advertising program designed to provide a means for sites to earn advertising fees by advertising and linking to Amazon.
When your husband has hit the "naughty forties", there's no telling what you can expect. Some would even go as far to say that life only begins then. It doesn't matter what others have to say about turning 40, the fact of the matter is that choosing a gift for your husband's 40th birthday that will make him want to live another 40 years with you is gonna be tough.
Scroll on for gift ideas for your husband's 40th birthday!
We've made a list of superb gifts that are sure to get your hubby's heart rate pumping and you the number one person (as you should be) in his life. Here's 40 ideas to get your started. And don' worry, we got your wife covered too! 
Multi-Combo Game Table
Your husband is a kid at heart, so let him play a few rounds of his favorite games – pool, air hockey, or foosball. This rad gift can come with or without expert assembly, so if your husband needs a project, unassembled is the perfect way to go!
---
Best 40th Birthday Husband Gift
OAKMONT ENGRAVED PRESENTATION SET WITH DECANTER & GLASSES 6 PC
Oakmont Engraved Presentation Set with Decanter & Glasses 6 pc
What a special gift idea for him. Customized gifts are always such a special way to let them know you really went out of your way to make his gift become extra special. 
---
Virtual Reality Headset
For the 40 year old who has everything, this headset is the icing on the cake. With HD quality, these glasses are sure to keep your husband chilling on the couch (or in his man cave) all day.
Customized Whiskey Flavoring Gift Set
Put your husband's name on a whiskey aging barrel and watch his reaction because he'll be amazed! This gift is a show stopper and great for the elegant spirit drinker in your life.
Craft Beer Tasting Kit
Expand your husband's pallette with this craft beer tasting kit. Pair with your husband's favorite beer and make any beer lover "hoppier."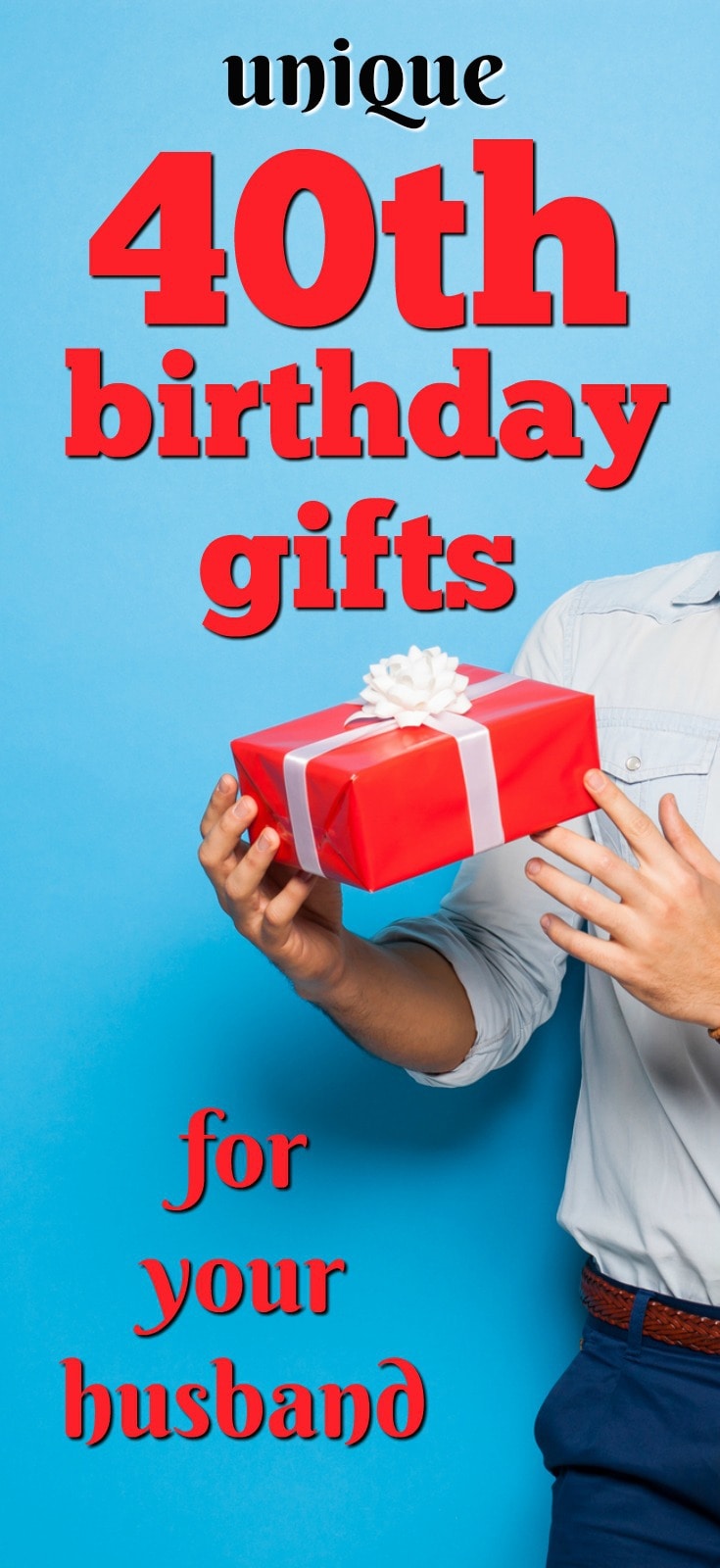 40th Birthday – T-shirt
This T-shirt is a great reminder of what it REALLY means to be 40!
Samurai Kitchen Knife Set
Perfect for any ninja in the kitchen, this samurai kitchen knife set will make your husband smile every time he cooks you a magnificent meal.
Rouxbe Online Cooking Course
If your husband is past the cool factor of samurai kitchen swords, and into perfecting his skills, a Rouxbe online cooking course might be just the thing. These self-paced courses are available on a variety of topics, or a membership model, and make an excellent gift. He will learn SO much. Click here to read a full review of Rouxbe.
Half Penny Cufflinks with his Birth Year
These are great milestone cufflinks. This will have your husband looking snazzy for the next 4 decades. If he needs a new hobby and might lose the new cufflinks, maybe get him a metal detector to play with?
Sushi Kit
A fun pair for the above knife set, this sushi kit gives you all the tools you need to create perfect sushi rolls. A great gift for an aspiring chef or a simple sushi fanatic.
---
Editors Pick
Barnett Crossbow

---
Retro Popcorn Machine
A perfect addition to any man cave, this retro popcorn maker is also cute enough to live in other parts of your house. Your man will love enjoying fresh popcorn with his daily Netflix binge!
Wooden Wallet
If your hubby is a minimalist then this is a great way to keep those notes in check. This is a stylish daily reminder of how much you love him.
Harry Potter Wand Remote
Let your husband swish and flick the TV on and off utilizing his knowledge of Harry Potter Spells. Your husband is sure to feel extra magical with this gift!
Turntable
For the husband who misses the good old days or is considering a DJ hobby, this turntable is a truly unique gift. Featuring built in speakers and a Vinyl to MP3 function, this turntable is versatile.
---
Editor's Choice Husband's 40th Birthday Gift Idea
Harmsen's Hockey Bottle Opener
Handmade items made from recycled broken hockey sticks. Harmsen's Hockey currently offers bottle openers and Wood BBQ grill scrapers as well as custom items and t-shirts.
---
 Leather Watch
Maestro hubby would love you until the end of time with this great piece. If music isn't his thing, a beautiful new leather watch in a different style will stay with him for years as a reminder of this milestone birthday.
Men's Trainer Shoes by Adidas
This trainer shoe will have him finally making use of that gym membership.
Echo Dot
Whether or not your husband already has the Amazon Echo, the echo dot is a great gift for your techie husband, or just the guy who wants life to be a little bit easier. Play music, use as a universal remote control, or ask Alexa questions with this small but mighty device.
Leather Messenger Bag
Make him the envy of all of his coworkers and co-commuters with a beautiful leather messenger bag that he will be able to use for years.
Beard Kit
At 40, your husband needs to step up his beard game. This luxurious kit contains brush, comb, and beard oil – sure to make macking on your husband even sweeter!
Sweet Gift Tower
Ahhhh what the hell!! You only turn 40 once! Indulge his sweet tooth with this huge tower of sweets!
FitBit
After you've indulged his sweet tooth, a FitBit is the perfect way to help your husband stay healthy. Why not buy matching Fitbits for yourself and him and challenge each other?
Editor's Choice Husband's 40th Birthday Gift
Star Wars Chewbacca Bath Robe

Chewbacca Adult Star Wars Sherpa Robe w/ Sound Chip
Sherpa lined and decked in galaxy-tier style, this Chewbacca bath robe features a sound chip so your husband can roar away! This is the coziest and most hilarious gift for your husband's 40th birthday
Raw Silk Short Kurta
Help him look stylish and stay cool this summer with a luxurious kurta – don't worry, you don't have to be a yogini to pull it off. These shirts scream sexy-casual!
Digital Drawing Graphics Tablet
This gizmo will have hubby unleashing his creative side. It's perfect for the gadget loving husband and the creative guy.
Bluetooth Headphones
Perfect for use in the gym or at home when doing a project, these headphones are wireless and waterproof.
Mountable Spice Rack
If hubby is the master chef in the home, this spice rack will help him get organized. Tell him you want to "spice up" your lives.  ;-)
Personalized Guitar Strap
Help him remember his name when he gets caught up in the flow of the music.
Wooden Memory Box – For Photos and Memorabilia
This nifty handmade wooden box book will keep his things all in one place. Collect memories of your time together and his life to fill it, making it a wonderful sentimental gift. Alternatively, fill it with fun dates!
Beverage Pump
He'll be the star on game night. This is the perfect fortieth birthday gift for your husband who loves to have a good time with friends. Make sure this is unwrapped before the 40th birthday party starts!
Bourbon Making Kit
If your other half is an avid bourbon drinker, let him try his hand at making his own with this kit – complete with a cask! This is a very fun gift that will keep him entertained for ages and give him a new memory to share with friends.
HP Sprocket
For the photographer, the HP Sprocket is the perfect pocket photo printer. Even the man who has everything needs this gift!
3D Printing Pen
If your husband fancies himself an artiste, this pen is sure to keep him busy creating 3d masterpieces all day!
Nespresso
Step up your husband's coffee game with this espresso machine built for leisure. Look forward to fresh brewed espresso every morning when you gift this to your caffeine obsessed husband.
Whiskey Wedge
This classy gift will help your man enjoy his whiskey on the rocks without the usual side effect of watered down whiskey.
Personalized Whiskey Decanter Sett
A great gift to go along with the above whiskey themed gift, this set includes a whiskey decanter and four whiskey glasses, all personalized by you specifically for your husband.
Shave Kit
Help your husband shave like a gentleman with this Gentleman Jon Shave Kit. The kit includes everything needed for a true gentleman's shave, so your husband will enjoy a quality shave.
Personalized beer Mug
On its own or paired with the above gift, this mug is sure to make any beer lover smile. Personalize with initials, a funny saying, or their nickname, but whatever you write, he's sure to go back for a second pint!
Personalized Docking station
Personalize this gift for your hubby to remind him of you. Plus it will keep him organized… you know there are some husbands who need help!
We hope you enjoyed this selection of unique gift ideas for your husband's 40th birthday. We add new finds as we come across them, enjoy.