Disclosure of Material Connection: Some of the links in this post may be "affiliate links." This means if you click on the link and purchase an item, I will receive an affiliate commission. Disclosure in accordance with the Federal Trade Commission's 16 CFR, Part 255. This site is a participant in the Amazon Services LLC Associates Program, an affiliate advertising program designed to provide a means for sites to earn advertising fees by advertising and linking to Amazon.
Think your teen is too old for an Easter basket? Think again, you are never too old for a visit from the Easter bunny! I have gathered some pretty awesome gift ideas to toss in their Easter basket for girls and boys! These gifts will be a perfect way to brighten your teens day! Shower them with love and let them know they are never too old to get a little present on the holidays! I have rounded up gift ideas that any teen will surely enjoy!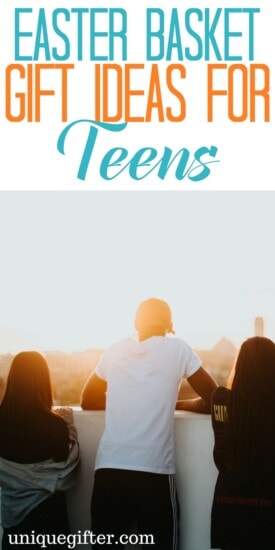 Love PINK Tumbler
Victoria Secrets Pink line is so popular, so why not give your teen a tumbler that fits the brand! They will love how pretty it is, and help keep their drinks cold and hot when they use it!
Dragonfly Wish Bracelet
This is a dragonfly charm on a black cord bracelet. It is a type of friendship bracelet that can show how special your relationship is. When they were the bracelet it will begin to wear and eventually break. They make a wish on the charm and their wish is supposed to come true. Just something fun and different.
Teen Boy Devotional
Give him this devotional so each day he can sit down and grow a little deeper in his faith and walk with God. A really neat book made for teen boys.
One in A Melon
Tell your teen they are one in a melon (aka million)! This is a cute bag to store lip gloss, makeup, or pens in for when they head out the door!
Sequin Pillow
This is a sequin pillow that when you rub your fingers across it, you will see a different color. They are so popular and fun, and perfect for adding a pop of color to their room.
Mermaid Tail Blanket
This is more for girls but a fun little blanket that looks like a mermaid tail. I know if I was a teen I would love to use this while I did homework or read a book or even played on my phone!
Bounce Battle
This is a really fun game for you to play as a whole family or let your teen have some friends over and play. Bounce the ball and make it into the right area on the pegboard to make the shape you are going for, from tic-tac-toe, different patterns and shapes and lots more.
Night Ball Glow in The Dark
Let your teen head outdoors once the sun goes down and toss the football around. This is a really neat football that glows in the dark! They will love it.
Pretty Bath Bomb
Relax with this amazing smelling bath bomb that will add color to the bath and a fragrant aroma. Girls who love pampering will love these homemade bath bombs.
Lounger Sofa
This is an inflatable lounger sofa that is perfect for relaxing, and we all know teens girl or boys love to lounge. This is a fun item for maybe a basement or even to have in their bedroom!
Solid Yellow Gold Cubic Zirconia "Rihanna" Earrings
These are darling earrings that can be worn day or not, for the perfect amount of girly-ness. They are hypoallergenic as well, which is a huge plus for those sensitive ears.
Basketball Night Light
This is a 3D LED nightlight in the shape of a basketball. While your teen might not use it as a night light exactly it is fun to have as a decor piece in their room!
Easter Mug
This Easter mug is perfect for sipping a spiced chai, coffee, or hot tea out of for either your girl or boy teen. It is Easter-themed and cute and playful.
Mint Striped Bow-Tie
If your teen boy loves to dress up, give him this really fun mint striped bow-tie! I love the colors perfect for Easter or any other time of year.
Hoodie
Let him wear this patterned hoodie for comfort and style! It is pretty neat as it is a silhouette of a horse, with a nature scenery inside.
Scripture Pendant
These are really neat scripture pendants that have a variety of patterns and scriptures to choose from. I love the pretty floral prints paired with inspiring and uplifting scriptures.
Foodie Shirt
This is a pretty hip and fun shirt great for a girl or a boy. If they love food and eat a lot, they might get a kick out of this shirt.
Makeup Bag With Name
If your teen girl loves her makeup give her this adorable floral print makeup bag. Get it custom with her name! You could buy her favorite brands of makeup to stuff inside for an added surprise.
Inspirational Wall Art
I love to uplift teens and let them know they are special and worthy. It is hard being a kid and a teen is even worse. Give this inspirational wall art to always be a reminder that they can do anything and they matter greatly.
Fleece Monogrammed Jacket
I thought this was a fun look for any teen girl to wear to stay warm and add a touch of style. They have tons of colors to choose from to fit the look your teen might like!