Disclosure of Material Connection: Some of the links in this post may be "affiliate links." This means if you click on the link and purchase an item, I will receive an affiliate commission. Disclosure in accordance with the Federal Trade Commission's 16 CFR, Part 255. This site is a participant in the Amazon Services LLC Associates Program, an affiliate advertising program designed to provide a means for sites to earn advertising fees by advertising and linking to Amazon.
Are you looking for a fantastic gift for the Letter T? You're sure to find what you've been looking for here! Whether you need to get a gift for someone who enjoys making their home beautiful or someone who loves a laugh, the perfect gift for them is in this list of 20 inventive gift ideas for the letter T.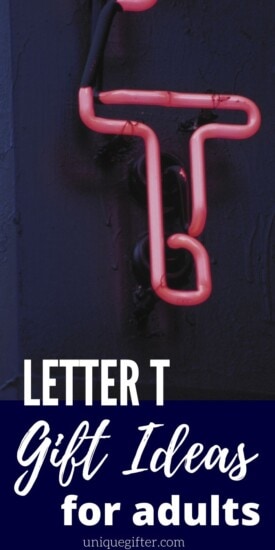 Inventive Gift Ideas for the Letter T
Letter T themed gift ideas might seem like a tough subject but with our help we can make you a terrific gift giver yet! Try these gift ideas for the letter T for birthdays, anniversaries, or "just because".
Tapestry
This beautiful tapestry will be a stunning addition to any bohemian home.
Tea Tree Oil Gift Set
Beauty lovers will be excited to receive this gorgeous Body Shop Tea Tree Oil gift set!
Tablet Stand for the Bed
Who else hates trying to watch movies on their tablet in bed? This Tablet Stand totally solves that problem. Give it to a friend and they can say goodbye forever to aching arms and sliding tablets!
Tactical Backpack
Need to get a gift for an adventure loving friend? They'll love taking this tactical backpack on all of their extreme expedition!
Tai Chi DVD
Give the gift of inner calm with this Tai Chi for Beginners DVD.
Takoyaki Grill
If they love trying new things in the kitchen, your friend will be excited to try out this Japanese Takoyaki Grill. Any fancy some Japanese street food?
Tangle Teezer
Tangle Teezers are a great, long lasting gift for the letter T that will definitely come in useful!
Taqueria Cookbook
Do you need to get a gift for someone who adores Mexican food? Get them this Taqueria Cookbook so they can indulge in their favourite food every night of the week!
Tarot Deck
Has your friend always been a little curious about the spiritual world? They'll enjoy exploring their curiosity with this Wild Tarot Deck and Guidebook.
Tattoos
So you could take your friend out to get a real tattoo! Or you could play it safe and get them these stunning temporary tats instead.
Taxidermy
Giving a real taxidermy animal as a gift might freak the receiver out, so why not settle for this funny photo book as an alternative?
Teabloom Set
Know someone who loves tea and flowers? Well this is the perfect gift for them! First they'll be hypnotised by the beautiful blooming flower and then they get to drink some delicious herbal tea.
Tequila Serving Set
A Tequila Serving Set adds a classy touch to the usual, rowdy mayhem of tequila shots!
Terrarium Kit
If you know someone who wishes that they had a garden to tend to, get them this terrarium kit. They'll be able to practice on a much smaller scale!
Tibetan Singing Bowl
Meditation fans will enjoy this peaceful gift of a beautiful Tibetan Singing Bowl. It will add another level of calm to their practice.
Tie Dye Kit
Take your friend back to the 70s with this tie dye kit! They'll be wearing platforms, growing their hair and listening to Janis Joplin before you know it.
Toilet Fishing Game
Need to get a gift for a friend who finds toilet humour hilarious? They'll surely appreciate this fishing game, designed to take away any bathroom boredom!
Ticket Stub Organiser
This is a brilliant gift for someone who loves to go to sports games, music concerts or travel the world! The Ticket Stub Organiser will help them to display and organise all of those treasured memories.
Travel Games for Grown Ups
Add some entertainment to your friend's future road trips with some Travel Games for Grown Ups. Long journeys don't get any less boring as you grow up.
Travel Tracker Map
Do you need to get a gift for someone who loves to travel the world? This scratch off Travel Tracker Map is the perfect gift for them!
More Letter T Gifts for Adults
Not quite sure what to get the adult friend of yours for their birthday? Or maybe you just need something small, to show them that you appreciate them. Regardless the reason, the question is really what are some great gift ideas? Well, look no further. Check out these 20 great gift ideas that start with the letter "t".
Toe Socks
These are perfect for when the weather is cooling down, but you aren't quite ready to put those flip flops away yet. They are available in a few different colors, and are made to fit both men and women's toesies.
Tinman sculpture
All he ever wanted was a heart! And now he has one! This adorable tinman sculpture would look wonderful on a front doorstep, or in the garden!
Tripod
Is someone you know constantly shooting photos of anything and everything? Well, why not get them this lightweight tripod. It's a great way to help them capture new perspectives, and really enhance their photography game.
Trimmer
There is nothing worse than having to trim the bushes branch by branch with a pair of loppers. Instead, make yard work an easy chore by gifting this Black and Decker hedge trimmer.
Tablet
Tablets are the perfect gift for that someone who is always on the go. They're a great way to catch up on favorite shows, and even relax with some good reads!
Train Clock
While this looks like a train clock, it also serves another purpose. A conversation piece! That's right, anyone who happens to notice the clock is sure to strike up a conversation about what an interesting clock it is!
Twine in a Jar
Do you have some crafty friends? If so there's a pretty good chance they may enjoy this roll of twine in a jar. Once they use it up, they can transfer their own twine into it, for cute permanent twine storage.
Twig Decor
There is something quite appealing about a tall vase full of flowers or twigs. These willow tree twigs make for a perfect vase filler!
Tabletop Tree
Gardening is a great stress reliever for many. While this is only a tabletop tree, it does require some upkeep, and will also help provide a peaceful and relaxing zone.
Tiger Puzzle
Puzzles are certainly not just for the kiddos. In fact, they make a great way to pass the time, no matter how old you are. And what's extra fun about this tiger puzzle is that it's three dimensional!
Tango Lessons
Know someone who's quick on their feet, and full of energy? Why not gift this dvd on tango lessons. It's perfect for beginners who don't know where to start!
Tailgating Table
Who doesn't enjoy an afternoon of tailgating?! This collapsible table is the greatest tailgating accessory, as it folds just like a camping chair to take up minimal space, and make transportation easier. Not only does it have 4 mesh cup holders, but the center was made to hold a bowl of chips, or other tasty snacks!
Trivia Game
Trivial Pursuit is a game of the past. Check out this exciting game of trivia called I'm Not Saying You're Stupid. With a name like that it's bound to bring tons of fun and laughter!
Tupperware Nesting Bowls
Is there really such a thing as too many left over containers? I think not! And with a set like these Tupperware nesting bowls, you are sure to keep them around for good.
Tarot Card Set
Whether or not you know someone who is a believer, this tarot card set is sure to provide some entertainment for just about any adult. The cards and informational booklet come nicely packaged in a magnetic box, to keep everything all together.
Tinkerbell Keychain
Do you know a Disney Fan? Check out this cute keychain. No more losing keys once they are on this decently sized Tinkerbell keychain.
Twitter Marketing Book
Learning how to promote business on social media is becoming an important part of being an entrepreneur. The Twitter Marketing book is an excellent idea for a new business owner.
Train Socks
Need a gift for the fella who hasn't quite given up his childhood obsession with trains? These socks are calling your name! Or his.
Which of these inventive gifts for the letter T are you going to choose? If you do buy any of these gifts, we'd love to hear about it! Let us know in the comments or find us at @ugifter on twitter and @uniquegifter on instagram.
For more inspiration, here is the ultimate list of gifts that start with every letter of the alphabet.