Are you looking for a fantastic gift for the Letter T? You're sure to find what you've been looking for here! Whether you need to get a gift for someone who enjoys making their home beautiful or someone who loves a laugh, the perfect gift for them is in this list of 20 inventive gift ideas for the letter T.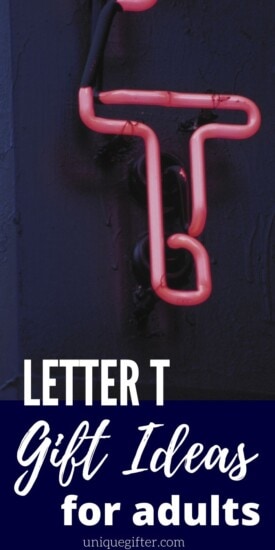 Not quite sure what to get the adult friend of yours for their birthday? Or maybe you just need something small, to show them that you appreciate them. Regardless the reason, the question is really what are some great gift ideas? Well, look no further.
Inventive Gift Ideas for the Letter T
Letter T themed gift ideas might seem like a tough subject but with our help we can make you a terrific gift giver yet! Try these gift ideas for the letter T for birthdays, anniversaries, or "just because".
You might also like:
Which of these inventive gifts for the letter T are you going to choose? If you do buy any of these gifts, we'd love to hear about it! Let us know in the comments or find us at @ugifter on twitter and @uniquegifter on instagram.
For more inspiration, here is the ultimate list of gifts that start with every letter of the alphabet.