Disclosure of Material Connection: Some of the links in this post may be "affiliate links." This means if you click on the link and purchase an item, I will receive an affiliate commission. Disclosure in accordance with the Federal Trade Commission's 16 CFR, Part 255. This site is a participant in the Amazon Services LLC Associates Program, an affiliate advertising program designed to provide a means for sites to earn advertising fees by advertising and linking to Amazon.
Restaurant owners eat, sleep, and breathe their work. They've got their hands in kitchen, customer service, business, payroll – you name it, they do it! Some of these random gifts for restaurant owners would be quite useful to your foodie friends! Get them something they can use at work as an added bonus.

Gifts for Restaurant Owners
Get them some gifts they really want. And then, get some for you too.
Chalkboard Signs
Great for display inside of their restaurant or out on the sidewalk!
Amazon Prime Membership
For a small restaurant, this is a spectacular idea! The restaurant can get fast delivery of office products, toilet paper, or even cleaning supplies. Plus, they can take advantage of the Subscribe & Save offerings!
DOSS Touch Wireless Bluetooth V4.0 Portable Speaker with HD Sound and Bass
For the restaurant owner who never leaves their restaurant, this will help them fill the space with tunes while they're working.
BOOK: Kitchen Confidential: Adventures in the Culinary Underbelly
Lots of behind the scenes kitchen & restaurant information to be found in this funny memoir by Anthony Bourdain. If they are more of a Gordan Ramsey fan, we've got you covered there too.
A "World's Best Restauranteur" Mug
Because they simply are the best restauranteur you know!
This "Go Cry in the Walk-In" T-Shirt
A little bit of kitchen humor for the owner!
Boss Keyring
Who else should get a boss keyring besides the boss himself?
Stainless Steel Corkscrew
The owner may find themselves behind the bar popping open bottles of wine from time to time, so give them their own personalized corkscrew to carry!
Charging Station for Multiple Devices
If someone is working in their restaurant 24/7, chances are they'll need to charge their devices at some point. It's also helpful if a guest needs to charge their phone.
Personalized Name Desk Plate
Nameplates are great gifts for someone's office – at home or in the restaurant!
An Audible Membership
Does this restaurant owner like books? Gift them an Audible membership to help them keep up with all the books they intend to read!
Aqua Notes Water Proof Note Pad
For the restaurant owners who are always brimming with ideas and thinking of things to do, they can put this notepad in the shower!
Fancy Business Cards
Every business owner needs a business card!
10X Planner by Grant Cardone
For any small business owner, restauranteur or not, this planner helps business owners that want 10 times more out of life & their business ventures.
House Cleaning Services
If the owner is essentially living in their restaurant, chances are they might need some help at home!
An Office Nap Pillow
A restaurant owner probably works a lot of odd & long hours, help them take an office nap on long nights!
A Signature Stamp
Give them a signature stamp to help them save time when signing checks or documents.
Moleskine Evernote Smart Notebook
For the owner who likes to write down their notes, but also appreciates the aspect of keeping their notes digitized. Every Evernote Smart Notebook comes with 3 months of Evernote Premium included. If they happen to forget everything, you might wanna look at this list too.
Wireless Bluetooth Headset
Restaurant owners are probably pretty busy, so keep their hands free with a headset like this!
Your Business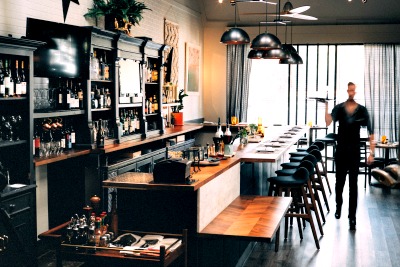 Seriously, their restaurant won't stay open unless they have customers! Patronize their business often and bring your friends!
Restaurant owners have a variety of things to keep them busy! Help lighten their load or make it a little easier with one of these ideas.