Disclosure of Material Connection: Some of the links in this post may be "affiliate links." This means if you click on the link and purchase an item, I will receive an affiliate commission. Disclosure in accordance with the Federal Trade Commission's 16 CFR, Part 255. This site is a participant in the Amazon Services LLC Associates Program, an affiliate advertising program designed to provide a means for sites to earn advertising fees by advertising and linking to Amazon.
Preschool is such a fun age. They're still little kids, not yet ruined by school, but past the toddler age where everything is a challenge. Here are some fun Easter gifts that are perfectly suited to your 3, 4, or 5 year old.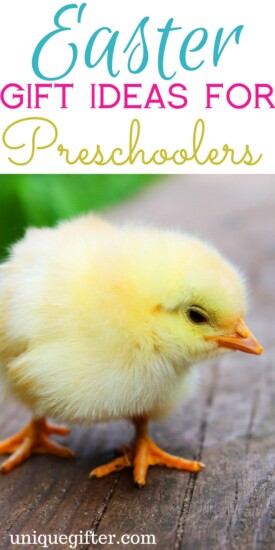 Easter Gift Ideas for Preschoolers
Bunny Water Bottle
Having a fun water bottle makes drinking water that much more exciting. Your little one will be the talk of the playground with this one waiting.
Bunny Egg Holder
These customized wooden bunnies are a great Easter gift idea! Just add your favorite chocolate egg inside.
ABC Flash Cards
Start working on ABCs with these adorable vintage looking flashcards. They come on a ring to make sure none get lost.
Surprise Eggs
Surprise eggs are all the rage amongst preschoolers. These Easter themed ones are eggtra exciting!
Bunny Mug
Your preschooler will take their hot chocolate in their very own Easter mug.
Stuffed Rabbit
Stuffed rabbits are not just for babies. Your preschooler will love this cute stuffed bunny that has a bit more grown up look.
Nail Arty
A great addition to a preschooler's Easter basket, this kid-friendly nail art will make them feel like a big kid.
Apron Set
Helping in the kitchen is such a privilege for preschoolers. A custom bunny themed apron set is a perfect gift for a little helper.
Binoculars
Spring usually means the return of wildlife. Get your preschooler a pair of binoculars and they'll spend hours exploring.
Matching Game
Games are a great way to teach preschoolers those essential skills they need before kindergarten while still having fun.
Custom Cup
Make your preschooler feel special with their own special cup. You can get these customized in the Easter theme of your choice.
Bunny Crayons
Preschoolers love their arts and crafts. Gift them some cute bunny crayons so they can hop on drawing you a beautiful masterpiece.
Carrots for the Bunny Plate
Preschoolers love leaving cookies out for Santa so start a new tradition this year: carrots for the Easter bunny!
Wooden Egg Puzzle
Get them practicing their hand-eye coordination and problem solving with these colorful egg puzzles.
Gardening Apron
Your preschooler will be all ready to plant the garden this year wearing a cute apron. It's even filled with tools perfectly sized for little hands.
Easter Felt Mr. Potato Head
If you don't already have a felt Mr. Potato Head, grab one before buying this Easter accessory set. A great way to keep preschoolers busy.
Magnet Painting Kit
Have your preschooler decorate a special magnet as an Easter keepsake. A great gift to do together!
Necklace
Preschoolers love wearing jewelry but getting something that's customized with their name makes it that much more unique.
Crocheted Easter Eggs
These Easter eggs won't melt or go bad and they come in a bunch of fun colors. Add them to your preschooler's Easter basket or hide them for a reusable egg hunt.
Bunny Hat
Easter weather can still be chilly but that shouldn't stop you from celebrating.
Show some bunny you love them with these preschooler Easter gifts and have fun putting together a perfect Easter basket!