Disclosure of Material Connection: Some of the links in this post may be "affiliate links." This means if you click on the link and purchase an item, I will receive an affiliate commission. Disclosure in accordance with the Federal Trade Commission's 16 CFR, Part 255. This site is a participant in the Amazon Services LLC Associates Program, an affiliate advertising program designed to provide a means for sites to earn advertising fees by advertising and linking to Amazon.
Purchasing a gift that the recipient will love doesn't have to be expensive. That's why today we have compiled this list of the twenty best gifts available for less than $5.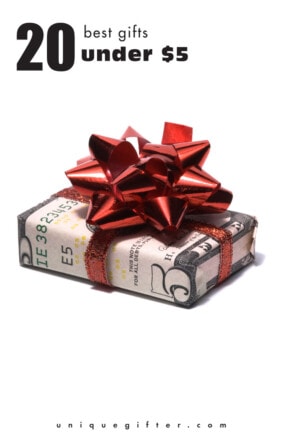 Tea Submarine
Those who love drinking tea will love this novelty tea infuser. It is a great stocking stuffer or birthday gift for those who have a love for drinking loose tea.
Miniature Brains Ice Cube Molds
This is perfect for those who have a remarkable sense of humor and host gatherings at home. You cannot help but giggle when you see a miniature brain floating around in your drink.
Bonsai Tree Seeds
Are you gifting someone who loves to play around in the garden? Give them the gift of some Bonsai Tree Seeds and they are sure to be pleased.
Crown Knitting Pattern
Are you shopping for someone who likes to sew different creations? Gift them this crown knitting pattern and they will be able to keep themselves occupied creating a new masterpiece.
Harry Potter Keychain
Those who are die-hard Harry Potter fans would be full of joy to receive a keychain from their favorite wizard.
Maze Pen
Do you know someone who is a super procrastinator? Give them this as a gift so they can procrastinate wisely.
Acupressure Massage Rings
Everyone loves massage related presents. Therefore, do yourself a favor and purchase something that will help your gift receiver relax.
Money Maze Bank
Saving money should be fun and spending it should require some thought. This bank will provide both.
"Put Me Down" Decal for Toilet Seat

Because sometimes men need a little reminder.
Mini Gumball Machine
This is the perfect gift for those who get tired of their co-workers asking them for a stick of gum throughout the day. Now, they can get smart and start charging them 25 cents for a ball of gum!
Nose Pencil Sharpener
Bring a smile to your student's face, every time they need to sharpen their pencil.
Rearview Spy Glasses
Everyone needs to be able to see what is going on behind them. Also, they are perfect for those who have young passengers who they need to keep an eye on.
Parking Tickets
Just make sure to warn them to use them wisely.
Rock Outdoor Key Holder

For that one friend that keeps locking themselves out of their home.
Exploding Golf Ball

The perfect gift for a golfer who has a since of humor – just make sure they don't use it during a tournament.
Wall Outlet Safe
Help them feel safe knowing that if anyone ever breaks in, they won't find their stash.
One Trip Grip
They will thankyou each time they get back from a large shopping trip.
Portable AMP for iPhone
Everyone who owns an iPhone needs to have one of these.
Hand Held Scalp Massager
These things feel so good. They will be begging to know where you purchased it if they ever lose it.
Bear Claw Back Scratcher
We all have those times when sections of our backs are itching that we just cannot reach. Therefore, instead of them rubbing around on the closest surface, now they can scratch their own back.