Disclosure of Material Connection: Some of the links in this post may be "affiliate links." This means if you click on the link and purchase an item, I will receive an affiliate commission. Disclosure in accordance with the Federal Trade Commission's 16 CFR, Part 255. This site is a participant in the Amazon Services LLC Associates Program, an affiliate advertising program designed to provide a means for sites to earn advertising fees by advertising and linking to Amazon.
Everyone is so excited that the school year is coming to an end, but a teacher's job is far from over. Whatever will you get for your students as an end of the year classroom gift? There are so many amazing options to choose from, so don't fret! Check these out!

Rave-Worthy End of Year Classroom Gifts for 2nd Grade Students
Silly Crazy Loop Straws
Silly crazy loop straws paired with a packet of kool-aid will help them stay cool and hydrated in fun this summer.
Fla-Vor-Ice Assorted Flavors
Almost every kid loves those Fla-Vor-Ice popsicles, and these are one of the only kind of popsicles you can give them that will make it home since they aren't frozen yet!
Kool-Aid Variety Pack
This kool-aid variety pack is enough for your whole class and gives them variety at the same time.
Bulk Neon Sunglasses
Since they are getting out for summer, these sunglasses that come in neon colors are perfect. Help them have a happy and "sunny" summer vacation!
Smores Kit
A couple of these Smores Kit boxes and divvy them up for each of the students so they can have a s'more of their own at home this summer.
Hacky Sacks, Assorted Colors
Young kids can learn how to hacky sack, and these come in a variety of colors and styles so each kid gets one that is unique.
Bouncy Balls Bulk Set
Another kind of ball that is fun for second graders are bouncy balls! You can even write them a little note to "have a ball this summer!"
Fun Express Rainforest Friends Ruler Bookmarks
Since you want to encourage them to continue reading, these rainforest friends ruler bookmarks will keep their places in their books when they take a break. As second graders, they are likely reading longer books that take longer than a day to read and you don't want them to lose their place.
Box of Pop Rocks
Wish them a "rockin' summer" with a packet of Pop Rocks.
5 Pound Jar of Animal Crackers
Separate these animal crackers into bags or containers of your choice for them to take home as a healthier snack option.
White Flying Discs
Six dozen white flying discs, or frisbees, that you can write their names and other notes on them for the summer.
Fun Filled Jump Ropes
Nothing says summer fun more than jump ropes!
Sticker Sheet Assortment Set of 1300+
Stickers are great at all times of the year!
Class Set of Personalized Water Bottles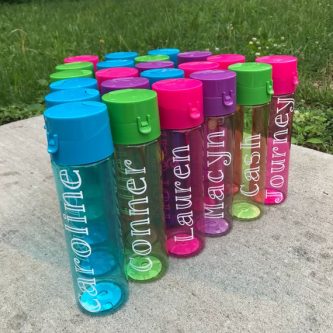 One of the things my nephew got when the school year ended this year was a personalized tumbler. It is huge and he loves drinking from it, which encourages him to stay hydrated!
White Cotton Shirts
White cotton shirts for autographs or personalized notes from you as the teacher, or even both!
Smiley Stress Balls
Smiley face stress balls will help them keep stress to a minimum over the summer and give them reason to smile.
Dozen Beach Balls
Beach balls are a great gift for the end of the year for second graders, whether they go to a pool or beach or not.
Building Blocks Notepads
These building blocks notepads can help them keep notes or a journal of what they do over the summer.
Owl Shaped Crayon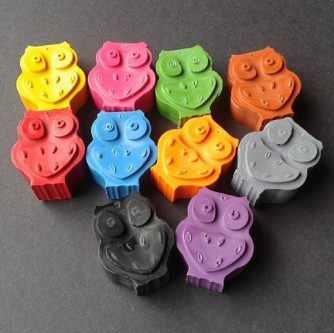 Owl shaped crayons are especially fun to color with!
School Smart Sidewalk Chalk
Coloring on the sidewalk with chalk is one of the most fun outdoor activities whenever the weather is nice, and something that might just keep them out of their parents and siblings' hair too.
Your second graders are off to third grade in the fall. You have grown to know them and help them grow over the year, the end of the school year may be a little bittersweet, but a gift takes some of the stings away.