Disclosure of Material Connection: Some of the links in this post may be "affiliate links." This means if you click on the link and purchase an item, I will receive an affiliate commission. Disclosure in accordance with the Federal Trade Commission's 16 CFR, Part 255. This site is a participant in the Amazon Services LLC Associates Program, an affiliate advertising program designed to provide a means for sites to earn advertising fees by advertising and linking to Amazon.
Gifts that are cheap and easy are the best kinds of gifts, but they should also be something fun that the kids will enjoy receiving. When my nephew's school year ended, he came home with all kinds of goodies and he was super thrilled about it. Sixth graders are surely going to be a little harder to please than first graders, but there are still so many awesome ideas. Check these ones out!

Epic End of Year Classroom Gifts for 6th Grade Students
Gel Pens 120 Colors
With 120 gel pens in the package, it's easy to give a few to each student, along with a notebook. They can doodle or make a journal over the summer.
Star Pendant Charms
Whether they use this as a zipper charm, put it on a necklace or other piece of jewelry, or do something else with it, you can use it to encourage them to keep being a star over summer break.
Heart Shaped Sunglasses, Pack of 6
You loved having them in your class this year, now you want to help them keep their eyes shaded from the sun while they have fun during the break.
By the Cup Candy Party Mix 4lbs
What kid doesn't love candy?
Candy Colors Portable Steno Memo Notebooks
These Steno memo notebooks would be awesome to pair with the gel pens above, or do on their own as well.
Crazy Loop Straws
No matter your age, drinking from a crazy loop straw is fun. Pair this with a packet of Koolaid or some other kind of drink and they are good to go.
Multicolor Plastic Swim Goggles
With all the water play they are probably going to be taking part in this summer, these goggles will come in handy.
Keebler Cookies Variety Pack
Cookies are a sweet way to say goodbye.
Jolly Time Select Popcorn Kernels
With these popcorn kernels, they and their families can make their own fresh popcorn for a movie night or just a fun snack. Divide these up into baggies and you have enough for everyone.
Flashing LED Bumpy Rings
Flashing LED bumpy rings to sound like a lot of fun to wear.
Cookies, Crackers, Candy, and Gum Snacks
So many goodies in this package!
Water Balloons Bunches
These water balloon bunches are all the rage these days and will help keep their summer a bit cooler on those hot days.
Dum Dum Pops
You can never go wrong with classic Dum Dums pops.
Star Bubble Wands in Assorted Colors
Even as they finish sixth grade, bubbles are still a ton of fun, especially when they come in a big bubble wand.
Smarties Candies 5lb Bag
Smarties to make them feel like smarties!
Bicycle Standard Playing Cards
Keep their minds and hands sharp with a set of Bicycle standard playing cards to play go fish, war, solitaire, and more.
Trolli Sour Brite Crawlers Gummy Worms 5lb Bag
These gummy worms, paired with a box of chocolate pudding, will allow them to revisit their younger childhood and have edible worms in dirt.
Pop Rocks Candy Ultimate 9 Flavor Assortment, 18 Packs Total
They rock! So give them pop rocks candy!
Emoji Beach Balls, Pack of 12
Emoji beach balls will make their time at the beach or pool even more fun and memorable.
Class Set of Personalized Water Bottles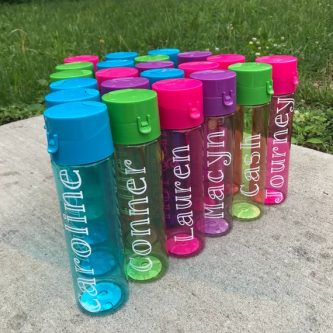 A personalized water bottle is something that will help remind them to stay hydrated and to also have something that is personal to only them.
The end of the school year is a time that can often be bittersweet, but gifts to say goodbye make it easier.