Disclosure of Material Connection: Some of the links in this post may be "affiliate links." This means if you click on the link and purchase an item, I will receive an affiliate commission. Disclosure in accordance with the Federal Trade Commission's 16 CFR, Part 255. This site is a participant in the Amazon Services LLC Associates Program, an affiliate advertising program designed to provide a means for sites to earn advertising fees by advertising and linking to Amazon.
Father's Day is the perfect opportunity to show your gratitude for Dad. You can celebrate all of the wonderful Dads in your life on this special day in many ways. One way to celebrate is with a heartfelt gift to say thank you. If you are looking for the perfect gift from your toddler to Grandpa this year, you will definitely want to check out this list of
Fun Father's Day Gifts for Grandpa From a Toddler
Father's Day is Just Around the Corner!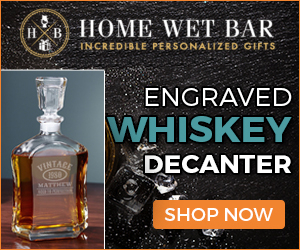 Father's Day Gifts for Grandpa From a Toddler.
Soundwave Art
Soundwave Art is a unique way for you to leave a message for your loved one. Grandpa will, without a doubt, love hearing his young grandchild's voice for many years to come.
Footprint Art
Toddlers are not toddlers for long. They grow so quickly, and it's nice to have sweet memories of them at this stage. This Footprint Art helps you to do just that.
World's Best Grandpa Award
Grandpa will most definitely feel like the "World's Best Grandpa" receiving this super cute award.
Canvas Card
The little ones will have an absolute blast painting this Canvas Card for Grandpa.
Photo Display
Grandpa will have a very special place to store, and showcase, some of his favorite photos and keepsakes of his grandchild as long as he has this Photo Display.
Wood Burned Drawing
I know, we all love to receive cute little artwork from our creative toddlers. However, after time the paper starts to wear and tear. This Wood Burned Drawing eliminates that issue.
Fingerprint Art
Create a keepsake of your toddler's fingerprints while making Grandpa laugh with this "Partner in Crime" Fingerprint Art.
Fingerprint Keychain
Of all the keychains Grandpa may have owned in his lifetime, this one is sure to be his favorite.
"Best Grandpa" Print
Incorporate your toddler's unique handprints in this one-of-a-kind "Best Grandpa" Print.
"Nailed It" Footprint
If you are looking for a fun, and unique, gift just for Grandpa, you need not look any further than this "Nailed It" Footprint Artwork.
3D Footprint
Grandpa will have a gift that he will forever cherish thanks to this 3D Footprint from his grandchild.
Handprint Tree
Grandpa will love having this wonderful keepsake to reflect back on the days when his grandchild was a toddler.
DIY Watercolor Painting
Toddlers will have fun playing in paint to create this DIY Watercolor Painting.
Engraved Photo to Illustration
This Engraved Photo to Illustration is a sturdy piece that will definitely withstand the test of time.
Portrait Art
Grandpa will be more than happy to show off his beautiful grandchild on the walls of his home with this Portrait Art.
Scribble Art
Showcase your toddler's scribbles as a unique work of art transformed into this Scribble Art.
Share-a-Bear
Grandpa has probably given quite a few teddy bears in his time. But he certainly won't be expecting to receive one.
Greeting Card
Greeting Cards are a simple gift that can be used for any occasion.
Custom Block Ornament
This Custom Block Ornament will be an accessory that Grandpa will want to use year round.
Sippy Cup Mug
Let your toddler gift Grandpa a Sippy Cup of his own with this unique Coffee Mug.
Grandpa is sure to appreciate the love and thought that went into selecting the perfect Father's Day gift for him. You can certainly make this a Father's Day that he will never forget.