Disclosure of Material Connection: Some of the links in this post may be "affiliate links." This means if you click on the link and purchase an item, I will receive an affiliate commission. Disclosure in accordance with the Federal Trade Commission's 16 CFR, Part 255. This site is a participant in the Amazon Services LLC Associates Program, an affiliate advertising program designed to provide a means for sites to earn advertising fees by advertising and linking to Amazon.
We all have that one super cool relative or friend who travels all over the world collecting adventures like other people collect matchbooks from favorite restaurants. I have a preponderance of lawyer world-traveler friends, along with lawyer-adjacent friends, who are off to a new glamorous or historically significant location every other weekend. That's too exhausting for me personally but I love living vicariously through them.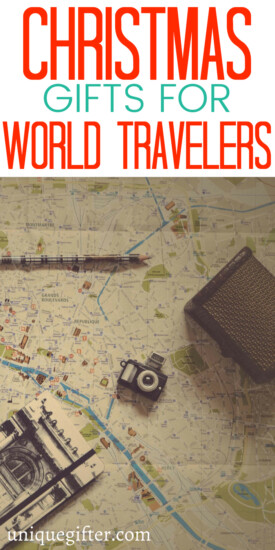 We like to send them off each year with a little travel helpmate that'll remind them to keep texting us those pictures.
Epic Christmas Gifts For A World Traveler
Adventure Awaits Travel Journal & Pencil
A few of my globetrotters like to stay analog on their vacations – at least for recording their private thoughts and impressions about their travels. Some things are meant for Instagram, some memories are meant to be cherished privately.
Best Christmas Gift For A World Traveler
ampr Battery Case
The worst thing that can happen while you are traveling is to have your battery on your phone die. The ampr battery case is a phone case with a built-in battery that keeps your iPhone charged throughout your day making it the perfect Christmas gift for any traveler.
Luggage Tag
Made of natural Wood MDF, this luggage tag comes with a flexible strap to keep the most personality appropriate quote attached to their bags.
Phone Charging Passport Holder
For your modern technology traveler, this passport holder protects you from RFID scanners and lets you charge your phone at the same time. Pretty cool!
Vegan Passport Cover
For the popular art-loving traveler, this vegan Lichtenstein passport cover might be more in order.
Cotton canvas messenger bag
A super lightweight fabric bag is awesome to have tucked into a backpack or carry-on so that you can quickly and easily switch from "travel gear" to "stepping out for the day".
Clear vinyl bag
Rain, sleet, or snow, the TSA is always going to want you to take out your liquids unless you've got PreCheck. Even then, you want to keep your liquids safely separated from the rest of your things in case anything explodes or leaks.
Cable organizer
No matter how hard I try, I cannot keep my cables untangled on a good day, and a travel day is always sure to leave them a spaghetti mess.
Adapter set
Most travelers will have an adapter set at some point in their globe-trotting days, but they're also really easy to lose or leave behind.
Travel Pillow Throw & Tuck
Some of us can't sleep on planes because it's too darn cold, or uncomfortable. Solve two problems with one gift!
Laundry Bag
If you're on the road for more than a couple days at a time, it's a good idea to separate your dirty clothes from the clean clothes. Bonus: this is the right place to stash a couple packets of detergent if they like to do their own laundry every few days for longer trips.
Travel Bottles
When your traveler really cares about their toiletries, and I can name at least 6 male and female friends to whom this applies, hotel shampoo and conditioner all in one and bar soap simply won't cut it. They can always use another set of bottles for their longer trips – I don't know anyone who's picky about their soaps and only needs 2-3 ounces for a couple weeks overseas.
Zipper Pulls
It's inevitable for zipper pulls (and handles, and wheels) to break after traveling many thousands of miles. We like to gift some backups that will also help distinguish their luggage from everyone else's on the conveyor belt.
Travel Pouch
Whether for toiletries or just a double handful of small things, a pouch is always going to be useful for a traveler to stay organized.
Handkerchief
Ever since having a kid, I've learned that it's really useful to have a washcloth or handkerchief type of thing on hand when we travel. Half the time, it's because of the mess I made!
Slim Laptop Backpack
This is highly recommended for the traveler who doesn't like to carry on anything at all and checks all their things except for the bare essentials.
Weekender Backpack
For the other end of the spectrum, this backpack is the maximum allowable size for a carry-on that will fit in the overhead compartment and let them skip the checked baggage lines entirely if they so desire.
Travel Umbrella
Lightweight and compact, this umbrella is useful in rain or sun, and won't take up much space in any bag.
Packing Cubes
Even packing cubes get worn after days, months, and years on the road. Get them a nice refreshed set of packing cubes that'll tame their suitcase.
Collapsible Water Bottle
This is a cool space saver – a silicon water bottle that collapses down when it's not full.
Power Strip
Have you ever checked into a hotel room ready to sit down and do a bit of work, only to find there's exactly ONE open power outlet? Yeah, that stinks. That's why these power strips are fantastic – you and a travel companion can power up your phones and laptops at the same time.
What do you absolutely need to travel in comfort and style?