Disclosure of Material Connection: Some of the links in this post may be "affiliate links." This means if you click on the link and purchase an item, I will receive an affiliate commission. Disclosure in accordance with the Federal Trade Commission's 16 CFR, Part 255. This site is a participant in the Amazon Services LLC Associates Program, an affiliate advertising program designed to provide a means for sites to earn advertising fees by advertising and linking to Amazon.
If your father, or your kids' father, is a traveling dad, they really need something special. Traveling is a big sacrifice, if it's for work, even if it may be fun sometimes. Most of the time it is likely tough for him to be gone from family. Make it easier and more fun for him by giving him something meaningful, and also show your love for him at the same time with one of the following gifts! We also have some welcome home gift ideas that any husband or dad would appreciate.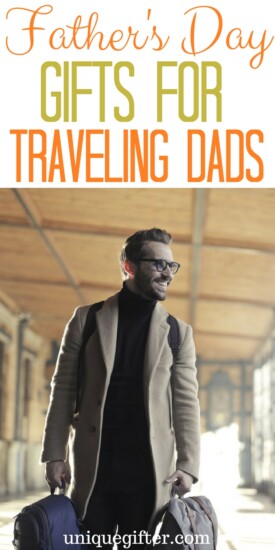 Father's Day is Just Around the Corner!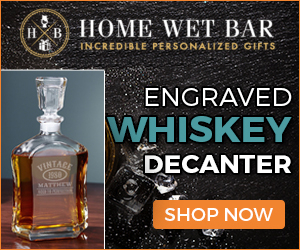 "Adventure Awaits" Travel Mug
Adventure awaits for them at every turn… as does coffee! They need a good travel mug to put their coffee in when they're on the go, running to meetings, running to catch a bus or board a plane, and many other times.
Bear Sleep Mask
This bear sleep mask sort of looks like Batman too, and will help them sleep better while they are away from home.
Refillable Leather Traveler's Notebook
Great for planning, and documenting what they do, this refillable leather traveler's notebook will make the perfect Father's Day gift for the traveling dad.
World Map Cufflinks
Since they travel so much for work, or for whatever reason, they definitely need these world map cufflinks to make their suits complete.
Squeeze Pod "Fly Guy" Travel Gift Set for Men
These squeeze pods will make their packing easier, and are perfect for flying as well since they are the right size for the airline limits!
"Dad" Keychain with a World Map and Airplane Charms
They deserve a nice keychain to keep their house key on and to remind them how important they are to you whenever they leave or come home!
Personalized Passport Cover
If they do a lot of international traveling, then they absolutely need a personalized passport cover to keep their passport in.
"Addicted to travel" Coffee Mug
Whether this statement is true or not, they will love this "Addicted to travel" coffee mug to drink coffee from while they're at home, since they travel so much.
Dr. Who Time Traveler Daddy and Me Shirts
For the traveling dad who also loves Dr. Who, they will really love getting these Dr. Who time traveler daddy and me shirts for them and their little one.
Mountain Pillow Cover
Some traveling dads use their travels to head to the mountains, if they do love the mountains, they will also love this mountain pillow cover.
Globe Whiskey Decanter
They will love their very own globe whiskey decanter!
Luxury Memory Foam Neck Pillow with Hood
Neck pillows are a must when traveling, and he will love this one for Father's Day because it is pure luxury, and it also comes with a hood to help it stay in place and let others know to leave them alone. Pair it with the bear eye mask above, and they will be set for long flights or bus rides!
"Adventure" Wall Print
This "ADVENTURE" wall print will look nicely framed and hung up on the wall at home, because they just love to have adventures all the time.
Wine Traveler Protector Bags
If they are in the wine business, or bring wine along for other reasons, they need this set of two wine traveler protector bags to carry them in.
Vetelli Gio Leather Toiletry Bag for Men
Even your dad needs a toiletry bag for his travels, and this one is manly, and simple while also being luxurious!
Compass iPhone Case
They travel so much, they don't really need a compass, but it certainly will look nice on their iPhone case.
Solo 16" Leather Laptop Case
Help them carry their laptop along for their travels, keeping it covered and safe, with a leather laptop case. You can also check out these laptop backpacks for travel.
"Work hard, travel harder" Long Sleeve Shirt
They work hard, but they travel harder. This shirt really says it all!
Old Compass Tie Clip
Unique and perfect accessory for their suit!
Portable External Battery Pack Charger
They need help keeping their phone from dying even when they're not able to use a traditional charger, and this portable external battery pack charger will enable them to do so! That means that you can talk to your traveling dad on the phone more often, without him worrying about it dying.
Traveling dads are amazing, they work so hard for their family. However, it can be hard on both of you to be away from each other. So that's why a nice, meaningful gift, will make their Father's Day even better!