Disclosure of Material Connection: Some of the links in this post may be "affiliate links." This means if you click on the link and purchase an item, I will receive an affiliate commission. Disclosure in accordance with the Federal Trade Commission's 16 CFR, Part 255. This site is a participant in the Amazon Services LLC Associates Program, an affiliate advertising program designed to provide a means for sites to earn advertising fees by advertising and linking to Amazon.
If you're lucky, you have an amazing mother-in-law that you love hanging out with and you need to shower her with gift ideas for mother in-laws. If you're not so lucky, hopefully one of the following gifts will smooth out any tension that exists between you and the woman who brought your wonderful spouse into the world. She did at least one thing really, really well.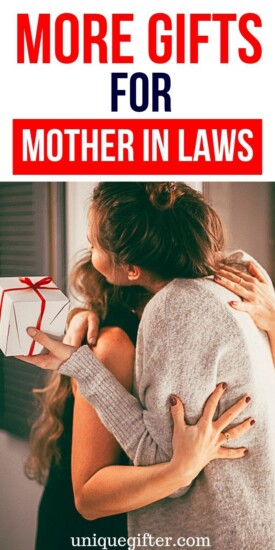 Gift Ideas for Mother-in-Laws
These gifts are all perfect ideas for your husband or wife's mother – AKA, your mother in law. When choosing gifts for your MIL make sure you look for things that suit her personality or that she can really use. These ideas will help get you started.
Amazon Gift Card
Everyone loves a gift card. This is an especially good gift for a hard to please in-law. But, be warned, she might give you grief about you giving a gift card.
Vitamix Refurbished Blender
Your mother-in-law is a phenomenal cook and has mentioned that she would love a Vitamix, but it's too expensive. You know that it's a great gift because you know that she already wants it. Score.
Mini Presso Espresso Machine
Your mom-in-law loves to travel and complain about having to drink bad coffee in foreign locals. The mini presso espresso machine makes a perfect espresso every time. She just needs to remember to add hot water and squeeze.
Namaste Bitches
Whenever you stop by your mom-in-law's house, she teases you about your love of yoga. Take her to your next class and gift her with this mug as a tongue-in-cheek reminder of some well-spent quality time.
Just a Train Ride Away T-shirt
Sometimes it's nice to share how happy it makes you to have extended family so close. This t-shirt is a great way to remind everyone that you're blessed to have them one train ride away.
Amazon Echo
Your mother-in-law isn't that techie, but has fallen in love with the Amazon Echo. Help her answer all of her questions with this great gift for the holidays.
Kindle E-reader
Your mother-in-law is sweet enough to visit you several times a year. The Kindle will make her next flight a lot easier and lighten her load so that she doesn't have to carry her favorite book on her next trip.
Asus Chromebook
Your mother-in-law needs a new laptop but only really browses online. She will love the Chromebook, but be prepared to walk her through the ends and outs of Chromebook life.
Spinner Hardshell Lightweight Suitcases
Show your mother-in-law how much you love having her visit and give her the gift of suitcases. She will know that she is always welcome to visit with a gift like this.
Best Mother-In-Law Ever Mug
You can never have enough mugs. Start your mom-in-law's days off right by sharing this declaration every morning.
Rosie the Riviter Socks
Your mother-in-law always gives you socks. These socks are great for the next time you go hiking with each other.
Knee High Unicorn Socks
Sometimes it's fun to give your awesome mother-in-law a whimsical gift that she wouldn't normally pick up for herself. These unicorn socks are perfect for that.
Mother of Dragons Hoodie
This is the perfect gift for the mother of 4 adult children who also happens to be obsessed with The Game of Thrones. She will love you forever.
Calm The F*ck Down-Coloring Book
The first time you met your mother-in-law you were shocked to find out that she had a potty mouth just like you did. This coloring book will be great for bonding time when her child makes you crazy.
Instant Pot
For the home cook who wants to have the most up-to-date cooking tools in their kitchen. She will be the envy of all of her foodie friends.
Love and Lemons Cookbook
Every time your mother-in-law has you over for dinner she cooks the same thing. Every.single.time. The Love and Lemons Cookbook is a great way to spark some cooking creativity for the next family visit.
Notorious RBG
Your mother-in-law is a badass lawyer. This book exploring Justice Ruth Bader Ginsburg's life is a great stocking stuffer for the person who enjoys reading.
Foot Spa Bath and Massage
Your mother-in-law works hard for her money. Give her the gift of a great foot bath to soak her feet after a long day helping other people.
Tea Tree and Eucalyptus Foot Soak
Include this refreshing foot soak when you give the gift of the footbath.
Gardening Kit for Women
You're gifted with a brown thumb, but your mother-in-law is gifted with a green thumb. Give her this lovely gardening kit before the next growing season begins.
Laser Engraved Cutting Board
How sweet is this laser engraved cutting board? It can be used as decor, or also a functional cutting board!
Necklace
This necklace comes in multiple colors and a velvet gift bag. Though it already has a lovely note written on the card, a blank card is also included, should you desire to express your own thoughts!
You Became My Mother Frame
Don't forget to complete this gift by adding a photo of you and your fabulous mother in law, inside the frame!!
Nacho Average Mother in Law Tee
For the mother in law who has a sense of humor!
Music Box and Locket
This adorable music box and locket is the perfect place for your mom in law to store jewelry, or other small, precious items!
Mother in Law Bracelet
Your mom in law is sure to love this stainless steel bracelet, complete with charms!
Essential Oils Bracelet
If your momma in law likes her essential oils, this bracelet comes with washable refill pads, so she can change them out as needed!
Birthday Tracker Plaque
Your marriage has made the family grow by at least one! This birthday tracker is a great way to help your mom in law keep track of birthdays, as the family continues to grow!
Bud Vases
If you plan on giving your mother-in-law flowers, consider placing them in these simple, but cute bud vases.
Floral Pouch
There's no doubt that your mother in law is going to love this cute little bag to store her cosmetics and other small essential goods.
Coasters
You'll never have an excuse not to use coasters, next time you're at your mom's in-law house!
Love You Candle
It's very rare to find a mom who doesn't love candles. This candle sends just the right message, and it's even made with 100% soy!
Trinket Tray
This is the perfect size to hold all of your mother's in law trinkets!
Mother in Law Keychain
If your mother in law isn't big on jewelry, perhaps she would love to carry around this rustic keychain, instead.
Home Pillowcase
Home is wherever mom is. It will always be that way! Don't forget the pillow to slip inside the case.
Best Mother in Law Notebook
Do you have the best mother in law? Show her, with this bright, and colorful notebook, where she can jot down various notes.
Pear Decor
Don't you think these wooden pears would look great on the shelf at your in law's home, next to all of her photos?
Mother in Law Mug
This thoughtful mother in law mug is sure to get used daily
Tea Gift Box
Everyone always gifts chocolates and coffee. Why not choose this gift set of teas? It would go great with that awesome mug, previously listed.
Bath Bombs
Even though your mother in law is no longer chasing her kiddos around, it's still a great idea to relax in the tub from time to time. These bath bombs are perfect for helping her do so!
If you're fortunate enough to have a fantastic mother-in-law in your life hold her tight and spoil her every chance you get.