Disclosure of Material Connection: Some of the links in this post may be "affiliate links." This means if you click on the link and purchase an item, I will receive an affiliate commission. Disclosure in accordance with the Federal Trade Commission's 16 CFR, Part 255. This site is a participant in the Amazon Services LLC Associates Program, an affiliate advertising program designed to provide a means for sites to earn advertising fees by advertising and linking to Amazon.
Dance was a part of my life for many years. Not only was I a dancer, but I also taught classes as well. Here is a wish list of gift ideas for your favorite dance teacher I would have loved to have received during my time as a dance teacher.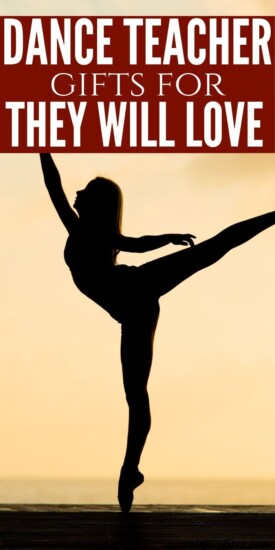 Gift Ideas For Your Favorite Dance Teacher
You could make your dance instructor's day by picking out one of these gift ideas for your favorite dance teacher. They *love* Christmas presents, end of season presents and especially birthday presents (you may need to use your sleuthing skills to figure out their birthday… I recommend checking Facebook.)
1. Ballet Wrap Sweater

Your favorite dance teacher will love this sleek and fashionable wrap sweater. They can wear during dance class or put it on for drinks on the town.
2. Muk Luks

After a long day of dance slip your feet into these cozy and warm house slippers. Your feet will love you for it! Make sure you order a size larger as they run a bit small.
The next time your dance teacher's jazz shoes wear out she will love these replacement Capezios. They come in a soft-supple leather in either cream or black with a split sole.
3. Kate Spade 2016 Planner

Everyone in class will want this gorgeous black and white striped planner. Your favorite dance teacher can use it to schedule upcoming recitals, competitions, and dance classes. Please note that this planner has a hardcover.
4. Jazz Shoes

The next time your dance teacher's jazz shoes wear out she will love these replacement Capezios. They come in a soft-supple leather in either cream or black with a split sole.
5. Skinny Shrug Top

You don't have to be a dancer to wear this sexy top. A fitted cotton top that is beautiful when paired with your favorite sleeveless dress, or a sleeveless top and jeans. It comes in a number of different colors ranging from black to red.
6. Evolution of a Dancer T-Shirt

Most people aren't born a dancer, they work hard and become one. This cute fitted t-shirt shows the different points of that evolution.
7. Dance Teacher Mug

Dance teachers don't just teach dance. They inspire, listen, lead, and sometimes deal with drama. This simple black and white mug says it all. Dance Teacher, Therapist, Roll Model, All of the Above
8. Unisex Duffle Bag

Your dance teacher always seems to be carrying around a ton of stuff. Water bottle, change of clothes, planner, and more. This inexpensive and unisex duffle bag will help them lug everything around in style.
9. Neoprene Dance Half Soles

Neoprene fabric ensures a secure fit and provides padded comfort
10. Capri Workout Leggings

Dancers have nice stockpile of clothes that they burn through. These fitted and comfortable black leggings with a simple waist detail would be great to wear in your next yoga, jazz, or pole dancing class.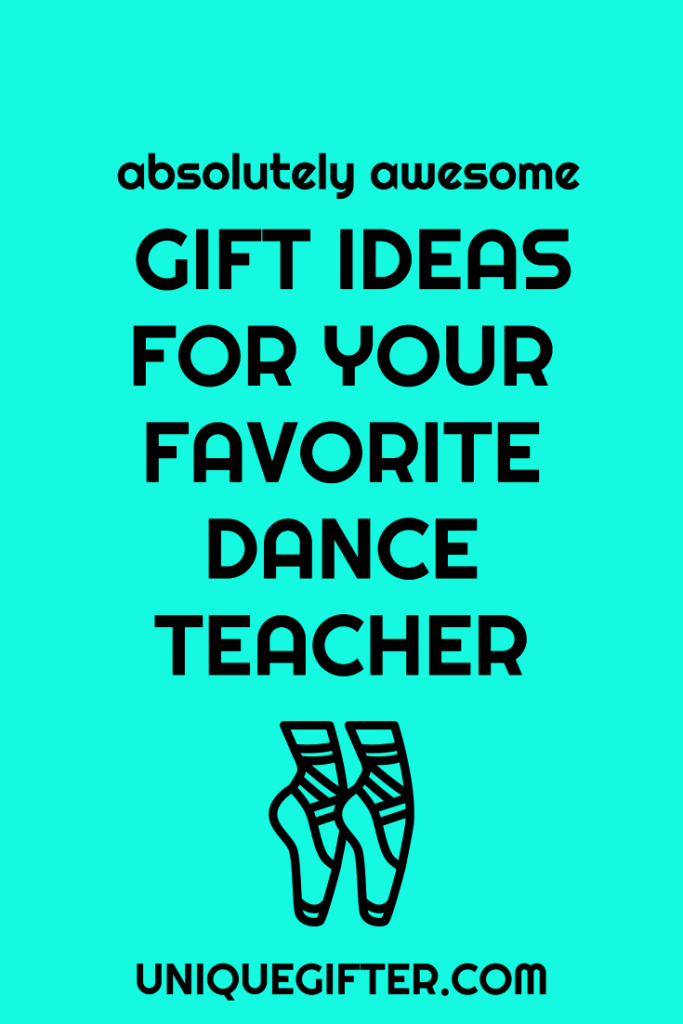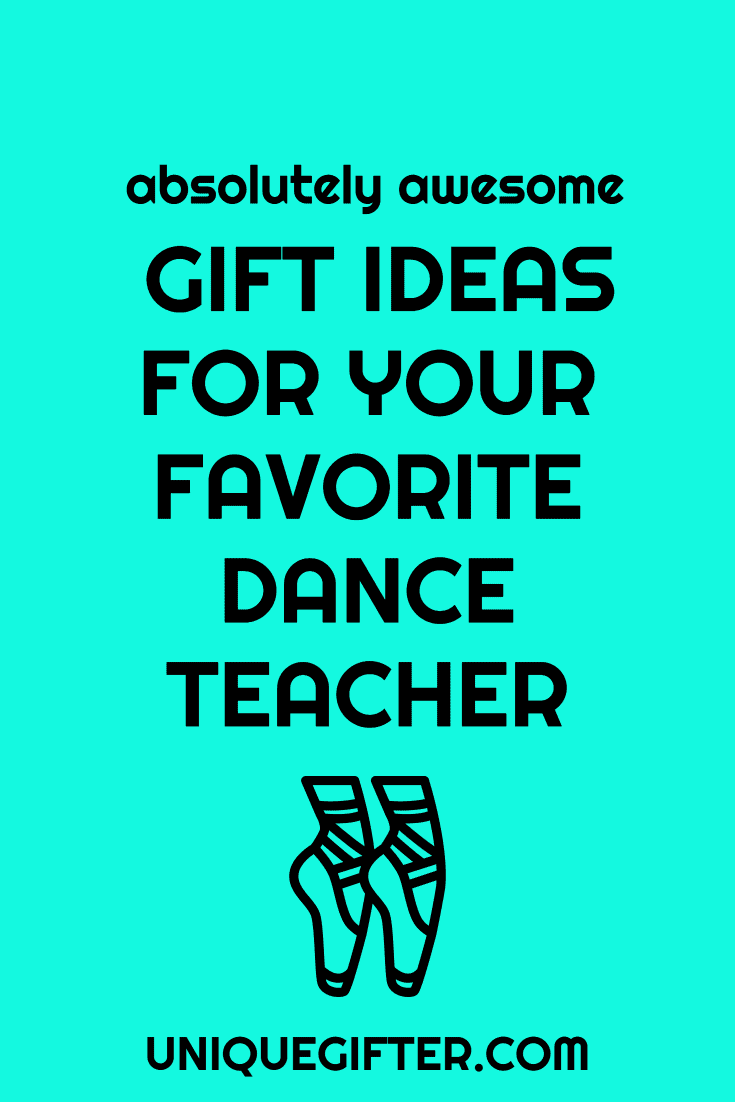 11. Love Dance Adult Leggings

Sometimes you just have to shout your love of dance from the rooftops. Or, your favorite dancer can share their love from a pair of black and weight comfortable cotton leggings.
12. Pole Dancing Pole
You will need some help putting this gift together but for the pole dancing teacher, there's nothing better than having a pole to practice on at home.
13. Sports Bra

Good bras are expensive!
14. Infuser Sports Water Bottle

Dancing all day takes a toll on the body. Stay hydrated and refreshed with some delicious infused water that you've made at home. Throw a couple of pieces of fruit, berries, and mint into your bottle and you'll be ready for anything your day throws at you!
15. Leg Warmers

Keep your legs warm with these stylish leg warmers can also be paired with your tall boots. The top of the leggings will peak over the top. Three buttons complete the look of the leg warmers.
16. Bloch Women's European Toe Shoes

There are a ton of little girls who dreamed of becoming a ballet dancer. These toe shoes represent the realization of that dream. Give to your favorite dance teacher or even as a decorative item to a friend who dreamed of becoming a ballerina.
17.Original Yoga Toes

Keep your toes stretched and spread out with Yoga Toes. Yoga toes is a simple blue plastic piece designed to help you manage your long-term foot health.
18.Stretch out strap

Stretch out your muscles after a hard dance class. Or, spend some time stretching while watching t.v. The strap is a little past 6' made of durable nylon material and comes with a book.
19. Ballet Beautiful DVD

This DVD series will have you looking and feeling like a ballerina. You don't have to be an actual ballerina to enjoy the dance.
20.Sports Grip for Pole Dancing

If you've taken pole dancing before you know that the poles can be slippery if your hands are sweaty. Eliminate that problem with this inexpensive sports grip.
Teachers pour so much devotion into their profession, however, they often go underappreciated. Well, not anymore! Check out these great ideas to show your dance teacher just how much you appreciate what they have done for you. Take a look for yourself!
21. Stainless Steel Tumbler

You can never go wrong with stainless steel, insulated tumbler! The best teacher ever is going to love the reusable straw, and cleaning brush that is included with their amazing new mug!
22. Tervis Water Bottle

Tervis makes high quality, double-walled tumblers and water bottles that help keep cold drinks cold and even helps prevent them from sweating. Keep your dance teacher hydrated with this cute "Live to Dance" water bottle.
23. Dancer Jewelry Stand

Jewelry boxes are nice, however, this dancer jewelry stand is much more pleasing to look at it! It is great for necklaces, bracelets, earrings, watches, and rings!
24. Point Your Toes Popsocket

Is your dance teacher constantly reminding you to point your toes? If so, get her this funny popsocket to let her know you finally remember! You will both get a laugh.
25. Willow Tree Dancer Ornament

There is something so peaceful about Willow Tree figures. This hand-painted, dancer ornament would look great on a Christmas tree, however, it would also look wonderful hanging around the house or studio, year-round.
26. Dancer Pillow Case

Are you looking for a unique gift? This is it! Purchase a square pillow (18"x18"), and stuff it into this gorgeous pillowcase! It is going to look great in your dance teacher's home or office.
27. Lined Notebook
Keep calm and point your toes! Does this sound familiar? Your dance teacher is going to love this composition notebook to jot down her plans or notes!
28. Engraved Pen

A pen engraved with a ballet slipper would be a great gift in addition to the notebook, up above! Check out this sleek ballet pen!
29. Ballet Cosmetic Bag

Every dance teacher has small essentials that they carry with them to, and from dance class. This absolutely adorable cosmetic bag is sure to come in handy!
#10 Canvas Tote Bag

Your teacher isn't just an ordinary teacher. She's a dance teacher! A brave one! Go in with the class and fill this tote with all sorts of cute or tasty goodies!
31. Stemless Wine Glass

Every dance teacher needs a stemless wine glass! Whether it is used for wine, or orange juice, this dance teacher survival glass is sure to become a favorite!
32. Humorous Tank

This tank is perfect because the entire class knows that "one last time" doesn't actually mean one last time, but more like 20 times!
33. Dance Teacher Keychain

Check out this keychain, for that very special dance teacher who has been keeping you on your toes!
34. Dancer Socks

What better way to keep those tootsies warm after dance class than with these super cute ballet dancer socks. They come in both blue and pink!
35. Choreography Travel Cup

Coffee, coffee, coffee! Make this coffee mug extra special by getting it filled with your dance teacher's favorite brew, before gifting it in class.
36. Dance Bracelet

Dance. Teach. Inspire. This bracelet is so simple, it's sweet! Best of all, it pairs with any outfit, so it can be worn every day!
37. Dance Charades Game

What a fun way to add another kind of excitement to dance class! Dance charades are just what you think it is. A game that allows you to act out different dance moves. It even comes with a music CD to dance along to!
38. Wooden Dance Teacher Sign

Behind every dancer who believes in themselves is a teacher who believed in them first! This wooden sign is a beautiful way to remind your teacher you appreciate her!
39. Ballerina Clock

Could your studio use a clock, to help keep track of time? Take a look at this beautiful clock. Best of all, it is super quiet, so you won't have to worry about a ticking clock ruining your rhythm!
40. What Dancers are Made of Tee

Blood, sweat, and glitter. It's what dancers are made of! It's true! Check out this awesome shirt that comes in 5 different colors, for your favorite dance teacher.