Disclosure of Material Connection: Some of the links in this post may be "affiliate links." This means if you click on the link and purchase an item, I will receive an affiliate commission. Disclosure in accordance with the Federal Trade Commission's 16 CFR, Part 255. This site is a participant in the Amazon Services LLC Associates Program, an affiliate advertising program designed to provide a means for sites to earn advertising fees by advertising and linking to Amazon.
I spent a few years working in a dance studio and closely with dance choreographers. They're definitely a talented group of people! These gift ideas for dance choreographers are exactly what they need, want, or will love.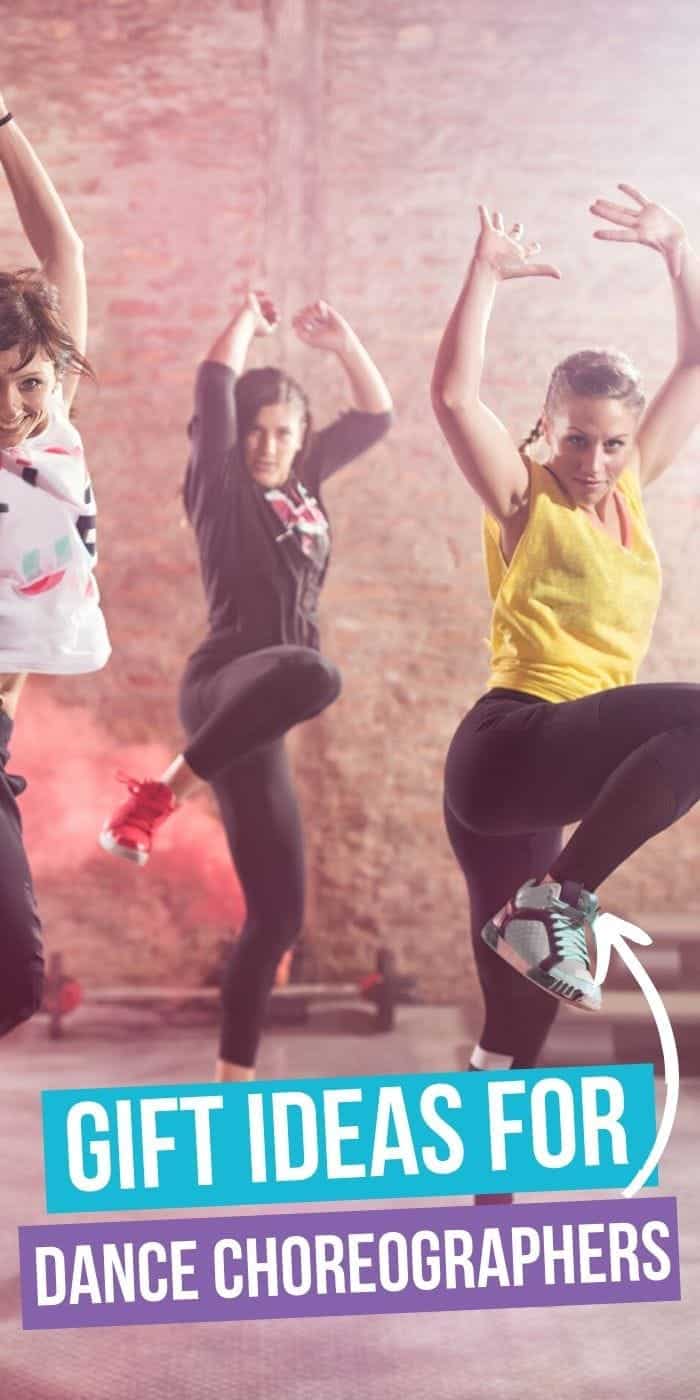 Gift ideas for dance choreographers
These gifts are great as Christmas or birthday gifts, but would also make great thank you gifts for dance choreographers in your life.
OMG Point Your Toes T-Shirt
OK, so this one would also be great for a dance teacher. I remember being about three and getting scolded to point my toes. It works, though!
Relaxing Bath Stuff
Give a dance choreographer anything that has to do with relaxation, and it will go over well. They work for hours, pushing their bodies to the limit and need something to help recuperate.
The Intimate Act of Choreography
This book covers a little bit of everything when it comes to dance choreography. It would be a great gift idea for a beginner or advanced dancers.
Best Choreographer Award Candle
Who needs an invitation to the Tonys to win an award anyway? Perfect gift ideas for dance choreographers on opening night.
Cards for Choreography
This deck of cards will help aspiring choreographers improve their craft.
Dance Notation Book
What did you do again? Do need for guesswork with a dance notation book – they can write everything down in here.
Stretch Bands
Stretching is an integral part of dance. Stretch bands are useful both for pre-dance stretching and working out those aches and pains.
The Creative Formula
This would be a great gift for someone who wants to branch out into dance choreography or improve their work. The Creative Formula is a 3 step process for choreography.
This Kitchen is for Dancing Sign
I've spoken to choreographers who've come up with some of their best work right in their kitchen. This thoughtful art piece will be adored by dancers and choreographers alike.
Never Stop Dancing Journal
A great place for dance choreographers to jot down their ideas and thoughts to keep them safe. It's also a great reminder for them to never stop dancing.
Good Quality Water Bottle
You can simply never have too many water bottles. If you're stumped with gift ideas for dance choreographers, this is an always great choice.
Hard Copies of Their Favourite Pieces
I included Swan Lake because it's my favorite ballet score, but the dance choreographer in your life will likely have a favorite composition too. Pick it up on CD or vinyl so they can have a long-lasting copy.
Dance Tee
This is a wonderful gift for a dance choreographer or dancer. "The body says what words cannot," a quote by modern dance movement leader Martha Graham.
Dancewear
Versatile, good quality dancewear will never disappoint a choreographer. You also can't go wrong with gift cards for new dance shoes!
New Sound System
What goes well with the music subscription? A fancy new sound system for the studio, of course.
Dance Art
If you want to really wow, a dance choreographer picks them up some beautiful dance art for their home. Make sure you feature their discipline of choice!
Stemless Wine Glass
This lovely wine glass is a great way to let your choreographer know how important they are to you. Plus, wine is necessary after a long day of teaching dance.
Dance Shoe Poster
This dance shoe poster will look fabulous in the studio or in the choreographer's home! It looks vintage and stylish.
Choreographer Bag
This funny bag is perfect for your choreographer. They can carry all their stuff and get some laughs along the way.
Dance Choreography Notebook
Give this funny notebook for your favorite choreographer to keep track of all the dance moves. It's a useful gift idea, but thoughtful too.
Another great gift for dance choreographers is tickets to local musicals, ballets, or other dance performances.