Disclosure of Material Connection: Some of the links in this post may be "affiliate links." This means if you click on the link and purchase an item, I will receive an affiliate commission. Disclosure in accordance with the Federal Trade Commission's 16 CFR, Part 255. This site is a participant in the Amazon Services LLC Associates Program, an affiliate advertising program designed to provide a means for sites to earn advertising fees by advertising and linking to Amazon.
Whether you are the boss at the hotel, looking to get gifts for everyone, or someone who knows a lot of people who work at a hotel, this list will come in very handy. There are so many roles at a hotel: receptionists, housekeepers, handymen, and more. Is there a good gift for most of them? There probably is! Check this list to see what you can get for them: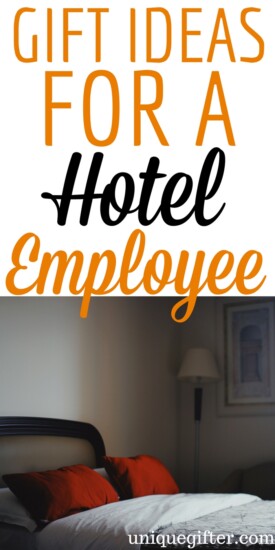 Gift Ideas for a Hotel Employee
"My superpower is knowing when to keep my mouth shut at my job as a hotel receptionist" Coffee Mug
As a hotel receptionist, they see and hear a lot of weird things. Keeping their mouth shut is definitely one of their superpowers.
"Irony, the opposite of wrinkly" Shirt
The housekeeper keeps the sheets, towels, and blankets clean and as wrinkle-free as possible.
Hotel Bemelmans by Ludwig Bemelmans
A book for them to read that makes hotel life seem much more interesting, although it is likely pretty interesting in real life!
Minion Maid Doll
If they are a fan of the Minions, your hotel housekeeper will love this Minion maid doll.
Iron Charm Necklace
Another beautiful gift for the housekeeper of the hotel, whether she irons or not.
Personalized Wood Pen
A personalized wood pen will make any writing task that much more pleasant.
"Everything I touch sparkles & shines" Coffee Mug
Everything your favorite hotel employees touch just sparkles and shines, they keep everything clean and spiffy.
"Greatness comes from progress every day" Art Print
Remind them that they can achieve greatness by making progress every day with this art print.
Set of 5 Personalized Engraved Tumblers
This set of five personalized engraved tumblers is great for multiple employees at once! Personalize each with their name and they're set to go.
"This is what an awesome hotel manager looks like" Shirt
Boost the hotel manager's confidence with this awesome shirt!
Donut Mouse Pad
Donuts are somewhat of a hotel breakfast food, and the hotel employees need a fun mouse pad while they check in and out guests.
Coffee Scrub
After a hard day at work at the hotel, they need a good coffee scrub to get all the dirt and grime off.
"Because work" Wine Glass
Along those same lines, a glass of wine is often in order as well… because, work.
"Good things come to those who hustle" Print
A good reminder to them that if they work hard, good things can come to them or be achieved.
"I survived another meeting that should have been an email" Shirt
When those meetings should have just been an email, this shirt comes in handy.
"I'm doing serious work here!!!" Pencil Set
The hotel employees do serious work everyday, and sometimes that serious work needs a pencil so they can erase!
"Cold hard cash" Ice Cream Coin Purse
For all the "cold hard cash" they make at work, they need an ice cream coin purse to put it in.
Personalized Stainless Water Bottle
Help them stay hydrated with their very own personalized stainless water bottle.
Personalized Notepad
If they have a notepad with their name on it, making notes for other people will be so much easier. The other person will always know who wrote it, without them having to sign their name.
"Kind people are my kind of people" Keychain
Kindness is a virtue, just like patience. You want kind people working at your favorite hotel.
These gifts are all amazing for the hotel employees under your supervision. You can even get each one something different, they're such great potential!