Disclosure of Material Connection: Some of the links in this post may be "affiliate links." This means if you click on the link and purchase an item, I will receive an affiliate commission. Disclosure in accordance with the Federal Trade Commission's 16 CFR, Part 255. This site is a participant in the Amazon Services LLC Associates Program, an affiliate advertising program designed to provide a means for sites to earn advertising fees by advertising and linking to Amazon.
As the daughter of a dedicated social worker and private practice therapist, I have done quite a bit of research on gifts fit for one in this profession. I take my gift giving seriously, and I find comfort in gifting others with items that fit seamlessly into their lifestyle. If you too have been on the hunt for the perfect gift for the social worker in your life, these 20 gift ideas for a social worker will make your gift shopping a breeze. Check it out below.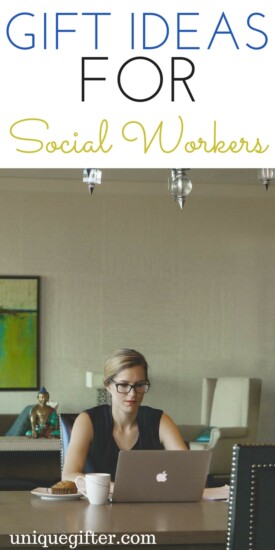 Gift Ideas for a Social Worker
Tote bag or brief case with storage for laptop and files
Many social workers spend a great deal of time out in the field assisting clients, and have to transport important business materials. A sturdy business casual brief case or tote bag with storage for laptop and files would be a great convenience for one in this position!
Notebook computer
Social workers often store important information and resources on a computer. However, mobility is key! A lightweight notebook computer would be a very beneficial gift.
Business card holder
With social workers regularly engaging with the community, and communicating with a variety of organizations and individuals, it is super important for him/her to keep business cards on hand. A business card holder that one can bring on the go is absolutely perfect for a social worker.
Planner
Social workers play a very important role in the community, and their schedules can be filled with a plethora of appointments, meetings, and deadlines. Such a busy schedule can get quite overwhelming, but a weekly planner can organize the day in a way that eases a ton of stress.
Desktop calendar
In addition to a weekly planner, a desktop calendar may also be necessary. For a social worker working out of an office, sometimes you need a schedule right in front of you in the midst of a meeting. A desktop calendar makes it quick and easy for one to jot down, and view, plans throughout the month (or year).
Traveling Stationary Kit
Again, social workers spend a lot of time on the move. A traveling stationary kit provides a few basic resources that are typically found in an office. This is a convenient way to keep office supplies on hand while out in the field.
Self defense alarm keychain
As a social worker, a lot of time can be spent visiting clients. In some cases, clients may be hostile or the environment itself is not the safest. A self defense alarm keychain would be extremely useful and could potentially save a life. In the midst of a crisis or an emergency, sound the alarm.
DSM-5 textbook
The Diagnostic and Statistical Manual of Mental Disorders, known as the DSM-5, is the American Psychiatric Association's guide to mental disorders. The DSM-5 not only describes each mental disorder in detail, but also notes other symptoms to assist with diagnosing the disorder. This guide is very beneficial for social workers, as they often interact with clients suffering from various mental health issues. A pocketbook version of the book would be great for those on the go.
Board Games
Many social workers use board games as a way to engage their adolescent clients. It is a fun way to learn more about the child while also building rapport.
Play Therapy Gift Set
In addition to traditional board games, a play therapy set would be highly useful. Play therapy can include items such as sand or puppets that help with stress relief, and exercises social skills.
Set of journals
Writing is a great form of therapy, and a social worker may advise their clients to start journaling as a coping or stress relief technique. It would be awesome if the worker had a set of journals on hand to gift to clients.
Portable printer
While out in the field, a social worker may find that they need a hard copy of a particular document or resource. Wouldn't it be great to have a mobile printer on hand to print off those documents when needed?
Cork boards/white boards
A great addition to the office of a social worker is a cork board or white board to keep track of important notes, or even to use as a home for positive affirmations and other uplifting images.
White Noise Machine
A soothing and effective way to mask voices from the office so that others outside cannot hear, is by using a white noise machine. This tool would be of great benefit for a social worker seeing clients in an office.
Relaxation gift set
The job of a social worker is not always an easy one. There may be many days filled with exhaustion and high levels of stress. At the end of a high pressure day, it would be so nice to treat oneself to a bit of relaxation from the comfort of his/her own home.
Watch
This one may seem kind of obvious. However, staying on top of deadlines and appointments is extremely important. A good watch will help to keep track of time, and should also have an alarm option to help remind.
Coloring books (Adult and Children)
To assist with stress relief, a social worker may recommend the client colors during a session. Coloring books would be a great addition to a social worker's workspace.
Lunchbox
As with most professions, a sturdy insulated lunchbox is of great use. A spacious lunchbox with room for delicious home cooked meals and a variety of snacks, would make a great gift.
Quality walking shoes
Social workers can find that they are spending a lot of time on their feet. Never underestimate the importance of a quality pair of business casual walking shoes for a social worker.
First Aid Kit
Anything can happen while visiting with a client. Occasionally, workers may find that they need a band-aid, or other material, from a well-packed first aid kit. It would be useful to have one on hand.
The job of a social worker is one that comes with great responsibility. One thing that can certainly make it a lot easier, is receiving gifts that properly prepare the worker for the tasks at hand.