Disclosure of Material Connection: Some of the links in this post may be "affiliate links." This means if you click on the link and purchase an item, I will receive an affiliate commission. Disclosure in accordance with the Federal Trade Commission's 16 CFR, Part 255. This site is a participant in the Amazon Services LLC Associates Program, an affiliate advertising program designed to provide a means for sites to earn advertising fees by advertising and linking to Amazon.
We know you're bust with your hibernation, but take a second to check out these top 20 unique bear gift finds! We're sure you'll; be roaring with excitement over these awesome bear themed gifts! These gifts are perfect for anyone who has a love for bears. This is a great list of gifts that you and your friend or family member would enjoy.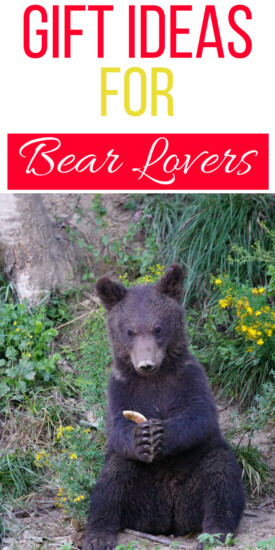 Awesome Gift Ideas for Bear Lovers
Bear Wine Holder
This black bear will nestle your favorite bottle of wine in the cutest way possible! Pick one up for any of your favorite bear lovers with a taste for wine!
Grizzly Bear Flip T Shirt
This tee has a ferocious grizzly bear on the inside, when flipped up over the wearer's head it gives them an intimidating face! Gift this to any of those bear lovers in your life for a good laugh!
Handmade Black Bear Keychain
This cute keychain has an unbeatable handmade charm to it! Grab one for an easy gift for any bear fan in your life!
Geometric Bear Wall Art
This piece of wall art is stylized as a black bear that makes a perfect piece of decor for anyone! Bear lovers will have their claws in the air over this excellent piece!
Custom Camp Sign
Handmade, custom charm is something that really makes a gift unique. Pick up one of these customized signs made from cedar to give a timeless touch to your cabin, lodge or household!
Black Bear Coaster Set
It's 3 bears rowing a canoe full of bear claw coasters. Yes it's the most adorable thing you've seen all day, and yes you should pick one up!
Papa Bear Glass Mug
This elegant coffee mug features the silhouette of a black bear with the word "papa" overlayed. It's a great gift for those bear loving dads out there and will definitely have them roaring out of hibernation each morning!
Black Bear Honey Pot Utensil Holder
Complete with a set of wooden utensils, this holder makes the ideal housewarming gift for a bear lover! Who could possibly resist that cute baby black bear holding it up?
Mama Bear Necklace
This handmade necklace is an original and is sure to turn some heads in any den! Grab one today for a truly unique piece you can't find anywhere else! Let everyone know about your love for the mighty black bear with this gorgeous necklace.
Papa Bear T-Shirt
This T-shirt is an easy win for any bear fanatic! Let everyone know who the real papa bear is with this stylish pick, can't go wrong with T-shirts!
Needle Felted Bear Sculpture
This hand crafted black bear head is absolutely adorable and comes in a small cameo frame. It is made from wool needle felting, by which colored wool is fashioned into just about anything you can imagine! Pick one up today for a collectable bear themed gift.
Bear Print Lunch Bag
This lunch bag is adorned with a modern bear print, and will sure to get some attention at the lunch hour! Insulated, it is able to keep your food warm or cold for hours. Pick up a trusty lunch bag for your cub or loved one today!
Silicone Bear Night Light
These USB charged night lights are the perfect gift for any bear cub! Touch controlled silicone molded bears, just about the cutest ones you've seen, light up the night with just a touch.
Vintage Bear Coin Bank
This piggy back is a truly unique find! It's a vintage style coin bank made from zinc. This 70's piggy bank is perfect for any of your favorite bear fans. Perfect for collectors, or those just starting out, this piece is really one of a kind.
Winnie the Pooh Drinking Glass
This children's drinking glass is a collector's dream come true! And, how could we forget to include the lovable and iconic Pooh bear? Pick one up to complete that bear lover's set, or for a cute addition to their cupboard!
Mama Bear Water Bottle
This water bottle comes equipped with a handy water tracking design! It tells the user to reach certain points every hour of their day in order to stay hydrated. Great quality with a homespun twist is always a great gift option!
Retro Style Teddy Bear
This stylish recycled pattern teddy bear is absolutely adorable. Featuring a paisley print and two buttons, this adorable little teddy would be the perfect gift for any cubs out there!
Bear Hand Oven Mitts
This double set of oven mitts are really something else! Perfect for grilling, and all around cooking these gloves will have your favorite bear lover growling! Styled as bear paws, complete with claws, these mitts make a truly unique gift!
Baby Bear Crochet Hat
This baby hat is hands (paws) down the most adorable baby hat i've ever seen! Pick one up for that little cub of yours for the best baby bear gift out there!