Disclosure of Material Connection: Some of the links in this post may be "affiliate links." This means if you click on the link and purchase an item, I will receive an affiliate commission. Disclosure in accordance with the Federal Trade Commission's 16 CFR, Part 255. This site is a participant in the Amazon Services LLC Associates Program, an affiliate advertising program designed to provide a means for sites to earn advertising fees by advertising and linking to Amazon.
You've seen them in countless movies throughout the years, chimpanzees are more popular than the average person may think. If you, or someone you know, happens to love chimpanzees, you might want to try one or a few of these gift ideas. There are some awesome gifts that would be the great start, or continuation, of a chimpanzee collection.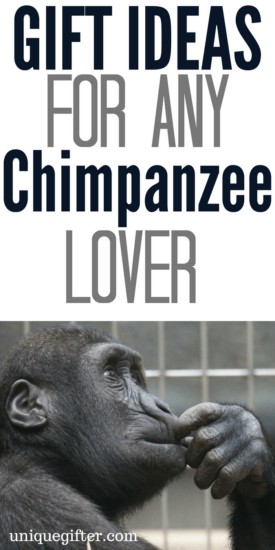 Give the most inspired animal lover gifts ever using our A to Z of Animals Gift Guides.
3D Hand-Painted Ceramic Coffee Mug Chimpanzee with Apple on its Head
It looks like the chimpanzee is the cup itself if you look at it at a certain angle, which will certainly make drinking their coffee or tea from the mug even more fun and may make them feel like a kid again, and that would be a double gift!
Chimpanzee Pencil Drawing Ceramic Tile
This tile would make a great accent or backsplash, or simply as decoration around their house.
Chimpanzee Rock Art
Rock art is a new and simple, yet artistic, way to decorate a garden or use as markers for a walkway. If you know someone who loves chimpanzees, they will love adding this rock art to their garden.
Personalized Engraved Chimp Dog Tag Keychain
Whether on a necklace or kept on the keychain, this personalized engraved chimp dog tag will be cherished by them for a long time.
Chimpanzee Pencil Drawing Apron
Help them keep their clothes protected from splashes and messes while cooking, and in style, in this chimpanzee pencil drawing apron.
"98% Chimpanzee" Shirt
Is your chimpanzee loving friend 98% chimp? They will love wearing this shirt to show that off!
Chimpanzee Wine Holder Sculpture
What a cute, and funny, way to display their wine!
"Hang in there!" Chimpanzee Travel Mug
Remind your chimp loving friend that they should hang in there and keep moving forward with this "hang in there!" chimpanzee travel mug. The best part is that they can take it on the go in the morning, or later in the day.
Chimpanzee Necklace
You may have heard that jewelry is the way to a woman's heart, and if she loves chimpanzees, she will certainly enjoy wearing this chimpanzee necklace.
Walking Chimpanzee Print Poster
A great addition to their wall at home, or at the office, the walking chimpanzee print poster can go virtually anywhere!
Aurora World Flopsie Chimp 12"
They can sleep with this stuffed chimp, set it on a shelf, or leave it on their couch. Either way, it will keep them company on those lonely days.
"EAT Sleep Love Chimpanzees" License Plate Frame
License plates frames giving a shout out to those things they love are all the rage, and they will love putting this on their license plate to catch the eye of other drivers.
Chimpanzee Magnetic List Pad "Things to Do"
Help them keep track of "all the things" they need to do each day with this magnetic chimpanzee list pad!
Cool Chimpanzee Shirt
The chimpanzee on this shirt is so cool with his bowtie and sunglasses!
Disneynature: Chimpanzee Movie
Give them entertainment in the form of this Disneynature: Chimpanzee Movie to watch on their night off or just to relax during the week.
Chimpanzee Portrait Wall Art
Chimpanzee portrait wall art will make a nice addition to their wall, or other place of choice at home and get the attention of guests at the same time.
Chimpanzee Jigsaw Puzzle
Fun to put together and show off to friends, this jigsaw puzzle chimpanzee will make a nice addition to their home. They could even take the time and creativity to give it a paintjob!
Chimpanzee Decorative Soap
Decorative soap is awesome to have in the bathroom, beside what most people use these days, the liquid soap. They will love this one in particular since it has a chimpanzee on it!
Set of 2 Jungle Metal Chimpanzee Bookmarks
Give them the gift of reading, or at least of keeping their place in the books they're currently reading, with this set of two metal chimpanzee bookmarks.
Chimpanzee with Hat and Lipstick Pot Holder
Everyone needs potholders, or else they burn their hands taking things out of the oven, and for the chimp lover, they will enjoy using their chimpanzee with a hat and lipstick potholder to do that. It might even make them smile each time too!
Chimpanzees are fun, and smart. Chances are that you know someone who favors them at least a little bit, and would love a gift such as one of these listed above! Peruse and choose the most awesome one for that person!