Disclosure of Material Connection: Some of the links in this post may be "affiliate links." This means if you click on the link and purchase an item, I will receive an affiliate commission. Disclosure in accordance with the Federal Trade Commission's 16 CFR, Part 255. This site is a participant in the Amazon Services LLC Associates Program, an affiliate advertising program designed to provide a means for sites to earn advertising fees by advertising and linking to Amazon.
Teaching is a difficult profession and it takes someone with a lot of love and patience to become a teacher. Whether you're giving to your teacher or congratulating someone close to you on their new career these gifts are a great way to get started.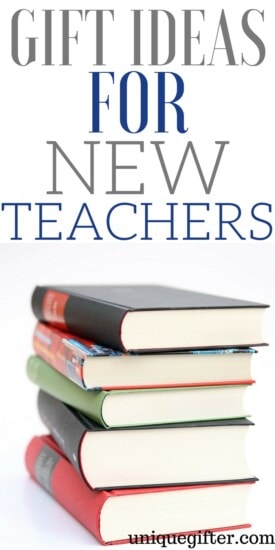 Gift Ideas for New Teachers
Teach Tote Bag
Get the new teaching something to carry all of their supplies and homework back and forth. We know teachers put a lot of time in at home but at least they can stay organized while doing that.
Teacher Sticky Notes
Give the new teacher some inspiration and a sweet reminder of why they became a teacher. This will serve especially well around daylight savings and around holidays.
Beginner Teacher's Field Guide
For teachers embarking on their first few years on the job.This field guide not only has tips, it also promotes self care.
Classroom Sign
Help a new teacher feel more welcomed by giving a classroom sign that's customized with their name. It's a great way to add a personal touch to the classroom.
New Teacher Kit
Everything they need in case of emergency is inside this box. It's filled with office supplies and other essentials that a teacher might forget to have on their first day.
Teacher Sign
This is a great little sign to have on a new teacher's desk either at school or at home. It can serve as a reminder to why they became a teacher in the first place.
Teacher Stamps
If you're giving to an elementary school teacher then teacher stamps are going to really come in handy. Don't forget the ink!
Teacher Fuel
There's really no sense hiding it, pretty much all teachers are running on coffee. Get the new teacher a cute mug to start their day off well.
Teacher Magazine
A magazine subscription is a gift that will keep going all year long! Subscribe to a teaching magazine so they can be up to date on their profession.
Your First Year Book
Teaching is hard work. This handbook for new teachers gives them advice on how to survive the first year teaching and even better, make it a success.
Bracelet
It's nice to feel appreciated so show a new teacher how important they are with a nice bracelet. They can even wear it on their first day for good luck and inspiration.
Inspiration Book
Sometimes you need a little pick me up on a particularly bad day. This book is filled with inspirations from other teachers who have been through it already.
Spa Gift Set
Force a new teacher to take some time for themselves by giving a nice relaxing gift set. They may think it's just a nice gesture but it won't be long before they really need to recharge.
Education Tote
A new teacher can use this tote for anything: Carrying things to and from work, in the classroom, or just to show off their amazing profession at the grocery store.
Teacher's Pet
Not only is this is a cute gift, it's also really practical. This cute little erases better than standard whiteboard erasers so the teacher won't be writing over old markings.
Positive Postcards
Typically people would thank teachers for their hard work but it's also a great idea for teachers to thank their students for being awesome. This gift will get a new teacher off on the right foot with their class.
Teacher Necklace
This pretty necklace uses the apple for teachers stereotype to its advantage. Not only is it stamped and includes your choice of gem, it also is packaged ready to give.
Teacher Misery Book
The thing is, all teachers encounter these kinds of situations when dealing with a class full of kids. It won't solve the problem but it will at least prepare, or comfort, a new teacher for dealing with the more difficult families and administration out there.
Gift Basket
Nothing says "congratulations on the new job" or "I love that you're my teacher" like a beautiful, well put together gift basket. This is also perfect for a new teacher you don't know that well.
Gift Card
Normally I wouldn't suggest a gift card on a gift guide but I'll make an exception for new teachers. Nowadays they have to buy so many of their own materials so help lighten the blow of getting their classroom set up with a gift card.
Despite all the hard work, teaching is a rewarding profession. With support from people like you the new teacher you're shopping for is going to not only do great, but help shape the next generation.