Disclosure of Material Connection: Some of the links in this post may be "affiliate links." This means if you click on the link and purchase an item, I will receive an affiliate commission. Disclosure in accordance with the Federal Trade Commission's 16 CFR, Part 255. This site is a participant in the Amazon Services LLC Associates Program, an affiliate advertising program designed to provide a means for sites to earn advertising fees by advertising and linking to Amazon.
Toddlers don't need toys with batteries, flashing lights, or fancy sounds. They need simple, good quality, and open ended play. Even if you don't completely practice Montessori teachings in your home these gift ideas are a great addition to a toddler's collection.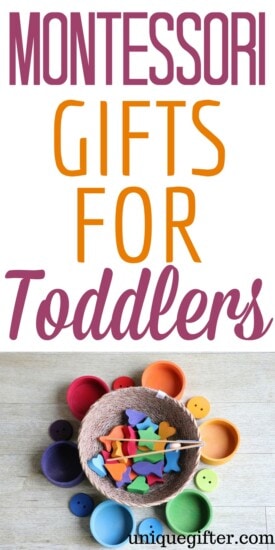 Montessori Gifts for Toddlers
Reading Blocks
Give toddlers a jump start on pre-reading skills with these blocks. They rotate to change up the word for a more tactile way to practice.
Life Skills Practice
Keep younger toddlers busy for hours with these fun life skills mats. Through play little ones will be able to practice those important skills they need for independence.
Pattern Blocks
These are a great example of open ended play. You can work on colours, making shapes, or just replicate the patterns and pictures on the cards.
Wooden Rainbow
A hand-made must-have Montessori toy! This rainbow set is super open ended: it can be stacked, used as roads, and even climbed on by busy toddlers.
Balancing Game
Work on hand-eye coordination as toddlers attempt to balance and stack all the animals. It also makes a great multi-person game to work on turn-taking.
Color Sorting
Toddlers will love finding matching pieces to place into the colored squares.
Threading Apple
A cute take on threading toys, your toddler can work on their coordination as they try and get the little worm through the holes.
Felt World Map
This interactive map is a wonderful Montessori gift for toddlers because it's easy to move around and doesn't take up any floor space.
Color Tablets
Get more advanced than simple color sorting. Color tablets like this give toddlers a range of shades to arrange and compare.
Cylinder Socket Set
They can be little people, toddlers can sort them into the right holes like a puzzles, or line them up by size. So many possibilities with one little toy.
Counting Stones
Numeracy skills are learned without toddlers even realize it as they play with and arrange these numbered counting stones.
Zenergy Chime
Toddlers love to make noise. These chimes, if you're not familiar with them, release a relaxing tone when struck. Great for getting toddler attention or teaching them about sound.
Moon Puzzle
Toddler puzzles don't have to be brightly colored or made up of farm animals. This puzzle teachers toddlers moon phases in both directions, and also works as a secondary puzzle to make up the circles.
Animal Matching
Give them something more hands on than those cardboard memory games. This Montessori style learning game has them placing the matching figures on the animal pictures. Great for matching skills and vocabulary.
Wooden Tweezers
Toddlers absolutely love to manipulate grabby items like tongs or tweezers. This set is beautifully crafted and comes with a few cylinders for practice.
Color Sorting Pegs
Part puzzle, part sorting game this wooden toy is a great toddler gift. Once they are adept at sorting these colors they can move onto complicated tasks such as opposites in the color wheel.
Calendar Board
Perfect if you're doing a Montessori preschool program at home with your toddler!
Sand Tray
Even if they can't hold a pencil toddlers will be able to create all kinds of designs in a sand tray. Practice their shapes and letters or just have them do some calming doodling.
Step Stool
These stools are great for toddlers who like to help in the kitchen or up at high tables. This one has a bonus of folding into a toddler-sized table for play or snack time.
Montessori Bed
These low profile montessori floor beds are becoming all the rage now with toddler parents. Toddlers can't roll out of bed and it's easy for them to make in the morning.
As a parent of twin toddlers I can safely say anything on this list would definitely be toddler and parent approved!