Disclosure of Material Connection: Some of the links in this post may be "affiliate links." This means if you click on the link and purchase an item, I will receive an affiliate commission. Disclosure in accordance with the Federal Trade Commission's 16 CFR, Part 255. This site is a participant in the Amazon Services LLC Associates Program, an affiliate advertising program designed to provide a means for sites to earn advertising fees by advertising and linking to Amazon.
Studio Ghibli has been bringing magic and whimsy to the screen for years with their animated movies in Japan, but it's actually Disney that brought them over to the west. It also means that there's a lot more fans out there, which is why we have these My Neighbor Totoro gift ideas!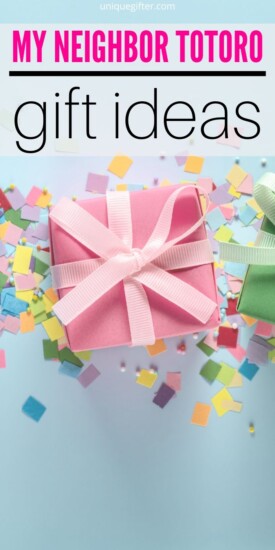 See also: If Studio Ghibli isn't their only favorite place for animated films, find something one of a kind with our Disney Tangled gift idea guide!
20 My Neighbor Totoro Gift ideas
These are great gift ideas for kids, and also adult Studio Ghibli fans. After all, Totoro is so cute, who couldn't love him?
Totoro Kigarumi
You can order this cute Totoro costume in toddler or adult sizes! Perfect for conventions, Disney+ binge watching, and making adorable toddlers even cuter.
Totoro Socks
These are a great stocking stuffer idea or practical gift. After all, everyone seems to need new socks! These ones have Totoro on the backs so their heels fill out his cute belly.
Editor's Choice Best My Neighbor Totoro Gift Ideas
Adorable Totoro Stuffed Toy

My Neighbor Totoro 9″ Stuffed Toy
This is an absolutely adorable My Neighbor Totoro stuffed toy any fan would be happy to call their own! Help grow their collection with this marvelous My Neighbor Totoro fan gift idea!
Succulent Planter
Succulents are great and cute, just like Totoro! Order this planter on its own or fill it with some plants before you give it as a gift.
Totoro Vacuum Cup
Totoro will keep their beverages cold while they're out and about! This is a great gift idea for kids but adults might find it useful and cute too.
Computer Decal
This is way too cute! Totoro sits under the logo looking up. You can get it custom made to almost any MacBook, or message the seller for other devices.
Totoro Hat
You'll have to work a little harder for this My Neighbor Totoro gift idea but it will be so worth it. Pick up this crochet pattern and make them a cute hat! It's not just a thoughtful gift, they'll really appreciate that you put that effort in.
Phone Cable Accessory
Not only is this cute, it also helps keep your phone cord safe by preventing it from bending too much around the connector. Win-win!
Editor's Choice Best My Neighbor Totoro Gift Idea
Totoro Stuffed Backpack

Totoro: Stuffed Backpack
How could you pass up on this truly one of a kind backpack?! My Neighbor Totoro fans are avid collectors, they'll absolutely adore this one of a kind, practical gift idea!
The Art of My Neighbor Totoro
Studio Ghibli might be best known for its amazing, and distinct art style. This book is filled with breathtaking art and interesting concept sketches; perfect for fans and collectors.
Totoro Knit Gloves
These fingerless gloves are hand knit from merino wool. They're super cute and you can still text wearing them. A great Christmas gift or stocking stuffer idea!
Cute Laundry Hamper
They can use this cute storage basket anywhere in their home! It would also make a great laundry hamper, especially in a kids' bedroom or nursery.
Cat Bus Plush
The other hero of My Neighbor Totoro, the Cat Bus is oh so cute. This plush is a perfect gift idea for kids or adult collectors.
Shot Glass
A cool My Neighbor Totoro gift idea for adults! It's etched by hand so it's definitely a unique gift idea. Gift it together with a bottle of their favourite drink.
My Neighbor Totoro Pullover Sweatshirt
This shirt is everything! There's so many references all packed into one awesome My Neighbor Totoro design.
Inspirational Jar
This is funny, cute, and really thoughtful all in one. A perfect inspirational gift or to give to someone going through hard times.
The Night is Young Bracelet
This hand painted bracelet references the Studio Ghibli film. It's a cute and subtle reference, and would be great for teens and adults who are fans.
Airpods Case Cover
This silicone cover keeps the Airpods charging case safe and makes it look so much cuter! Plus it has a ring with a clip so they can attach their Airpods case to anything.
Totoro Sleeping Bag
This is the best, most comfy cozy My Neighbor Totoro gift idea out there! It's basically like a giant pillow that everyone will love laying on.
Hopefully these My Neighbor Totoro gift ideas are just the inspiration you need to make your gift giving magical. Or if you're a Totoro fan yourself, send this gift to your family and friends and drop some serious hints.