Disclosure of Material Connection: Some of the links in this post may be "affiliate links." This means if you click on the link and purchase an item, I will receive an affiliate commission. Disclosure in accordance with the Federal Trade Commission's 16 CFR, Part 255. This site is a participant in the Amazon Services LLC Associates Program, an affiliate advertising program designed to provide a means for sites to earn advertising fees by advertising and linking to Amazon.
Since it became a book series in 2007, The Witcher has spawned graphic novels, video games, and even a TV series. With this surge in popularity, there's bound to be a plethora of merchandise that is absolutely ripe for collecting. For fans from all reaches of this incredible series, these are the best gifts for Witcher fans!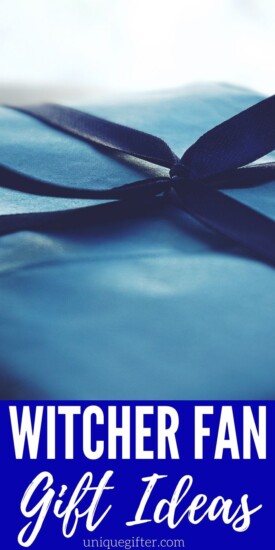 The Best Gifts for Witcher Fans
As it is with giving gifts to any collector, finding that perfect present can be quite a daunting task but we're here to help you with that! Navigating that awesome addition to their collection is a challenge but we're sure to have you covered and really help you nail that celebratory offering with this list of bewitching gifts for Witcher fans!
The Witcher Book Collection
The first item on our list is definitely one that needs to be in any fan's collection. This bundle contains all 8 books from the series and will help any lover of the series get caught up on lore and adventures!
Geralt Grandmaster Ursine Figure
Officially licensed by Dark Horse and standing tall in its 9.5in glory, this depiction of Geralt in his Grandmaster Ursine armor is guaranteed to be adored by whoever receives this wonderful action figure!
The World Of The Witcher: Video Game Compendium (Hardcover)
This beautifully illustrated hardcover covers everything from the video games from the origins of Witchers all the way down to the lore of creatures that exist in the world from the game series. Also available in Kindle format!
Witcher's Wolf Pendant
Anyone who has played the game knows how righteous that pendant looks that Geralt wears around and with your help, the fan in your life can sport that cool looking necklace as well. Cast iron and looking just as rad out of the game as it looked in it!
The Witcher Coloring Book
This Witcher coloring book is filled with blank pages of adventure and lore for your favorite fan to color in. Knowing the story and the contents of the games, just make sure that they have a lot of red to color with!
Geralt Funko Pop Figure
The slayer of all fiendish mythical creatures has never looked so cute! Funko puts its iconic pop spin on Geralt of Rivia with this awesome looking guy!
Geralt In Bathtub Statuette
If you've ever played Witcher 3, you're no stranger to seeing Geralt lazing about in a bathtub. Serving as one of the game's opening scenes, it's an all too familiar sight for fans of the hit video game and now you can help that certain someone display this bathing anti-hero on their shelves!
The Witcher 3 Video Game
Available on Xbox One, Playstation 4, and PC, this award-winning game is likely already in your fan's collection, but if it isn't? It's up to you to take care of that problem as soon as possible!
The Witcher 3 Wallet
This wallet is low-key yet fashionable. Upon closer inspection, you can see that it sports the wolf head that has become synonymous with the series and is definitely a stylishly nerdy way for a fan to tote their currency around!
The Witcher Socks
When you have a fan that wants to look valiant but wants to keep their feet warm, what are you to do? Snag these spiffy looking socks! That's what you're supposed to do!
The Witcher Silver Sword Replica
Definitely one of the coolest items on our list, this silver sword replica is a guaranteed winner of a gift! It really nails the look and feel of the video game and is bound to make anyone feel like a master monster slayer that carries it around!
The Witcher 3 Puzzle
This 1000 piece puzzle is the gift that most fans didn't know that they were missing! Featuring artwork depicting Ciri fighting the wolves, we predict that it'll be on their wall after it's assembled!
The Witcher 3 Shot Glass Set
Yet another gift on our list that is officially licensed by Dark Horse, you'll know that you're buying quality merchandise when it's direct from the creators. With three different illustrations to choose from, it's sure to be a great addition to your fan's collection!
The Witcher 3 Flask Set
This sweet looking leather-bound flask is not only one of the most rad looking gifts on our list, but it also comes in a set with two metal shot glasses that are illustrated with the wolf's head emblem!
Witcher Pocketwatch
This is probably one of the more unique entries on our list and we are crazy about it! This pocket watch has the wolf's head logo emblazoned on it and is definitely a snazzy collection to any fan's wardrobe!
White Wolf Snapback Hat
Brought to you by Jinx, this hat is a very cool gift. The minimalistic design of the white wolf logo not only doesn't take away from the "Wow!" factor but enhances it!
Lilac And Gooseberries Lotion
Anyone who has played the game knows that Geralt was on the hunt for a woman who smelled like lilac and gooseberries. If you've got a fan that's curious about what that smells like or who longs to smell like Yennefer, this is definitely the gift for them!
The Witcher Pint Glasses
These glasses are guaranteed to be a great inclusion to any fan's collection! Five different glasses, each with their own stylish illustration, they are ensured to be an absolute hit!
The Witcher Signs Ring
This stylish ring is complete with all five spell signs from the video games! Spellcasting ability not included!
The Witcher Coin Collection
A sweet coin collection that will make the fan in your life feel like they just stepped into the video game. This collection is also customizable and can be bought with the stand included!
Witcher Tea – White Wolf Brew
For the fan that wants to really get into the series. This sack is filled with up to 17-18 cups worth of White Wolf Brew tea, packed into a fantasy-esque burlap sack!
The Witcher Pendants And Perfumes
This is definitely one of the coolest items on our list! A variety of different colognes and perfumes inspired by The Witcher, this is for the fan that not only wants to enjoy the series, they want to reek of it!
Signs Baby Bodysuit
For the fan that is looking to start their child on their fandom early, this bodysuit is definitely for them! Illustrated with the five different elemental signs for the spells in the game, their child is sure to be the most stylish little nerd!
The Witcher Leather Shoulder Bag
We're pretty sure that we wouldn't use this for cosplay. Sure, it's what it's advertised for, but who wouldn't love to just wear this around on their day to day journey, packed with all sorts of everyday goodies?
The Witcher Coaster Set
What geeky living room is complete without a set of coasters from a video game or book series? These coasters feature art from the five elemental signs and the white wolf logo that is so prominently displayed throughout the game's art.
We've traveled to the edge of The Continent and back to bring you some of the best gifts that you can find for someone who loves this series and we can guarantee that there's quite a few things here that they'd be pleased to unwrap. Feel free to let us know if there's anything here you've found for a friend or maybe even something you've decided you'd rather have yourself! These gifts for Witcher fans are great for any occasion, which went over well with your friend? Hit us up on Twitter (@ugifter) or Instagram (@uniquegifter)!