Disclosure of Material Connection: Some of the links in this post may be "affiliate links." This means if you click on the link and purchase an item, I will receive an affiliate commission. Disclosure in accordance with the Federal Trade Commission's 16 CFR, Part 255. This site is a participant in the Amazon Services LLC Associates Program, an affiliate advertising program designed to provide a means for sites to earn advertising fees by advertising and linking to Amazon.
Cooking is magical, Disney is magical, it seems like the most perfect pair to bring them together. These Disney kitchen gadgets are perfect for those people in your life who are Disney obsessed and love to cook or bake.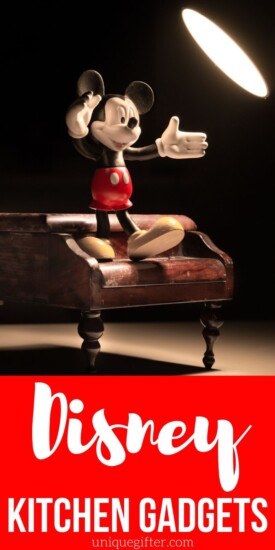 Disney Kitchen Gadgets
I'm going to confess something here: I'm Disney obsessed. In my own kitchen, I have a few Disney kitchen gadgets myself and my Mickey Mouse cookie cutter is definitely my go to for baking. So here's the part personal wish list, part gift guide everyone who's obsessed with Disney kitchen gadgets has been looking for.
Mickey Mouse Slow Cooker Set
Buy Now
A perfect gift idea for someone who's in need of a slow cooker or replacement. First of all, it's super cute. Second, it comes with the mini 5 quart cooker for making those side dishes.
Mixing Bowl and Spoon Set
This set comes with two different sized mixing bowls and spoons. What's really nice is how they're wrapped up: perfect for gifting!
Salt and Pepper Shaker Set
These adorable salt and pepper shakers will add a little bit of Disney (and Mickey Mouse) to a kitchen or table setting. For a gift idea, bundle them with some salt and pepper to fill them with
Disney Villain Glass Set
This set of Disney villain glasses has 4 characters everyone loves to hate. They have pictures and quotes for: Maleficent, Ursula, Cruella DeVille, and Queen Grimhilde.
Corkscrew and Wine Cork Set
They'll be the envy of everyone when they pull out their Mickey Mouse ear corkscrew. On the rare occasion some wine is left over, the matching stopper will keep it fresh. Gift with a bottle of wine of course!
LOVE LOVE Mickey and Minnie Kettle
For Disney lovers it's so much fun to have small appliances that can show off their favourite characters. This electric kettle is a too cute, yet practical gift idea for a Disney kitchen.
Deliciously Disney Cookbook
Not quite a gadget but it sure is handy to have cookbooks in the kitchen! This cookbook recreates some of the popular Disney foods that fans will love.
Mickey and Minnie Silicone Molds
Buy Now
Silicone molds are handy to have around the kitchen. You can use them for baking, as a chocolate mold, or as ice cube trays.
Baby Groot Cutting Board
Poor baby Groot! If you don't know, he's a tree, which means he's kind of the perfect character to put on a wooden cutting board.
Mickey Ears Colander
One of the most useful Disney kitchen gadgets out there because you know they'll be using it all the time. The Mickey ear design on the sides will make cooking with it just a little bit more magical.
Disney Dish Drying Mat
Where are they going to put all those dishes once they're clean? Not in a boring dish rack, that's for sure.
Mickey Mouse Cookie Cutters
These are a must-have in a Disney loving household! Cookie cutters are great for, of course, making cookies but you can also use them to cut sandwiches or even cook eggs.
Single Serve Coffee Maker
This would make a great Disney kitchen gadget for a college student or someone who wants a quick cup of coffee in the morning.
Mickey Mouse Teapot
Whether they're serving afternoon tea to some friends or just enjoying it themselves, a Disney fan will love brewing it in this adorable Mickey Mouse teapot. Gotta love the ears on the lid, too!
Mickey Toaster
It's not enough that this toaster has Mickey Mouse on the side or is in classic Mickey red. It actually toasts the ears onto the bread!
Iron Man Spatula Set
This heat proof spatula and spoon set is perfect for fans of Iron Man or Disney's Marvel movies. Maybe it will even make them into a cookie superhero!
Ears Cheese Board
A fantastic gift idea for someone who loves to entertain. Move over, regular cheese boards; this will make every party even better. It would also make a great addition to a nice gift basket.
Mickey Mouse Gloves Oven Mitts
Another Disney themed item you just can't live without in your Disney kitchen: oven mitts. Of course, it's a lot more fun to pull things out of the oven when you're wearing Mickey's iconic gloves.
Straw Ice Cube Tray
These would be fun for kids or adults. The ice cubes freeze around the straws so they're not floating around in the glass. Smart!
Mickey Pizza Cutter
Believe it or not there's some people who don't already own a pizza cutter (me) or at least need a new one. If they're a Disney fan the choice is easy.
Spatula and Whisk Set
They'll love mixing and flipping with the help of Mickey Mouse! It would be so cute to gift these with a box of pancake mix and some syrup.
Winnie the Pooh Bowl Set
This set of 2 bowls comes all the way from Japan and it shows. They could use them for ramen or other soup but they're also cute enough just to display.
Measuring Spoon Set
Disney kitchen gadgets are great because they're practical gift ideas. These are definitely no exception to that rule, but they also look great sitting on a kitchen counter or shelf.
Mickey Mouse Canister
They can store whatever kitchen items they'd like in this adorable Mickey Mouse canister. A great gift idea would be including a little treat inside!
Wine Charm Set
Buy Now
No more wondering which glass is whose when you're entertaining! Gift these adorable Mickey Mouse ear wine glass charms with a nice bottle of wine or wine glass set.
Minnie Apron
Keeping clean in the kitchen is easy with an apron. They can channel their inner Minnie Mouse with this apron set that even includes a hat with bow!
Mickey Waffle Maker
There's nothing better than waking up to fresh waffles in the morning. Oh wait, yes there is; Mickey Mouse waffles!
Love Kitchen Set
This would make such a cute addition to a wedding or anniversary gift for Disney lovers. It comes with an oven mitt, pot holder, and dish towel.
Disney Bento Accessories
Buy Now
Bento is super popular in Japan but that doesn't mean you can't enjoy it either. Use these adorable Disney sticks to make some cute bento style lunches for yourself or your family.
Mickey Glove Bag Clips
Buy Now
There doesn't seem to be an end to the practical Disney kitchen gadgets you can give. These bag clips are a pretty safe bet for any Disney fan because you can never have too many. For a fun gift basket idea, wrap them up with some snacks!
Mickey Mouse Air Popper
Buy Now
So cute! This mini popcorn maker is perfect for those times you just want a little snack. Gift it with some popcorn and seasoning!
Matching Aprons
These would be a fantastic wedding or anniversary gift idea! Give the happy couple this set of matching aprons so they can cook together in style.
Captain America Shield Cake Pan
Buy Now
This is the coolest cake pan set ever! It comes in multiple pieces so they can fill each section with the different colours of Captain America's shield.
Mickey Spoon Rest
Buy Now
It will brighten up their Disney themed kitchen, that's for sure. Typically spoon rests sit out so Disney fans will love showing this cute Mickey one off.
R2-D2 Measuring Cup Set
Buy Now
When not in use this R2-D2 measuring cup set stacks up to make a cute countertop friend. Although it's not officially a Disney licensed product, Star Wars is Disney and it's too cool not to include.
Mickey Ear Sprinkles
Buy Now
These Mickey ear sprinkles are perfect to include with some of these other Disney kitchen gadgets, especially the baking stuff.
Aladdin Sugar and Creamer Set
Buy Now
You'll be making their wishes come true if you gift this Aladdin themed set! Who wouldn't want to pour cream out of a magic lamp?
Anyone Can Cook Sign
Buy Now
Disney's Ratatouille is exactly the right reference for a Disney fan's kitchen. Yeah, it's not a gadget, but it is the perfect Disney kitchen decoration.