Disclosure of Material Connection: Some of the links in this post may be "affiliate links." This means if you click on the link and purchase an item, I will receive an affiliate commission. Disclosure in accordance with the Federal Trade Commission's 16 CFR, Part 255. This site is a participant in the Amazon Services LLC Associates Program, an affiliate advertising program designed to provide a means for sites to earn advertising fees by advertising and linking to Amazon.
Check out these cool gifts for young triathletes. According to Team USA, young athletes are increasingly entering the triathlon arena this decade, growing the U23 age group dramatically. The IronKids Triathlon Series started back in 1985, allowing kids from 7-15 to participate. Divided by gender and age groups with a division for disabled children, IronKids compete in age-appropriate distances for each sport and on kid-safe courses. The biking and running portions are held on closed courses, so they're not competing with their peers and with traffic.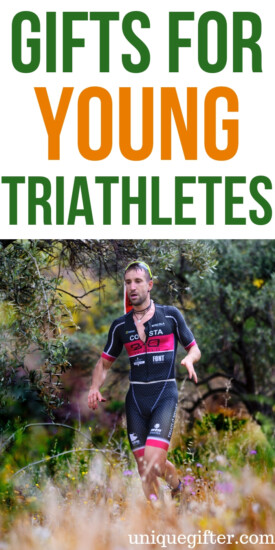 Encouraging kids to stay involved in competitive sports is healthy and educational. They can excel in all three sports, as long as they are training appropriately so they don't injure their growing bodies, and learn what we hope will be a lifelong habit of pursuing active lifestyles which can only be good for their hearts and overall health. Get them started with great gear, or celebrate their accomplishments so far!
Awesome Gifts For Young Triathletes
Encouraging kids to keep up the good work is easy when you give them a thoughtful gift.
Swim Cap
Made of soft, stretchy, waterproof silicone, this cap can accommodate any kid with a lot of long, thick, braided, or afro hair! It's best for smaller head circumferences, whether kids or adults and should have a snug enough fit to keep hair dry.
Swim Goggles
As a young swimmer, I struggled mightily to keep my eyes open underwater. It seemed unnatural. The advent of widespread goggle use was a boon.
Waterproof Heart Rate Monitor Watch
For the data lovers, this waterproof heart rate monitor watch gives you a bit of everything. It records steps and distance traveled, active time, and sleep time. It can also handle 14 exercise modes to zoom in on your specific activities.
Trisuit
This trisuit protects the young athlete from the elements with flexible fabric, low profile fleece padding, padding for the bike, and easily accessible side pockets.
Bike Helmet
Form and function come together in this bike helmet with ergonomic interior padding and 17(!) top and side vents to keep that head cool when it's working hard on a hot day.
Cycling Gloves
These nylon gloves are moisture wicking, use a Velcro closure, and have padding for comfort.
Bike Saddle
Standard bike seats can be incredibly uncomfortable, especially the plastic ones, so if a kid is going to log MANY miles on their bike, this would be a far kinder seat.
Wool Socks
We believe in taking care of your feet and wrapping them in wool clouds falls into the correct self-care category when you're about to pound out kilometers on the ground.
No Tie Laces
Be sure that those laces won't ever come undone on a run again with these elastic no-tie laces. They're also reflective for excellent visibility at night.
Sharks Tee
Mostly motivational with a warning at the end. It's a little unfair to sharks, actually, but it's still funny.
Swim Bubble
Stay highly visible during open swims with this swim buoy. This one is extra lightweight; it doesn't have the attached dry bag compartment for those swimmers who are looking to travel very quickly and without additional gear.
Shoelace Tags
Attach some motivation to those training shoes! This pair of stainless steel tags remind you that stamina isn't just physical; it's mental.
Swim Bike Run Charm Bracelet
This bangle is adjustable and comes with four stainless steel charms and a gift bag.
Runner's Race Medal Hanger
Life's not always about winning, but a post-triathlon medal deserves to be remembered. Display them on this 14″ W x 4″ H laser cut steel medal display hanger with a powder coat black finish and pick up the extension bar to add the next 12-15 medals after the first 24.
6 Stages Of Triathlon Tee
Many of us never make it past stages 1 or 2, but for those young' uns who go all the way through to 6, this tee will be a perfect fit.
Triathlon Ornament
This lead-free, nickel-free, lightweight ornament is perfect to hang on the triathlete's tree or in a frame with their medal.
Triathlon Heartbeat Tee
Let them wear the heartbeat of a champion! The solid colors of this short come in 100% cotton.
Changing Mat & Wet Bag
Use this handy changing mat that cinches up when you're done, holding your soaked wetsuit, towel, and swimsuit. This is made of a poly fabric that's easy to clean.
Triathlete Clock
This hands of this 10" wall clock point to the most relevant time points in a passionate triathlete's day.
Triathlete Keychain
Customize this keychain for your triathlete – pick their favorite font, thread color, add a monogram, and two personalizations.
All of these gifts for young triathletes are fun and functional.