Disclosure of Material Connection: Some of the links in this post may be "affiliate links." This means if you click on the link and purchase an item, I will receive an affiliate commission. Disclosure in accordance with the Federal Trade Commission's 16 CFR, Part 255. This site is a participant in the Amazon Services LLC Associates Program, an affiliate advertising program designed to provide a means for sites to earn advertising fees by advertising and linking to Amazon.
Today's adults were the kids who grew up reading Harry Potter and watching the movies as they released. With new movies and book releases the fandom is far from gone, and likewise to an adult fan's love of Harry Potter. These gift ideas were picked specifically with an adult Harry Potter fans in mind.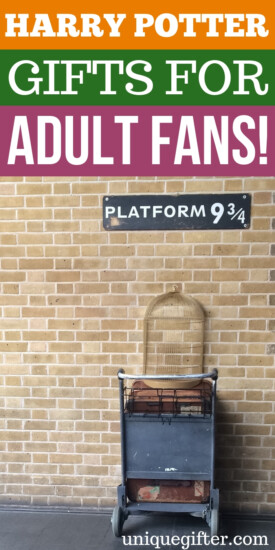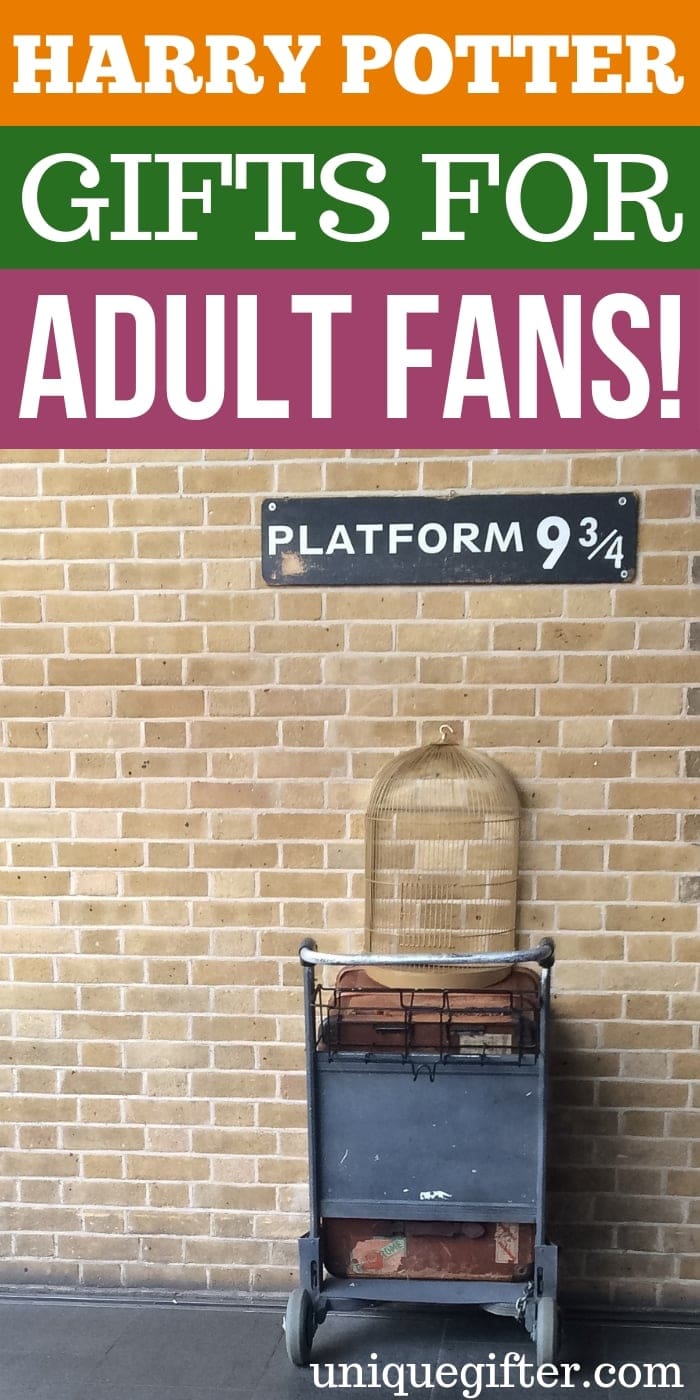 Muggle Approved Harry Potter Gifts for Adult Fans
Muggle Entrance Door Mat
So the muggles know how to get into your house too. Of course, they don't know about the top-secret wizard entrance, they're muggles!
Dobby Socks
Free Dobby! These socks reference the poor house elf that waited so long to be gifted a sock and his freedom.
Turn to Page 394 Tote
Remember Snape's popular quote? They do, and they will be delighted to have a tote bag that can secretly share a Harry Potter reference with other fans.
Harry Potter Wand
This isn't just any toy wand, it's a high quality replica of Harry's wand. It even comes in an authentic looking Ollivanders wand box.
Key Holder
What magic spell opens locks? Alohomora of course! Except your gift recipient is a muggle so they'll have to use keys instead.
Trivial Pursuit
Time to really show off your Harry Potter knowledge! This officially licensed trivial pursuit game is the ultimate competition for hardcore fans.
Harry Potter Decorative Signs
Which way to Diagon Alley? Just follow the sign of course. These Harry Potter signs will look great displayed in any fan's home.
Couples Mugs
It's often a struggle to find great couples gifts. If you're friends with a pair of Harry Potter fans this set is sure to delight the happy couple. Would also be great as part of a wedding gift.
Wish Bracelet
The way wish bracelets work is when the tied on string breaks the wearer makes a wish. This one in particular, though, has a Deathly Hallows charm and has a Harry Potter themed message for your recipient.
Harry Potter Movie Book
Ever wondered what went into transforming the magical book series to a set of big screen blockbusters? This book is packed full of information and all the details that went into making the Harry Potter movies.
Wine Glass
Yep, had to make a version of this joke somewhere.
Marauder's Wooden Sign
This rustic style sign has shadowy depictions of the Marauders in animagus form. They're hand painted making this a wonderful, unique gift for an adult Harry Potter fan.
Soy Candles
Fill you home with the delightful smell of Mrs. Weasley's cookies with this soy candle. No spell required.
Harry Potter Embossing Rolling Pin
Instead of burning a candle for cookie smell you can also make your own. This rolling pin will emboss your cookies with Harry Potter themed symbols with each roll.
After All This Time Sign
A perfect romantic Harry Potter themed gift. Said at a pivotal moment in the series and as a declaration of love, perfect for the love of your life.
Wizard Cookbook
Cooking is basically magic. You put ingredients in and they transform into something else! Give them the power to bewitch food with this Harry Potter themed cookbook.
Umbridge Sign
Reminisce the worst villian in Harry Potter by displaying on of her awful education decrees in your home.
Hogwarts Battle Game
A fantastic Harry Potter themed game! Up to four players team up to defeat Harry Potter villains while travelling through all seven Harry Potter books.
Free Dobby Sign
What else do you do with socks who are missing their match?
Hand Painted Hogwarts Castle
If you really want to wow a Harry Potter fan what better way than with original, hand painted Harry Potter art? This stunning painting is a great addition to their home and will be a wonderful conversation piece.
Remember fellow adult Harry Potter fans – never stop believing in magic!