Disclosure of Material Connection: Some of the links in this post may be "affiliate links." This means if you click on the link and purchase an item, I will receive an affiliate commission. Disclosure in accordance with the Federal Trade Commission's 16 CFR, Part 255. This site is a participant in the Amazon Services LLC Associates Program, an affiliate advertising program designed to provide a means for sites to earn advertising fees by advertising and linking to Amazon.
My nine-year-old is finally hooked on Harry Potter, hurray! Here are some magical gift ideas all his fellow children who are into the Harry Potter franchise, even if they're still young to go off to Hogwarts. Take a ride in the Harry Potter world with all these creative and unique gifts that will help their imagination fly.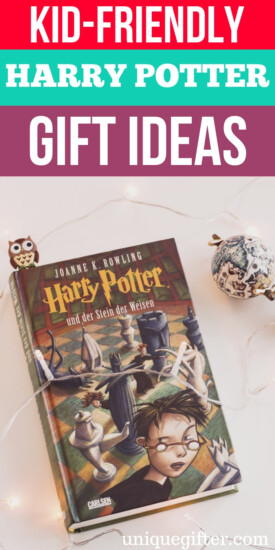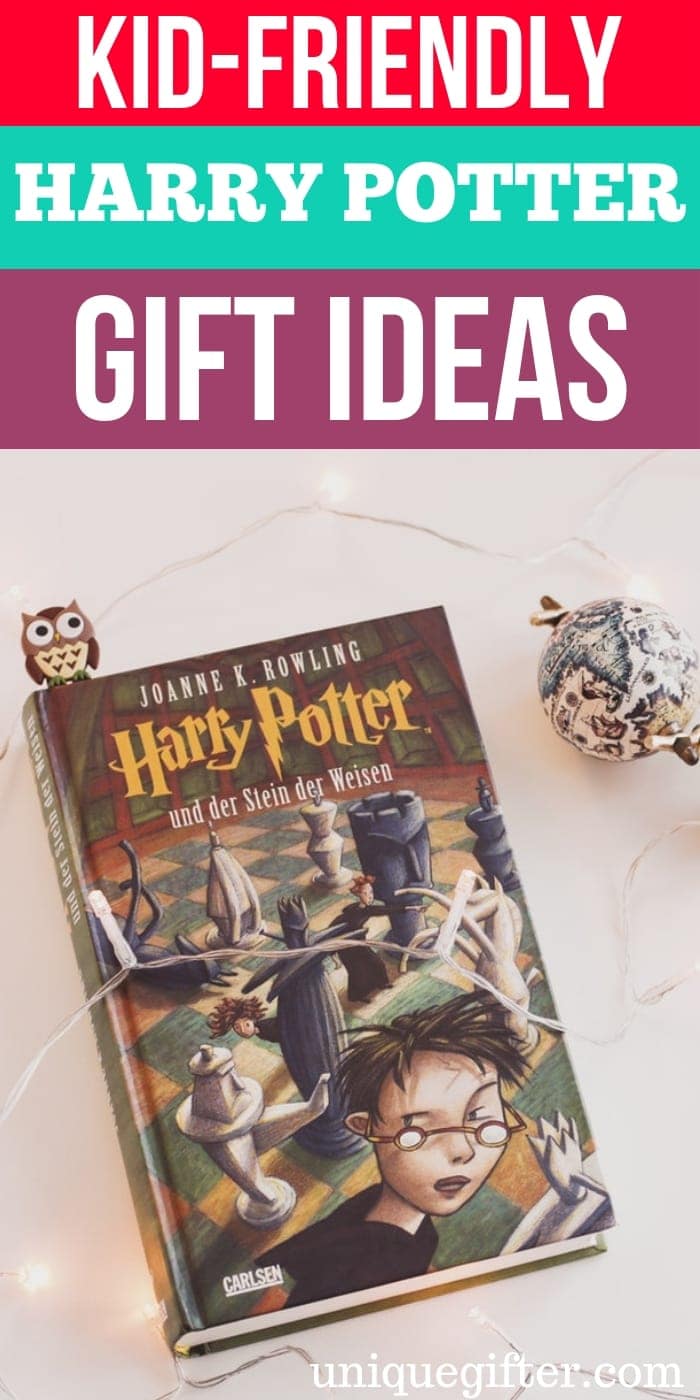 Must-Have Kid Friendly Harry Potter Gift Ideas
Sorting Hat
The first step after finding out you're a young wizard is getting sorted into your house. This fun toy comes with stickers and kids will have fun sorting themselves and their friends.
Wizard in Training Shirt
For the pint-sized wizard. They can show off their pre-wizarding skills everywhere they go with this cute Harry Potter themed t-shirt.
Hogwarts Print
It's fun to decorate kids' rooms with things they're interested in but not so nice when they're tacky posters. This well designed print will have them dreaming of the Hogwarts Express as they drift off to sleep.
Harry Potter Doll Clothes
If your kid has an 18" doll they will absolutely love this doll sized Harry Potter costume. Make sure you get a kid-sized costume to match!
Harry Potter Costumes
Now that you have a doll costume better dress the kid up too. This trunk has everything they need to pretend to be their favourite wizard including wand and glasses.
Robe Hooded Towel
Practical yet Harry Potter themed, these hooded towels will give kids a few moments of pretending to be a wizard on bath nights. Maybe they'll actually want to get out of the tub.
Lego Hogwarts Express
All aboard! They may not be able to ride the real thing but they can build it. There's all kinds of Harry Potter Lego sets to choose from so get the one they want or get them all.
Science for Wizards Kit
Activity kits are always a hit with kids, especially ones that are otherwise hard to buy for. It might not be officially Harry Potter but it is a cool wizard theme science kit so they can pretend to do magic.
Harry Potter Bluetooth Headphones
They'll feel like a wizard when they activate these wireless headphones with their voice. It's also a gift for the parents who will no longer have to listen to another minute of YouTube.
Newborn Outfit
Maybe a bit more for the parents than the kid, this baby set is perfect for a future Harry Potter fan. Not that you need someone to tell you to snuggle a baby.
Hedwig Lunch Bag
How to be cool at school. 1. Harry Potter lunch bag. Any questions?
Hogwarts Scratch Magic
A fun activity gift instead of more "stuff". Kids will have fun scratching the pages with a stylus to find all kinds of hidden Harry Potter themed items.
Hogwarts Bookends
What better way to keep your Harry Potter book collection secure on the shelves than with a set of Hogwarts castle bookends? They even come with a little Dobby figure as bonus.
Illustrated Book Set
What better to gift with Harry Potter bookends than these fantastic illustrated books? Books 1-3 get a whole new life with these new versions.
Up to no Good Shirt
The famous Marauder's Map quote takes on a different meaning when your Harry Potter loving kid wears this shirt. Chances are it's accurate too.
Fingerless Gloves
So your hands are free to hold your wand, or phone, while your hands stay warm. There's options so you can represent the house you most identify with.
Wizard Training Wand
This motion-sensitive wand recognizes when spells are cast. There's even different settings so kids can play with their friends to see who has the best technique.
Harry Potter Themed Dresses
If you're looking for more subtle Harry Potter attire these dresses are a great solution. Printed like book pages, Hogwarts lines the bottom of the dress.
Harry Potter Quote
Even kids need some inspiration in their lives. This Harry Potter quote is the perfect addition to their bedroom or homework space so they can always be reminded to believe in themselves.
Harry Potter Kano Coding Kit
One of the coolest Harry Potter toys out there! Kids can use their device to not only practice spells using the wand, but also to code programs. A great guilt free gift for young Harry Potter fans.
Hopefully, these gifts tie your young Harry Potter fan over until their Hogwarts letter arrives.