Disclosure of Material Connection: Some of the links in this post may be "affiliate links." This means if you click on the link and purchase an item, I will receive an affiliate commission. Disclosure in accordance with the Federal Trade Commission's 16 CFR, Part 255. This site is a participant in the Amazon Services LLC Associates Program, an affiliate advertising program designed to provide a means for sites to earn advertising fees by advertising and linking to Amazon.
Trying to figure out how to feed a crowd on a budget? Throwing a fun graduation party doesn't need to break the bank but the food is one of the biggest costs; here's how to feed your graduation party guests for under $100.
How to Feed Your Graduation Party Guests for Under $100
Unlike other costs that don't fluctuate too much with guest count (if your venue accommodates everyone, for example, it doesn't get cheaper with fewer guests), food is directly tied to how many people are in attendance.
So truthfully, the best way to lower your food costs for a graduation party is to reduce your guest count. If you're truly on a budget, stick to close family and friends only, or host more informal get together that don't serve food. But, even on a budget, you can still host an amazing event and feed your graduation party guests for under $100.
Don't Serve a Full Meal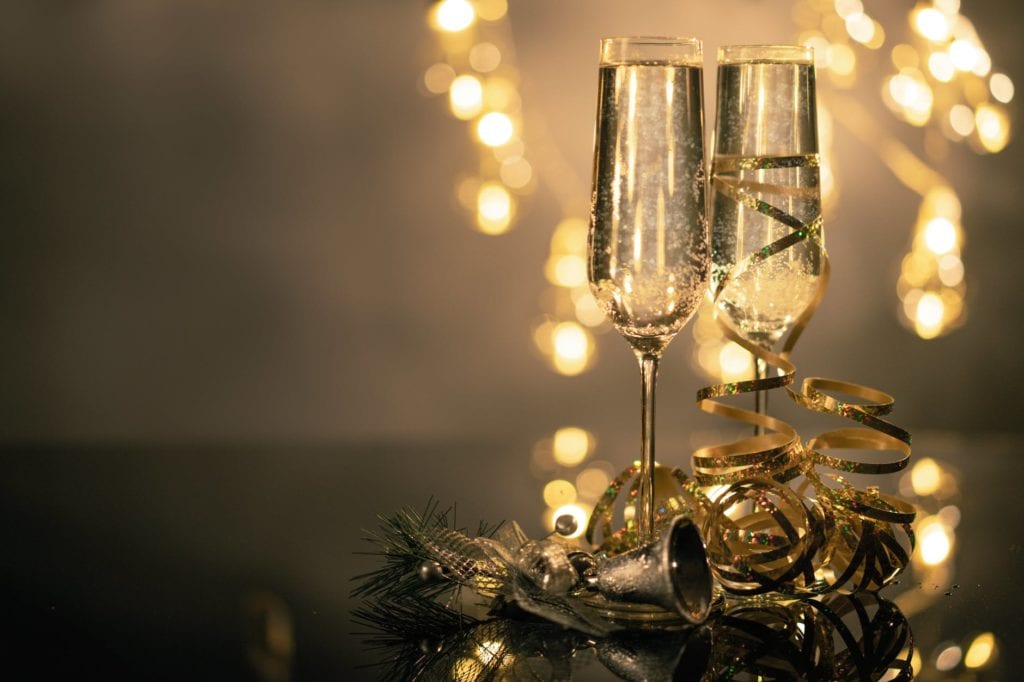 If you really want to keep food costs down skip on serving a meal entirely. This can be accomplished easiest by timing the party accordingly.
Most people assume that a party set over mealtimes will serve something substantial, but for an afternoon or after dinner party time snacks will suffice. 
Skip the Store Bought Fruit and Veggie Trays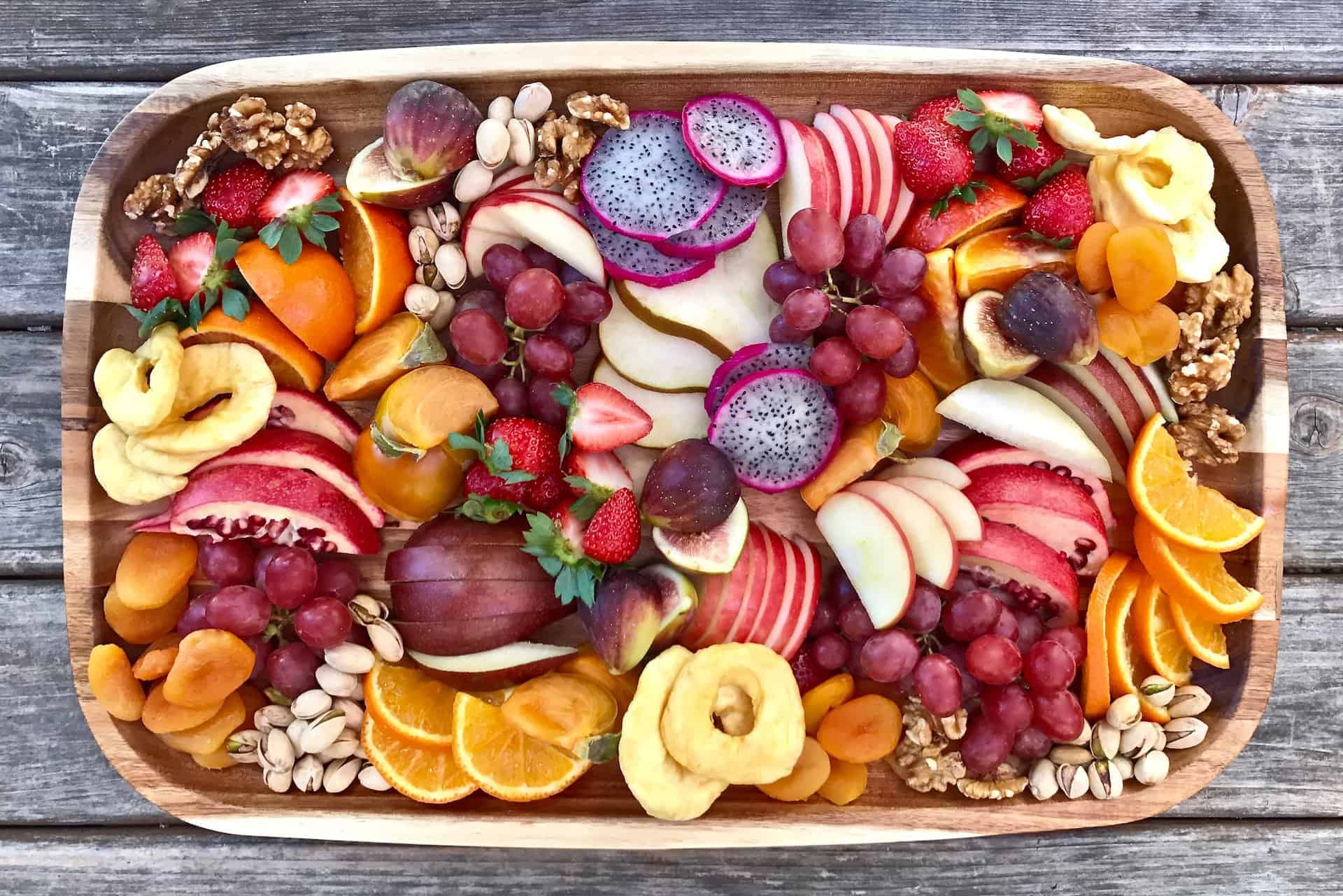 If you're not serving a meal, definitely still serve fruit and veggies, though. They're popular and make great easy finger foods for parties. But, instead of buying the pre-packaged trays, put together your own instead for much less.
When choosing what to add to your trays look for popular fruits and veggies that are in season or on sale.
For the dip, make your own or opt for something inexpensive like ranch dressing. 
Make it Homemade
It's almost always cheaper to make things yourself. Save money by making the graduation cake yourself, along with any other treats you'll be serving. It's a good idea to have a lot of variety in your snacks if that's all you're serving. Not only will it seem more satisfying to your guests, but they'll also eat smaller portions and therefore less.
Serve Smart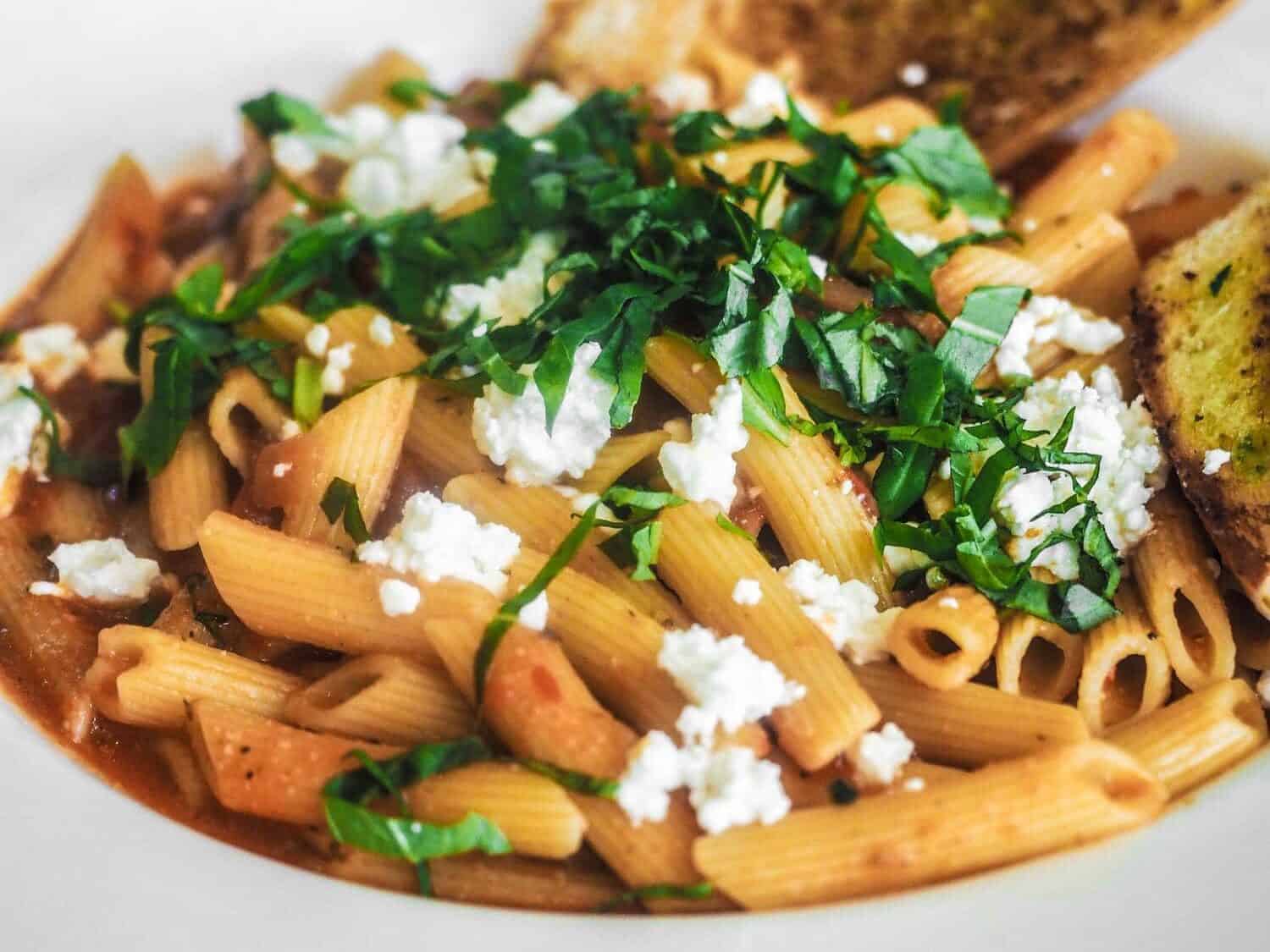 When you put out the finger food presentation goes a long way. Pre-cut squares and portion snacks into baking cups or small bowls. That way people only take small portions at a time and don't waste as much food. It's also a great time to bring out those fancy serving dishes and trays or borrow some if you can.
Even simple food can really "wow" your guests with the right presentation. 
Host a BBQ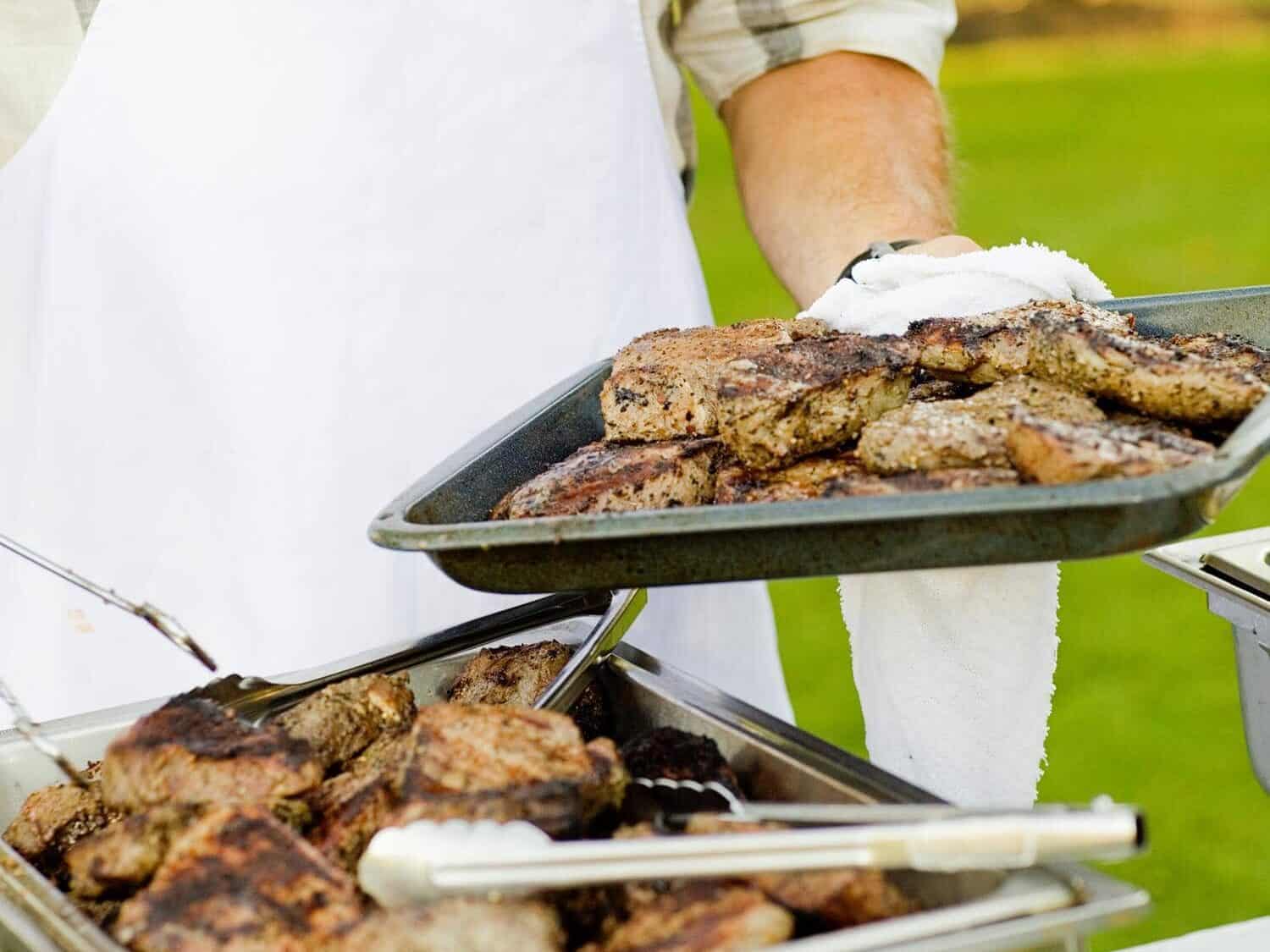 Graduation parties are the perfect occasion for a backyard barbeque because they often take place at the start of summer and don't need to be big formal occasions.
If you're budget-conscious, though, don't serve steak at this BBQ. Instead, opt for low-cost hamburgers or even hot dogs, and keep the toppings and side dishes simple. Or if you think your guests will go for it, a bring your own meat BBQ is always fun. Everyone brings what they want for meat and you provide the sides and dessert!
BBQs are one of the easiest ways to throw a great graduation party and and feed your guests for under $100.
Make it a Potluck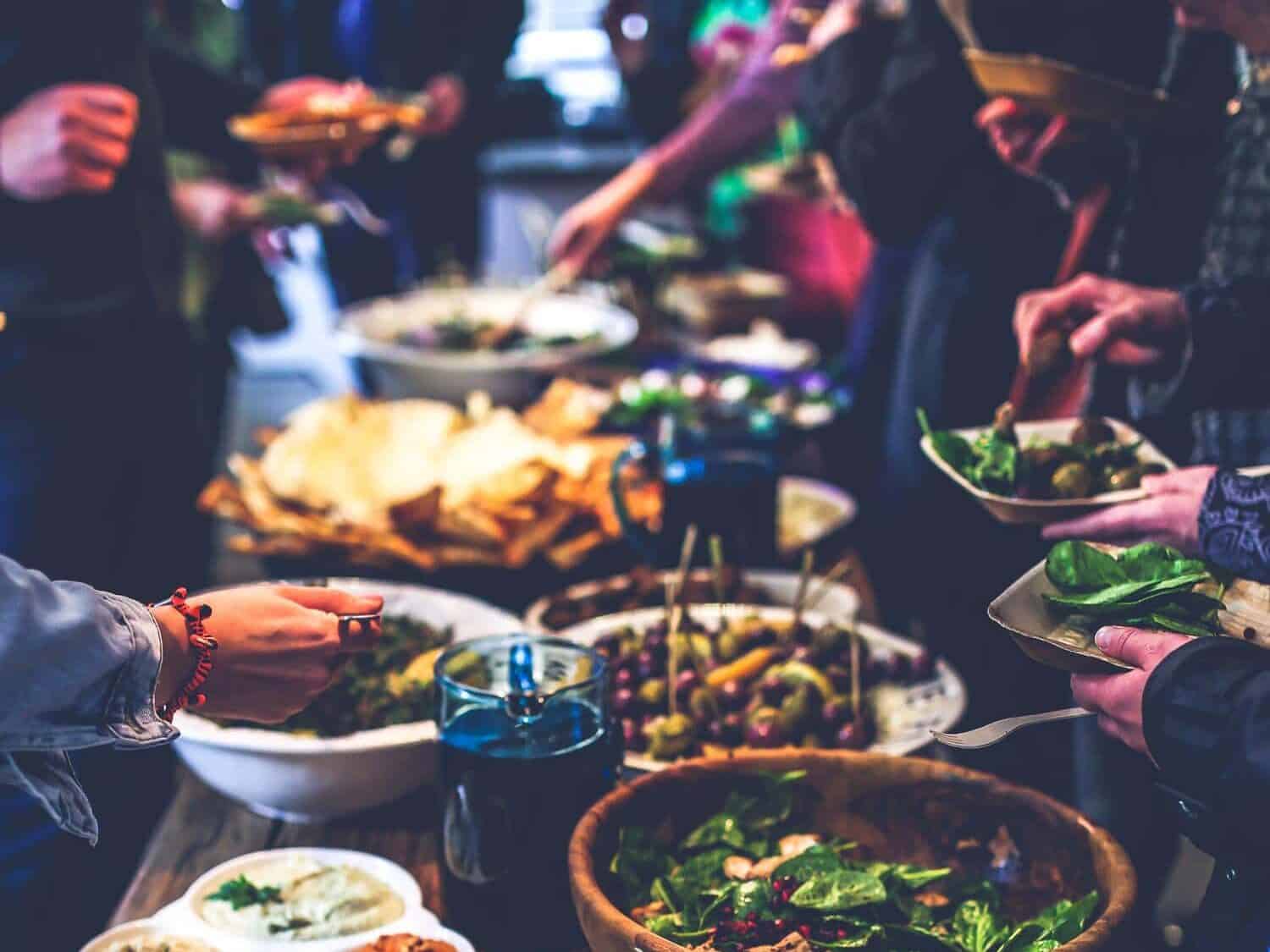 Depending on the guest list and types of friends and family you have, it's not necessarily taboo to ask guests to bring something to the party. You could even turn it into a fun opportunity to have guests share their favorite recipes with the graduate.
Have each family bring a signature dish and a copy of the recipe, then assemble them for the graduate to keep as a homemade cookbook. 
Set Up a Pasta or Taco Bar
Both of these have the same concept: you set out all the ingredients and guests serve themselves. Pasta and tacos have something in common; they're both easy to customize and fairly inexpensive to serve.
For the pasta, have a few varieties of pasta, sauce, and cheese. Instead of meatballs or other expensive toppings, opt for a meat sauce option, as well as veggie-only sauce. For the tacos, have a few different varieties and lots of beans and veggies so your guests will need less meat.
Host Brunch
Overall, breakfast foods are often cheaper than their later-day counterparts. If you host a graduation brunch, or breakfast even, you can really stretch your food budget. Like with the BBQ, don't go all fancy with your breakfast options.
Instead of eggs benedict and French omelets, for example, have a buffet of scrambled eggs, pancakes, and fresh fruit. 
Have a Bonfire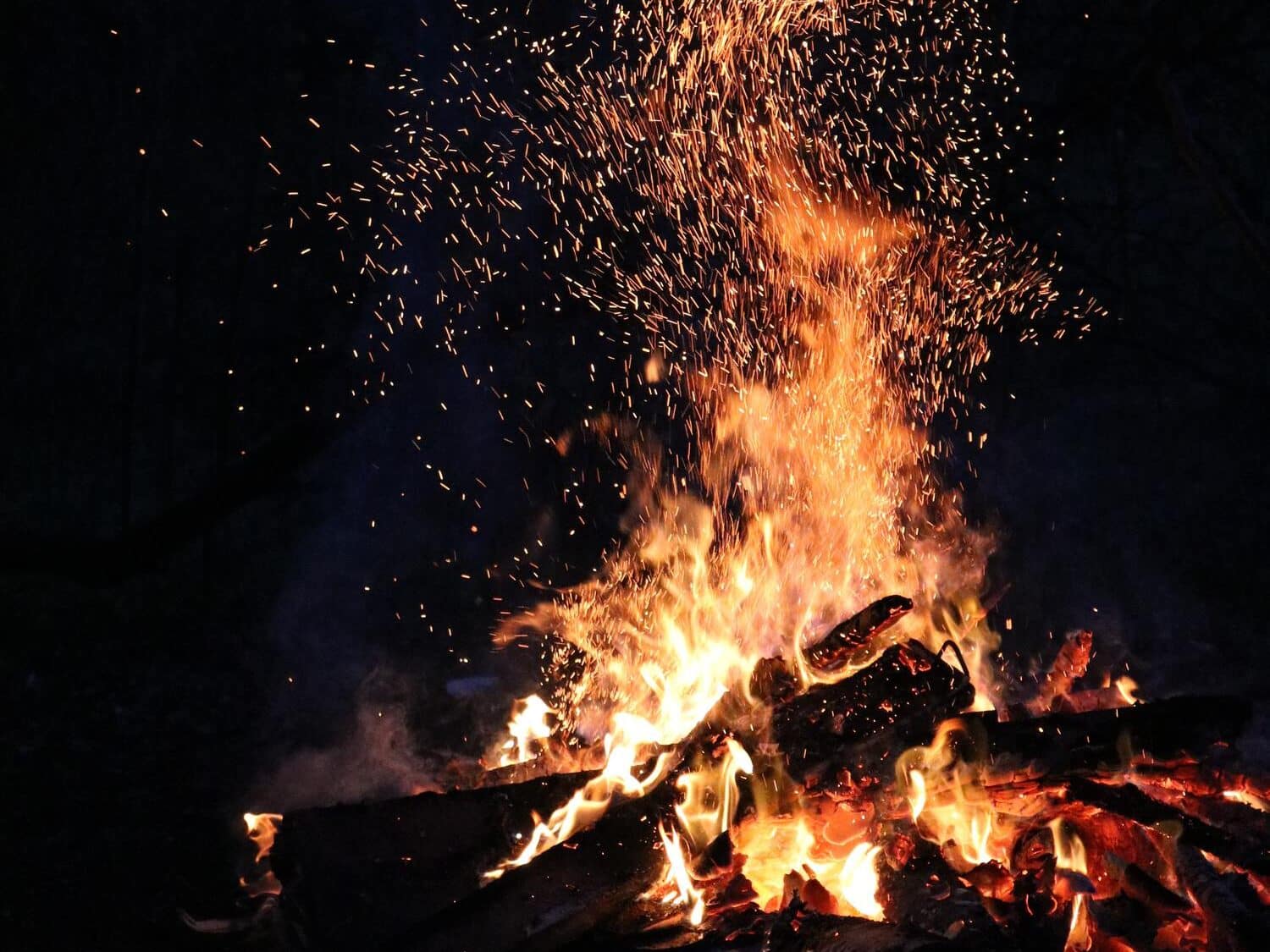 Instead of hosting a typical daytime graduation party, invite guests over for a fun summer kickoff bonfire night instead. Start the event after dinner so there's no need to serve a meal. For the food, pick up simple treats that can be cooked over the fire like hot dogs, marshmallows, and ingredients to make smores.
Serve a Slow Cooker Meal
This is one of the easiest and cheapest ways to feed a crowd on a $100 budget. Depending on your guest list you might need to borrow a second (or more) slow cooker from a friend, but it's totally worth it. Makeup something simple like chili (one meat and one vegetarian ideally) or slow cook a huge batch of pulled pork and serve it with buns and butter and a favorite side.
General Tips to Save Money and Feed Your Graduation Party Guests for Less Than $100:
Go (mostly) vegetarian

Opt to serve snacks over meals

When using meat, choose recipes that call for cheaper cuts

Keep it simple; avoid unnecessary (and expensive) sauces and condiments

For drinks, stick with simple options like serving a large pitcher or iced tea, coffee, etc

Choose foods that are on sale or in season
With these tips, you should be able to feed your graduation party guests for $100. How far you can stretch that a hundred bucks really depends on your guest list size though!
Don't expect to serve a huge number on a tight budget, but with careful planning, you can probably feed the guests at most grad parties for under 100 bucks. And remember, people, are there to celebrate a graduation, not to eat!