Disclosure of Material Connection: Some of the links in this post may be "affiliate links." This means if you click on the link and purchase an item, I will receive an affiliate commission. Disclosure in accordance with the Federal Trade Commission's 16 CFR, Part 255. This site is a participant in the Amazon Services LLC Associates Program, an affiliate advertising program designed to provide a means for sites to earn advertising fees by advertising and linking to Amazon.
As a busy parent, I know that throwing kids' parties can be a bit of a challenge. How do you keep a group of kids busy in your home for a couple of hours? My go to solution to that problem is activity parties, especially with food. Here's how to host a cupcake decorating party for kids of all ages.
The best part about a cupcake decorating party is it's kind of a 2 in 1 party theme! Not only do you give the kids something they can do, but you can also use it as their party goodie if you want to skip on cake or other treats.
Why Host a Cupcake (or Cookie) Decorating Party?
Besides the fact that it's a super easy party idea, a cupcake decorating party is probably one of the most versatile party themes. You can use it for birthdays, Halloween parties, Valentine's Day, Easter, an end of school party, or just a fun activity idea for a group.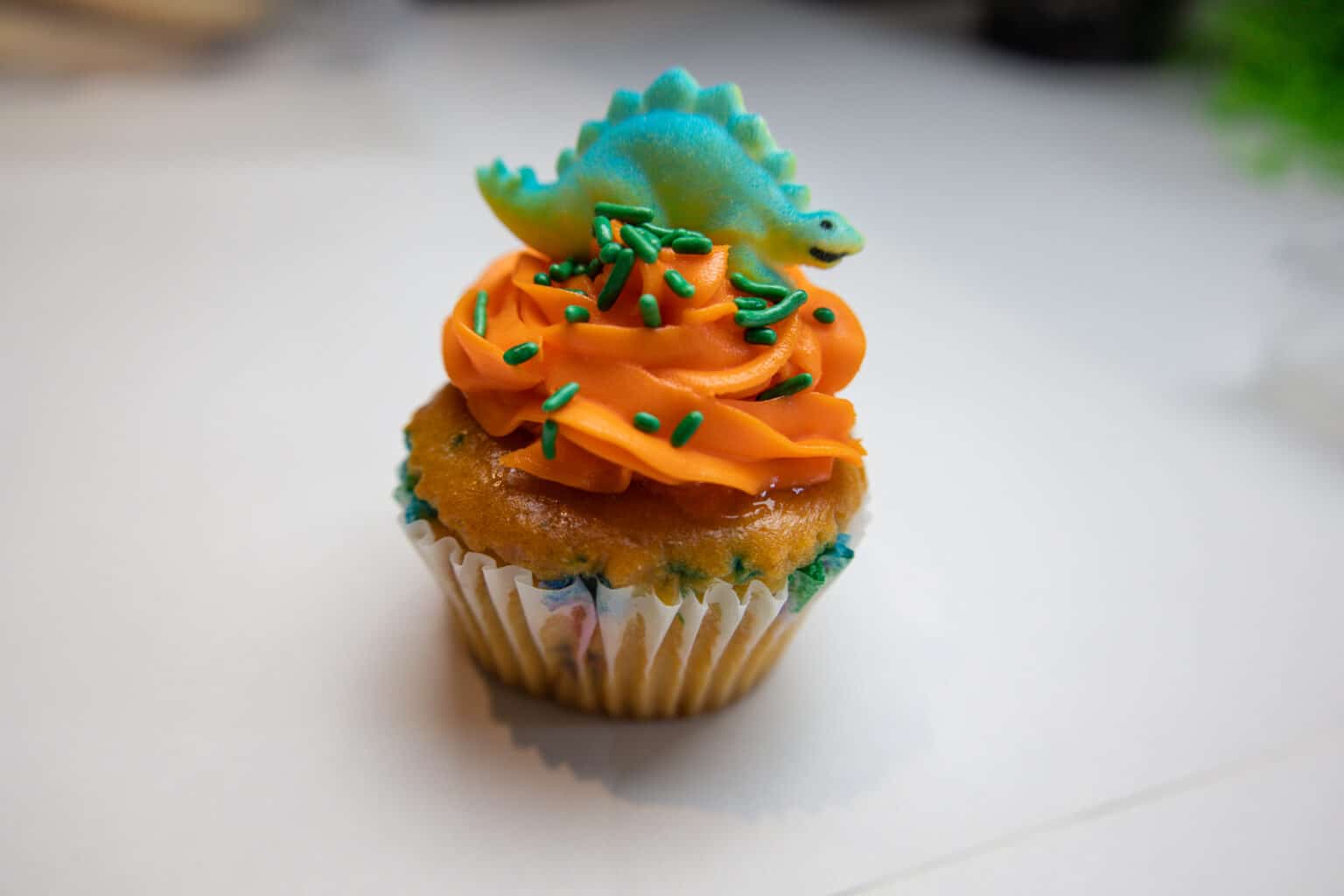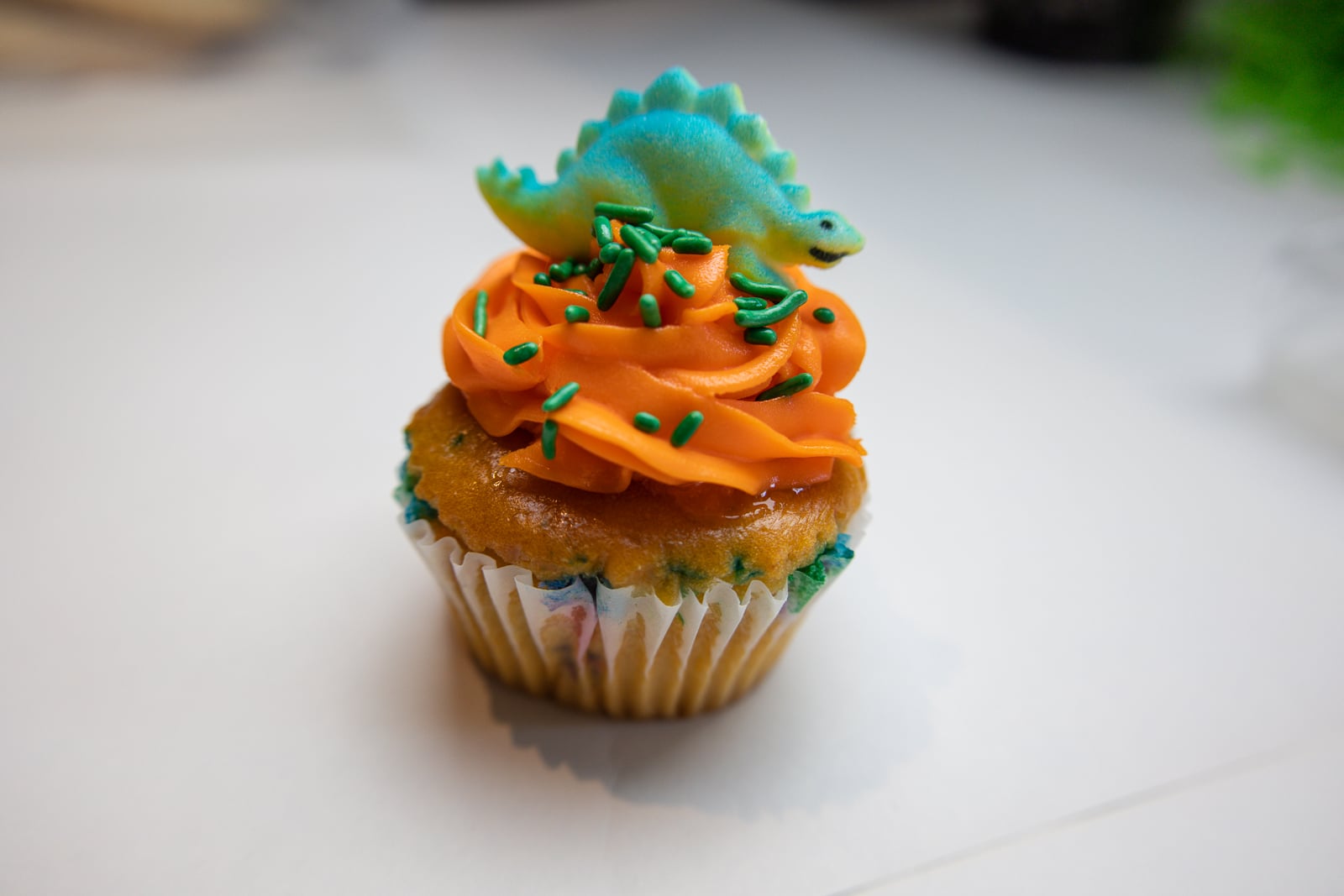 Cost Effective
Throwing a cupcake decorating party at your home or a budget-friendly venue is a lot easier on the wallet than most kids' party venues. Even if you opt for a cupcake decorating kit rather than DIY approach you'll still save compared to party venues.
Super Easy
You can turn this into a super easy party theme by picking up a cupcake decorating kit that's perfect for a party from a company like Sweetology. That's what we used to host our cupcake decorating party and it make things so much simpler for us. Plus the kids appreciated that everything was ready for them to use.
You Can Skip the Cake
This plays into the above points but worth noting on its own. By hosting a cupcake decorating party for your child's birthday you can skip buying a cake and use the cupcakes you decorated instead!
Fits With Any Theme
You can easily theme a cupcake decorating birthday party to anything your child's interested in just by changing up the frosting colors and extra toppings. This party idea works for pretty much every holidays and and special occasion, too.
Sweetology Cupcake Kits Review
Disclosure: Cupcake and cookie decorating kits were provided to us by Sweetology for this post at no cost. All the opinions are our own. This post is not sponsored by Sweetology.
We had the chance to check out Sweetology's cupcake and cookie decorating kits to help create this post and wow, were they ever fun! From the packaging (ready to party right when you open the box) from the taste, it's a great option if you want an easy party idea or fun activity.
Shipping & Packaging
Sweetology shipped our package out right away and it arrived on our doorstep. They don't guarantee delivery dates, which may be frustrating if you're planning a party last-minute, but as long as you order ahead you should get your goodies in time.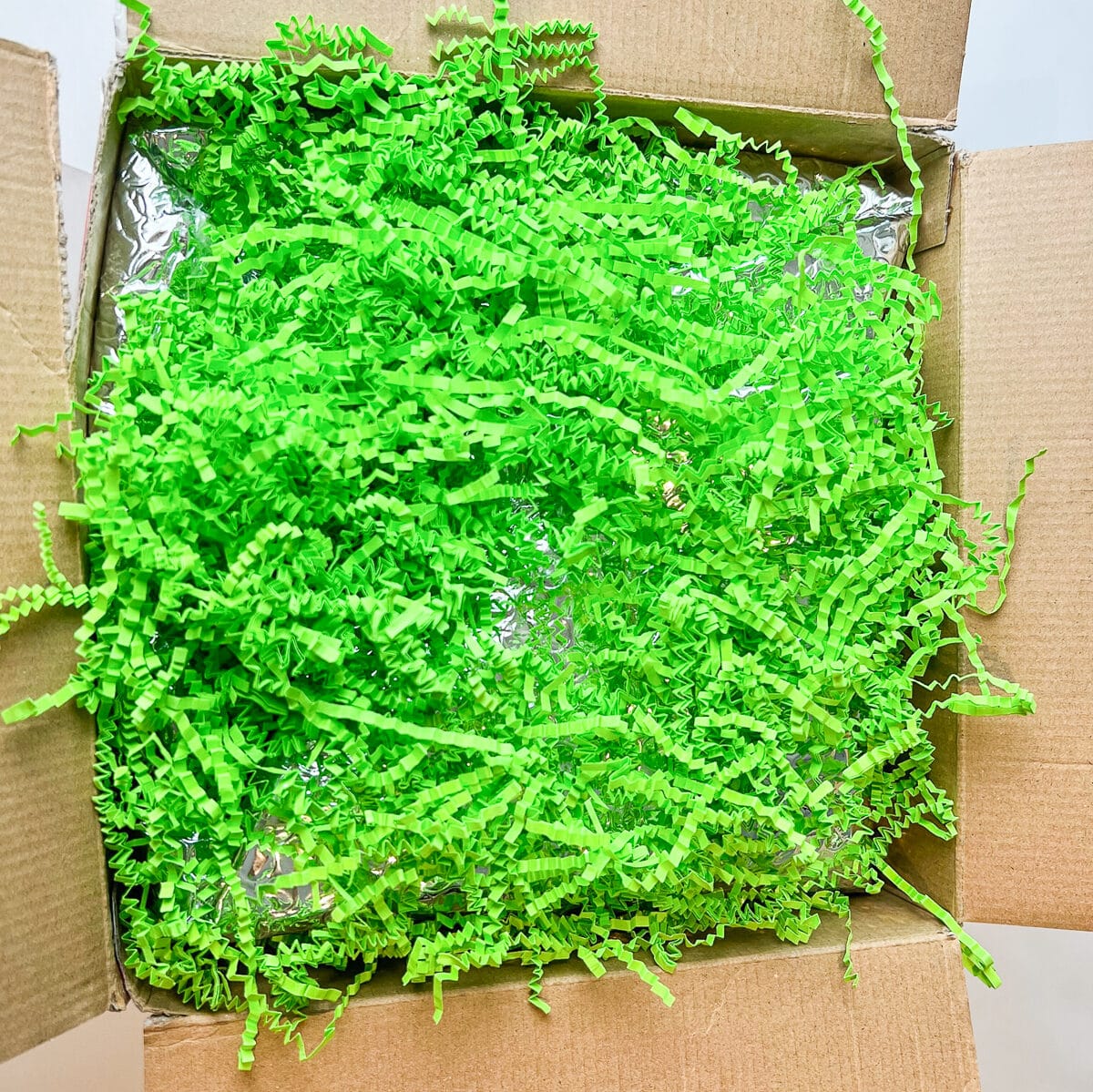 Like other food products, Sweetology shipped their cupcake kit with some ice packs instead the box. Unfortunately we're in the middle of warm weather and these were melted by the time the package arrived. That being said, all the contents were fine, so it's not really an issue.
Ease of Use
We love easy! The kit contained everything we needed to decorate our cupcakes and cookies including fun themed toppers and sprinkles.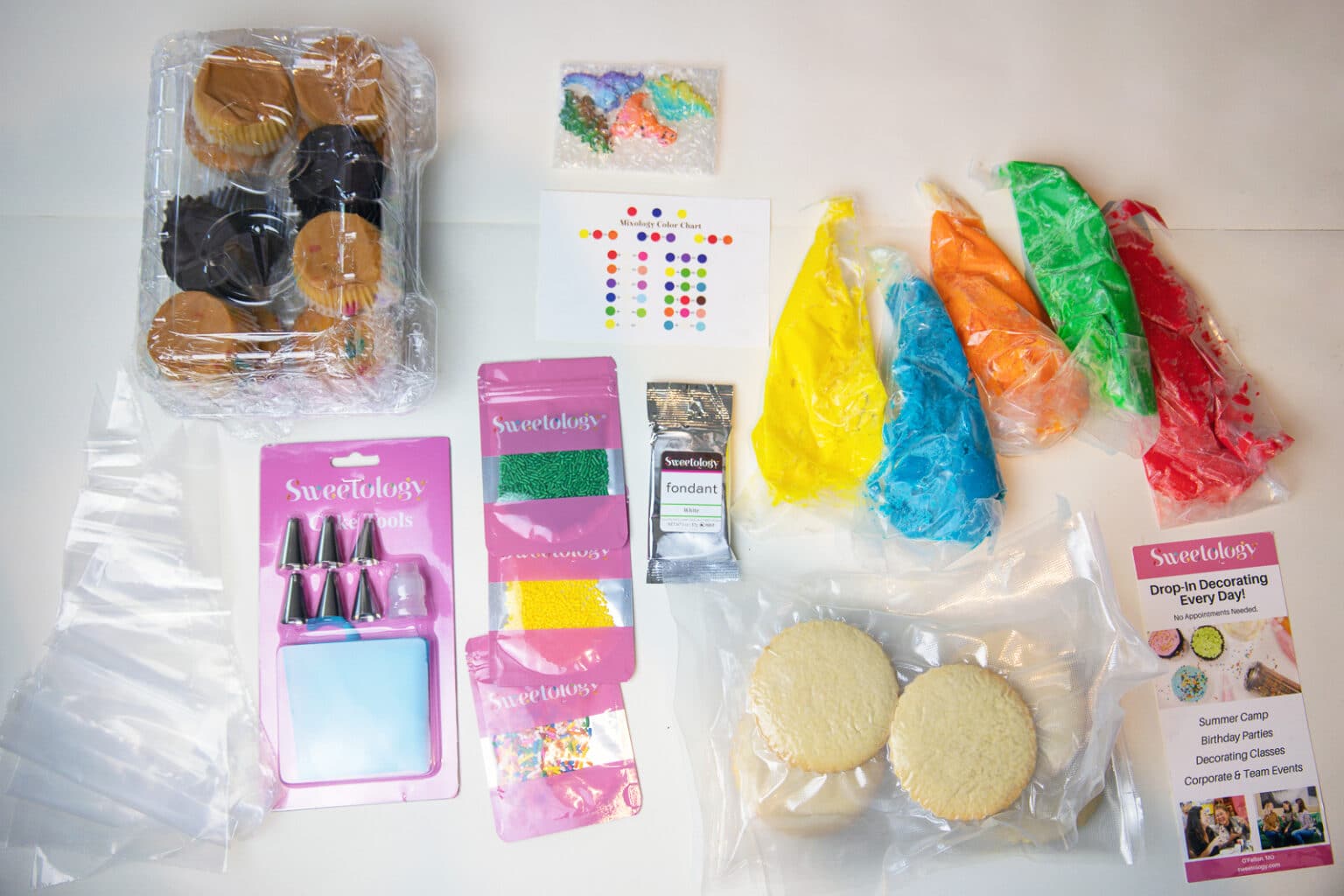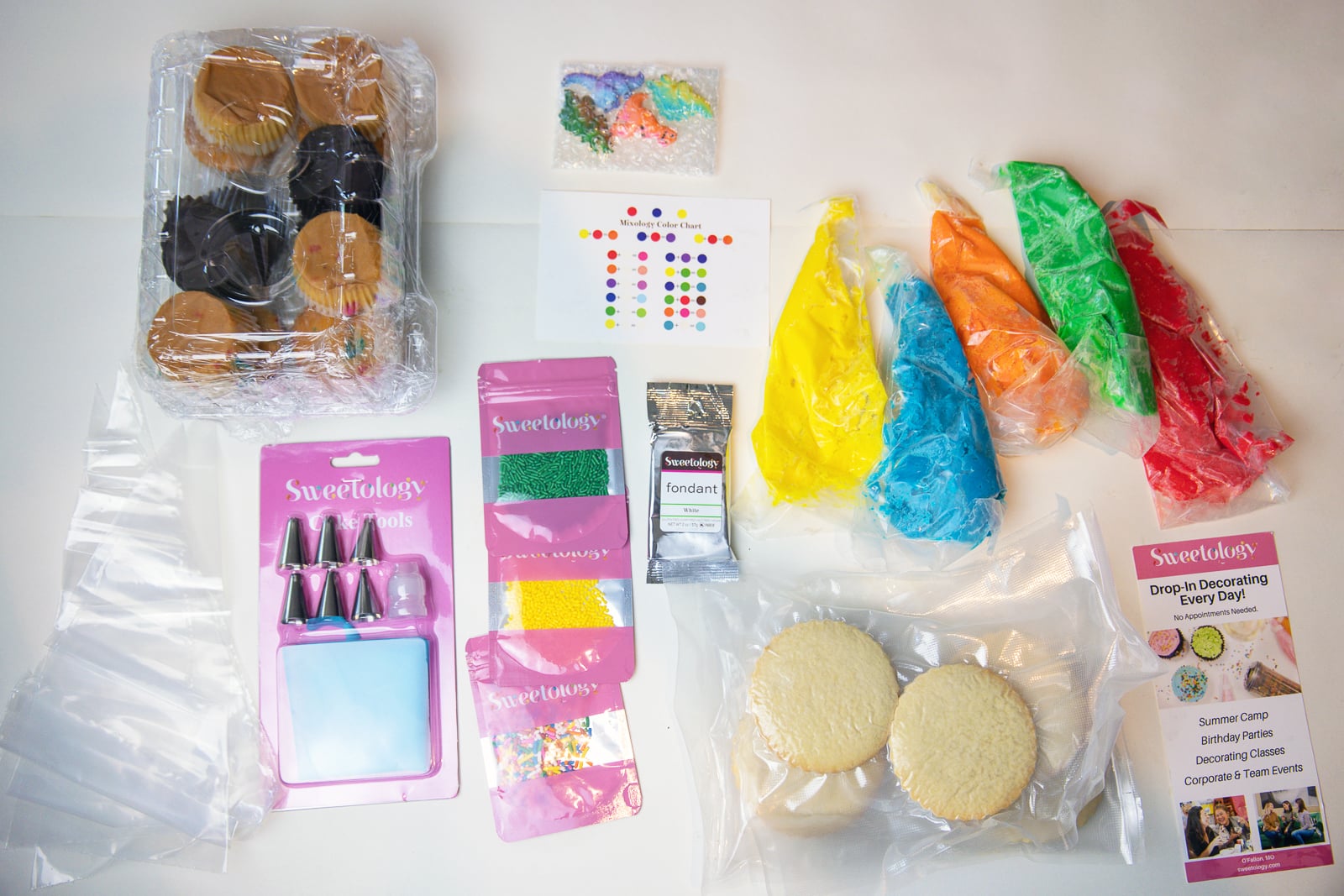 The only prep involved was unwrapping everything, laying it out, and cutting the tips off the piping bags. If you wanted to mix extra colors or break up the icing between more people you would need to prep that as well. That being said, it was all ready to go in just a few minutes.
Since we covered the table before starting clean up was super quick. The kit does come with a professional decorating set that you'll want to keep, so I guess that's really the biggest clean up item.
The only thing I would have appreciated added would have been example pictures of the cupcakes for the kits we received.
Taste
This is a huge factor when it comes to eating cupcakes and cookies! Of course, I could argue that kids usually find most cupcakes and cookies delicious, but it's still important that you're working with something yummy if you're going to pay for a cupcake or cookie decorating kit.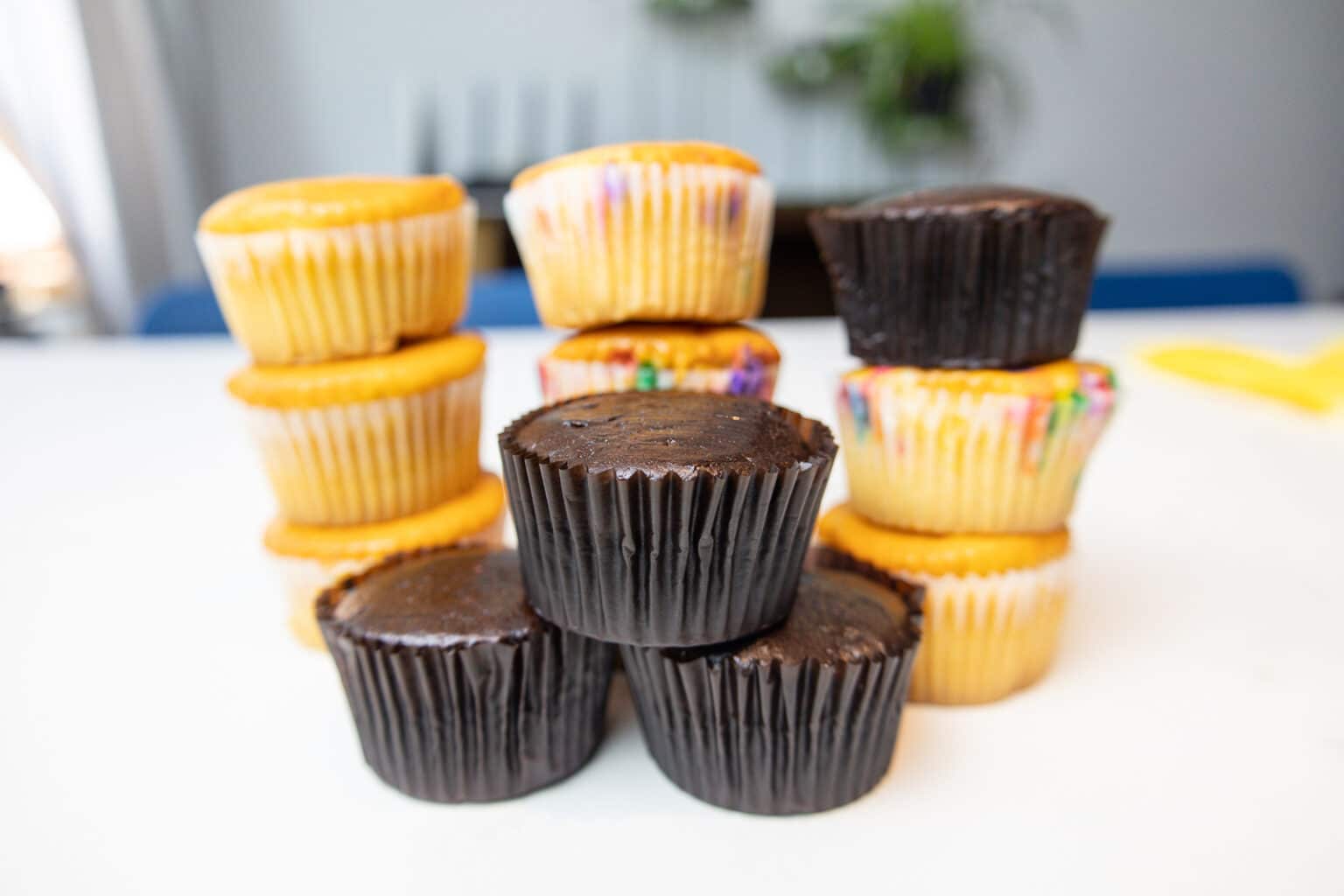 I found the cupcakes and cookies both tasted like what you'd expect from a bakery rather than the grocery store. The icing had a good flavor to it. The cupcakes were also quite moist, which I was surprised about given that they came in the mail!
We did find that the icing was overpowering if you use too much, though.
What the Kids Thought
We tested the Sweetology cupcake kit with a group of kids ranging in age from 8 to 15. Here's their feedback on the Sweetology cupcake and cookie decorating kits: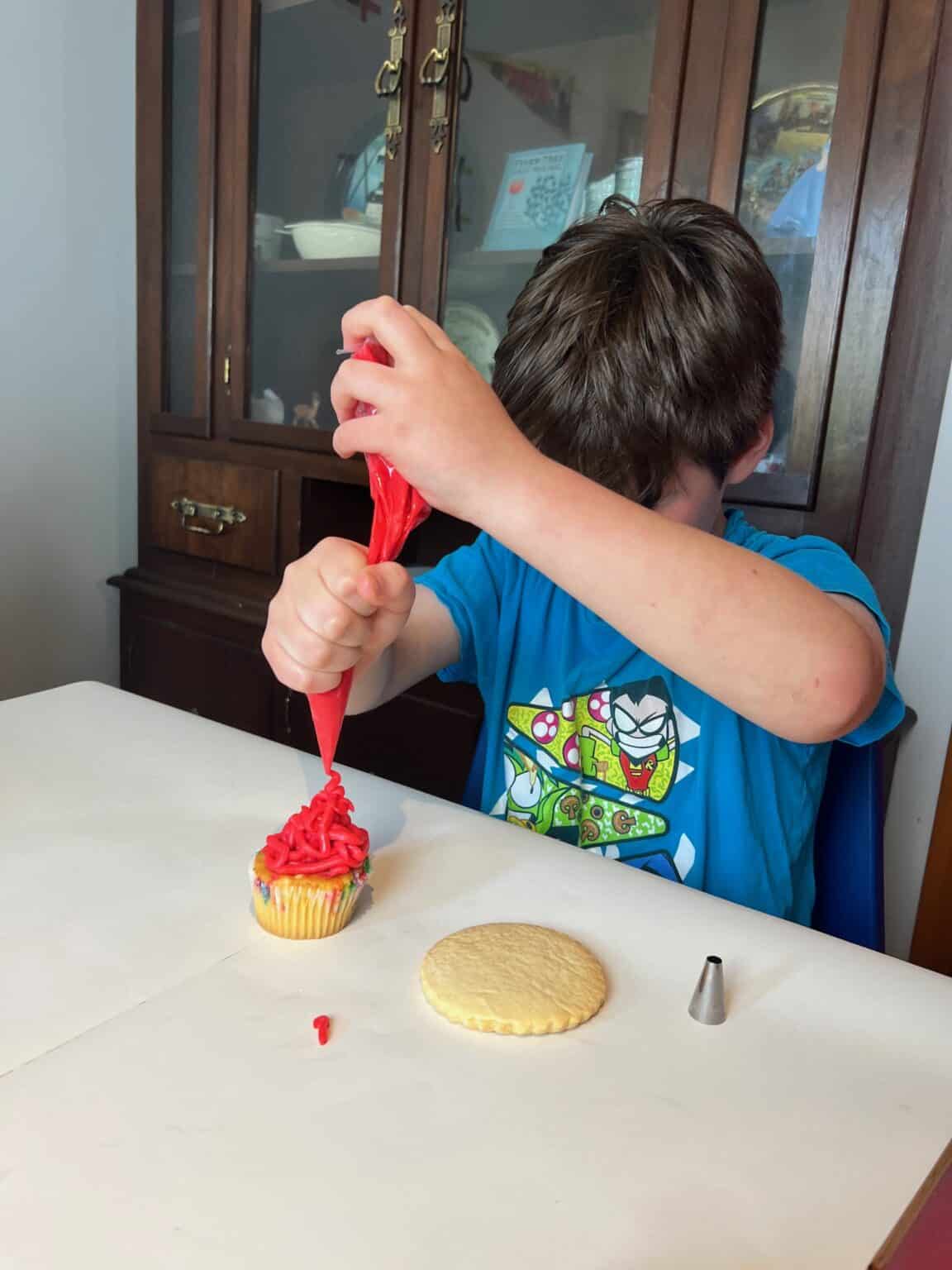 Would a Cupcake Decorating Kit Be Fun for a Birthday Party?
The 8 year old boys, 10 year old girl, and 15 year old girl all said yes. The 13 year old boy is, sadly, too cool for themed birthday parties.
Does Everything Taste Good?
They all loved both the cupcakes and cookies, expect for one child that doesn't like cupcakes anyway. The icing was mixed; some loved it, others found it too much when they overloaded their cookie with icing.
Did You Enjoy the Cupcake Decorating Kit?
They all said yes! Their only complaints were that there wasn't enough dinosaurs to go around and that they were limited to what colors they could mix with the included icing.
Another issue that came up was that there was only one professional decorating set with piping tips. That being said, they made due with the cut tips and still managed to create some fun cupcakes like the garden with pond, pictured below.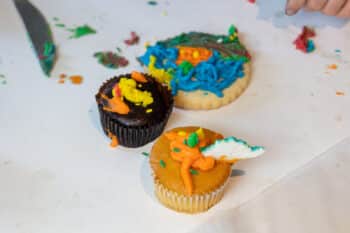 Pros:
Easy to use, loved that everything was ready and done for me
Came with extra piping bags so that you can mix different colors or share between multiple kids
Cupcakes, cookies, icing, and accessories are all bakery quality and much higher end than what you'd get from the grocery store
Kit came with more than enough icing to cover everything we were doing – even with kids who used a generous amount
Gluten free options are available for the cupcakes
Cons:
There aren't as many pressed sugar decorations in the kit as there are cupcakes, which could easily lead to fighting especially when it comes to kids' events
The kit includes a piping bag with professional tips, but there's only one
Color mixing chart is super handy, but white icing wasn't included in our kit so we couldn't make all the colors
If you want additional sugar decorations, icing colors, piping bags, or customizations you have to put in a custom order which can cost extra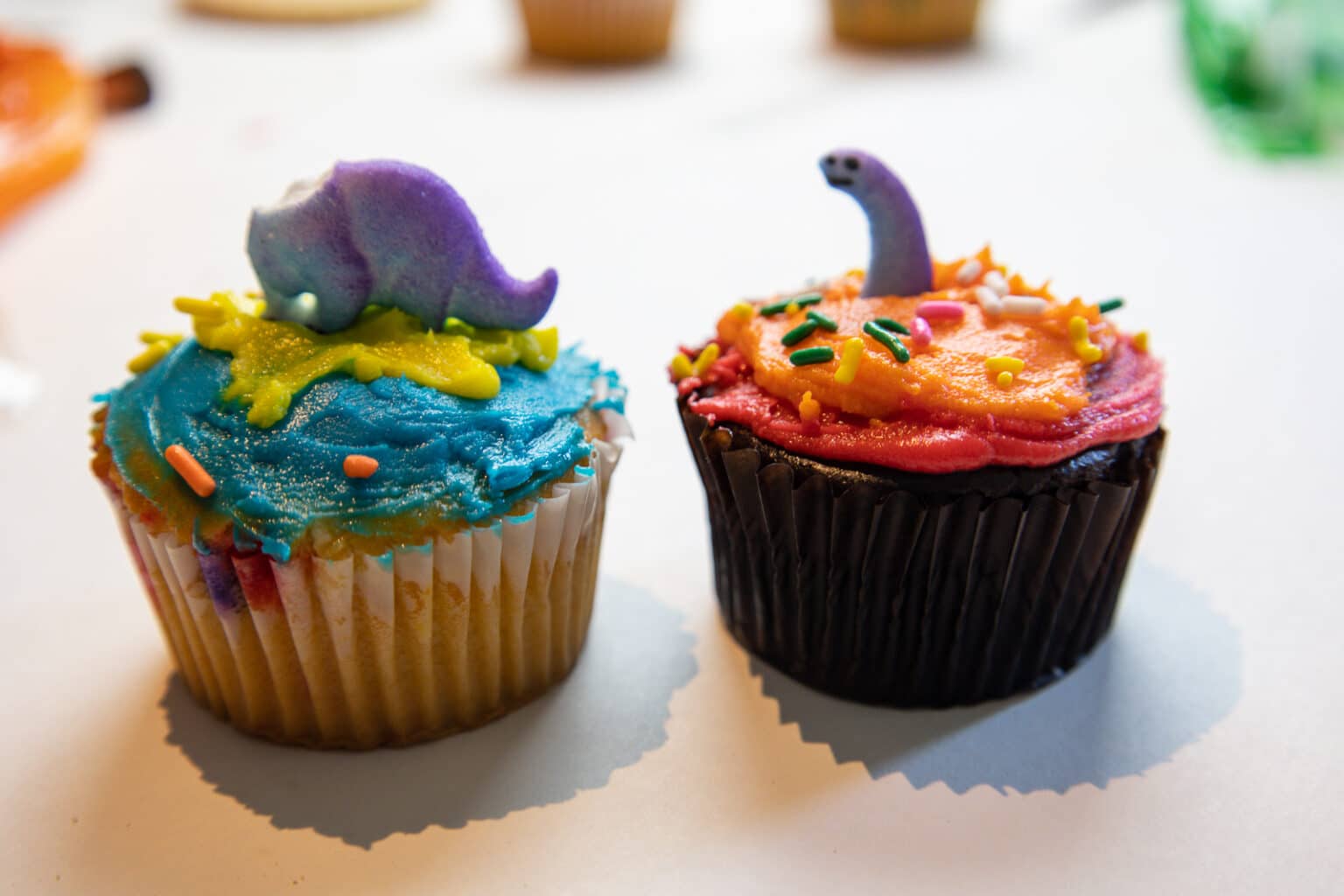 Buying a Cupcake Decorating Kit VS DIY: Which is Better?
I'm someone who really enjoys baking so it's actually been interesting trying out a cupcake decorating kit. I probably would never have considered picking up a kit and instead killed myself trying to bake cupcakes, whip frosting, and gather up all the supplies while also managing kids and party prep. Now that I've tried a kit for myself, though, I would actually consider skipping the DIY approach in the name of convenience.
You Should Buy a Cupcake Decorating Kit If…
You're not into baking
You want a party kit that's done for you without any hassle
There isn't any time in your schedule for party prep
You want professional quality supplies
DIYing your cupcake supplies might be better if…
You have specific allergy or dietary needs that can't be accommodated by a kit
Baking is something that you're interested in and you have time to prep supplies
You're on a very tight budget or schedule
How to Make Your Cupcake Decorating Party Successful
Print out example pictures of cupcakes or cookies that fit with the party theme to help inspire creativity
Make sure to cover your table so you don't have a big mess to clean up
Order in advance if you're buying a kit so it has time to arrive
If your icing has been in the fridge, make sure to let it warm up a bit and massage the bags before use
For groups of kids that may all want the same thing, consider adding your own toppers instead if the kit doesn't include enough
Cupcake Decorating Party Ideas
Here's some ideas to make your cupcake decorating party extra special, plus some fun ideas for alterative party themes besides birthdays.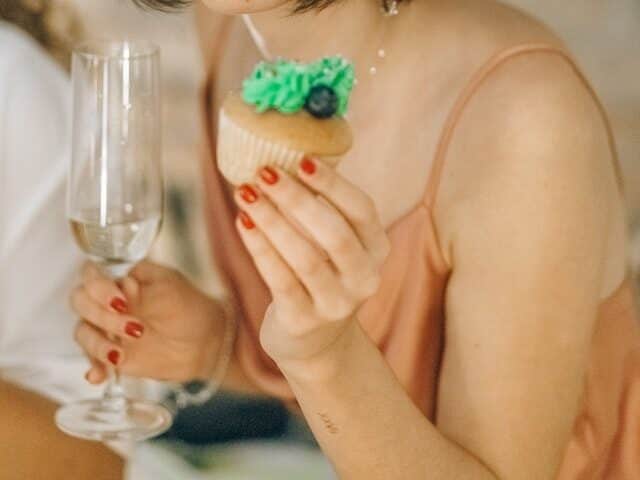 Cupcakes and Wine Night
Grab yourself a cupcake kit (or two) and a group of your closet friends for a fun girls or friends night in. Choose a dessert wine that pairs well with cupcakes and get creative. If everyone chips in this can be a lot cheaper than going out and way more fun!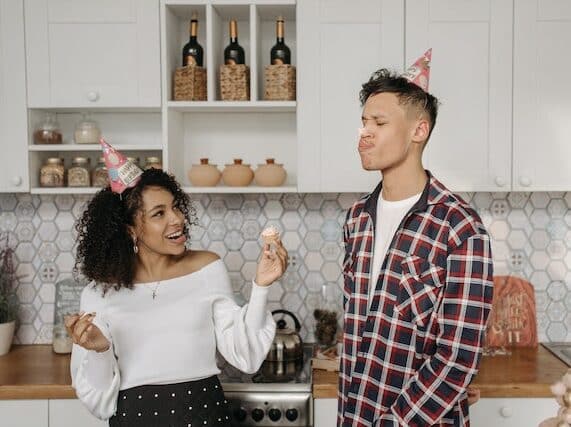 Cupcake Decorating Party for Teens
If you have teens and are struggling with a fun idea to do for their party, why not decorate cupcakes? It's a neat way to let them be a little kid again with a planned activity, and I have yet to meet a group of teenagers who don't appreciate a tasty snack. This could be a fun addition to a teen party sleepover party or "hang out" style birthday.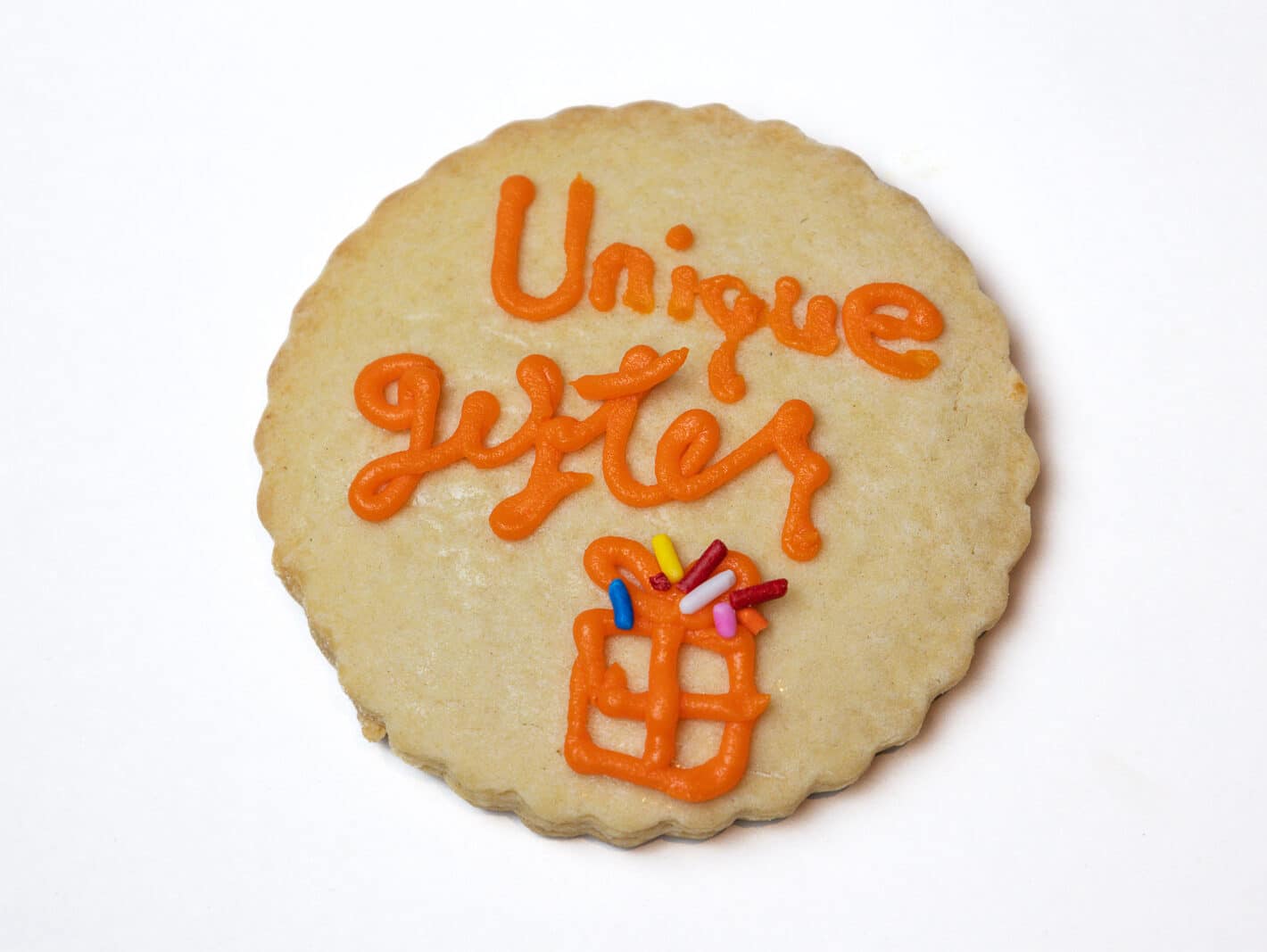 Alternative Idea: Cookie Decorating Party
Instead of cupcakes decorate cookies instead! Not everyone is a fan of cupcakes, plus cookies are easier to transport if you're hosting a party at a venue.
How to Host a Cupcake Decorating Party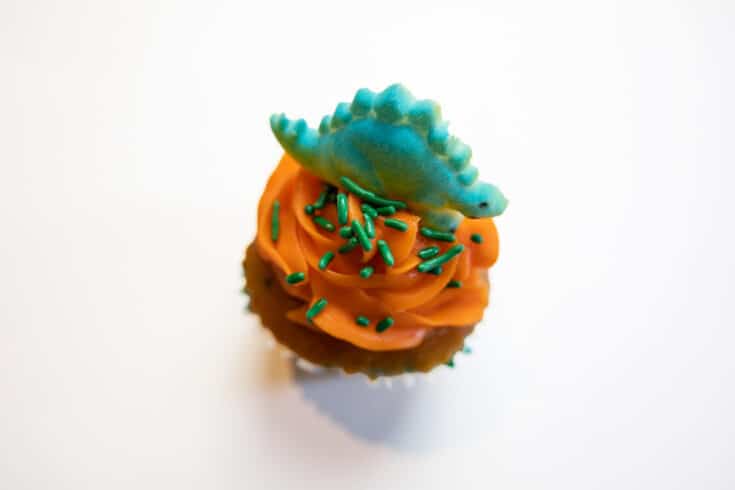 Want an easy party idea for birthdays, holidays, or just because? Here's everything you need to host your very own cupcake decorating party with step by step instructions.
Materials
Cupcake Decorating Kit That Contains the Following:
Enough cupcakes for all your guests
Frosting in various colors (enough to share with extra)
Pipping bags (that can be cut or with tips)
Cupcake toppers, sprinkles, and other decorations
For the Party
Paper or vinyl tablecloth to cover the table
Small containers for sprinkles and toppings
Optional: drop cloth for the floor
Optional: small trays or cookie sheets for each guest (to contain their supplies)
Instructions
Choose a theme for your party. You may choose cupcake as your party theme or incorporate cupcake decorating into another party theme.
Ahead of time: purchase a cupcake decorating kit or prep your cupcakes and supplies ahead of the party.
On the day of the party: set up the cupcake decorating party space by covering the table with paper or a vinyl tablecloth to protect your table for easy clean up.
Optional: cover the floor to protect it and give every guest their own tray to help contain their supplies (recommended for younger kids).
Lay out the supplies on the table so everyone can reach what they need. Open and/or fill piping bags.
Give each guest a cupcake and instructions on how to use the materials. You can even give a demo here.
Once the kids have finished adding frosting, provide each with a cupcake topping or sprinkles.
Enjoy a delicious cupcake!
Notes
You can replace the cupcakes with cookies for a cookie decorating party instead.
Recommended Products
As an Amazon Associate and member of other affiliate programs, I earn from qualifying purchases.
Cupcake Party Invitations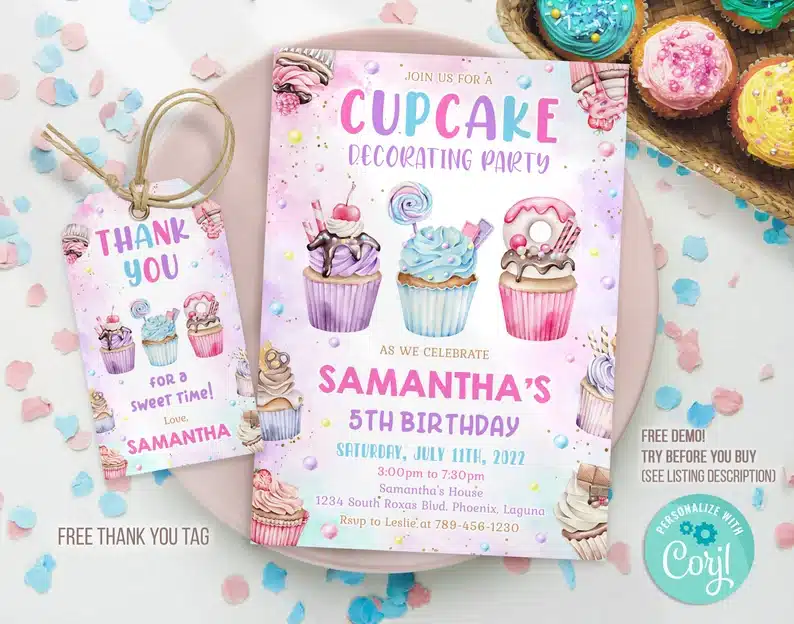 Customizable Cupcake Decorating Party
Love that you can customize these invitations on the computer and print off as many as you want. Plenty of space for information on this one plus matching thank you tags for the goodie bags too!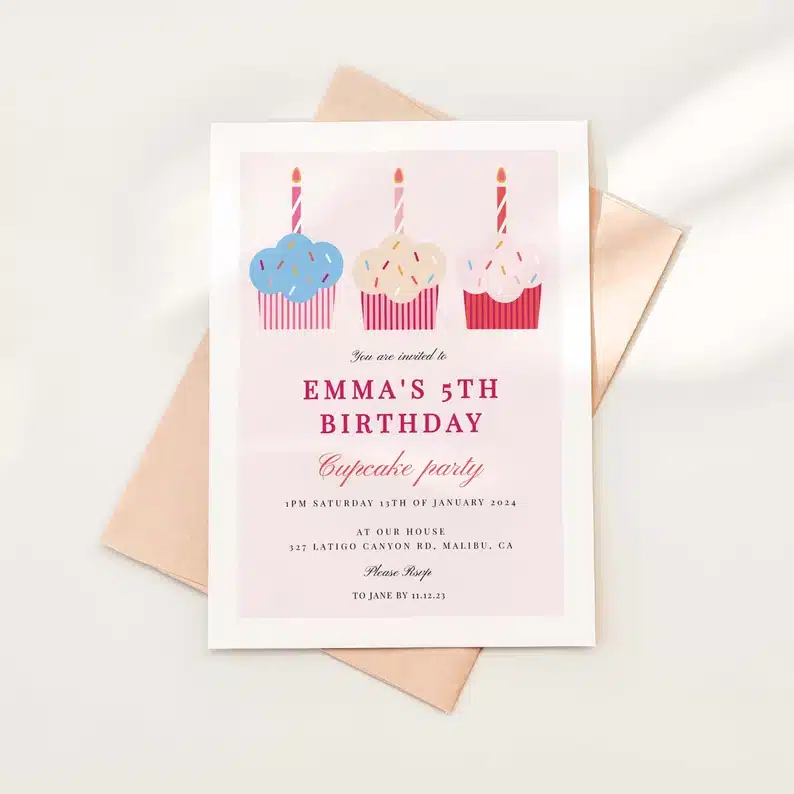 Simple Cupcake Party Invitation
Sometimes simple is better when it comes to party invitations and this one could be easily customized for kids (or adults) of all ages.
Fill in Cupcake Invitations
Classic party invitations! If you're not into printing at home or customizing online this is a great option.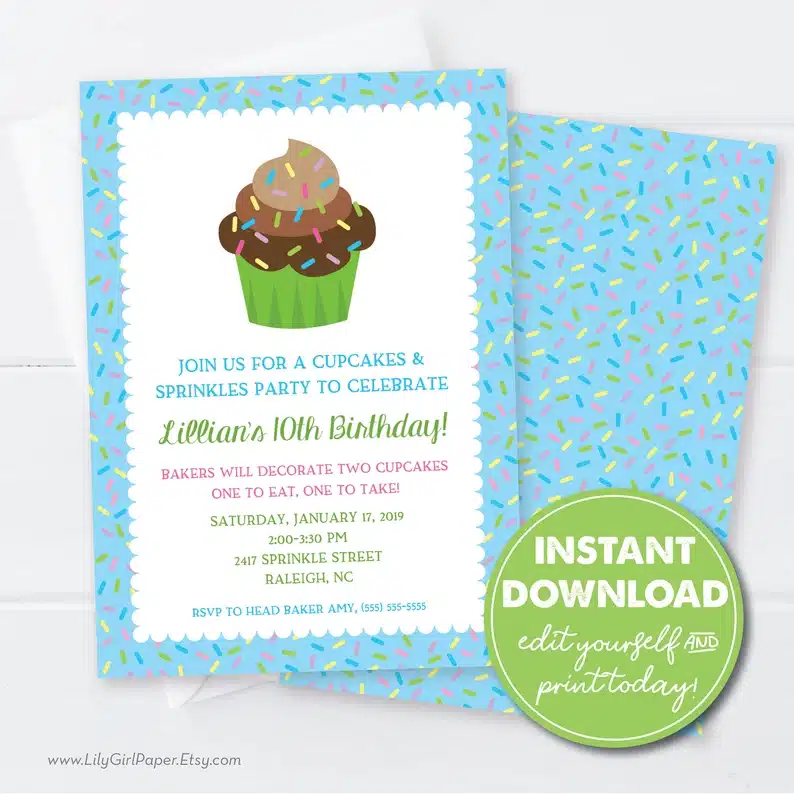 Cupcake Party Invitations for Boys
So many of the cupcake party invitations out there are pretty girly so if you're throwing a boys' birthday this might be more his style.
Cupcake Party Decoration Ideas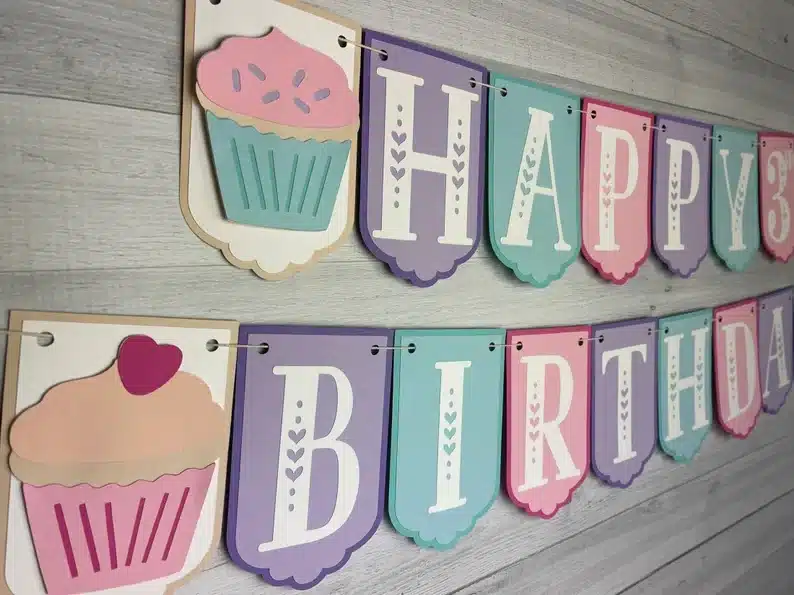 Happy Birthday Cupcake Banner
So cute! Love this handmade decoration for a cupcake themed birthday. It's also cute enough that you could use it again for almost any birthday party theme.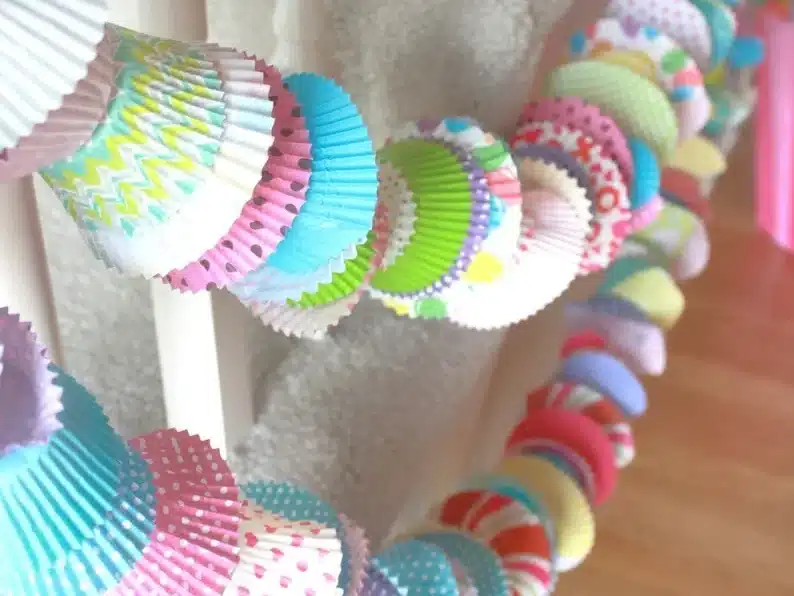 Cupcake Paper Garland
This creative garland is made from colorful cupcake paper cups for a cute way to add to the theme.
Hanging Cupcake Party Decorations
Can't go wrong with a kit that includes a bunch of decorations! Between the round colorful orbs and paper cupcakes it will really feel like a party with these hung up.
Cupcake Party FAQs
What ages are best for a cupcake party?
My kids range in age from 8 to 15 and everyone had fun decorating cupcakes at our mini party and there's really no age limit on making your own tasty treat. That being said, for a birthday party I'd say between ages 6 and 12 would work best with this theme.
How many cupcakes come in a cupcake kit?
Our kit came with 12, but you can also order different sizes. Usually cupcake decorating kits come by the dozen (or half dozen).