Disclosure of Material Connection: Some of the links in this post may be "affiliate links." This means if you click on the link and purchase an item, I will receive an affiliate commission. Disclosure in accordance with the Federal Trade Commission's 16 CFR, Part 255. This site is a participant in the Amazon Services LLC Associates Program, an affiliate advertising program designed to provide a means for sites to earn advertising fees by advertising and linking to Amazon.
Doodling, Diggers, and Dolls oh my. Dazzle the child in your life with one of these delightful toys. Check out this list of Toys That Begin With the Letter D for a variety of ages! You will find tons of great gifts to buy for your child, grandchild, or just a friend's kid. So get ready to see some epic gifts that begin with the letter D.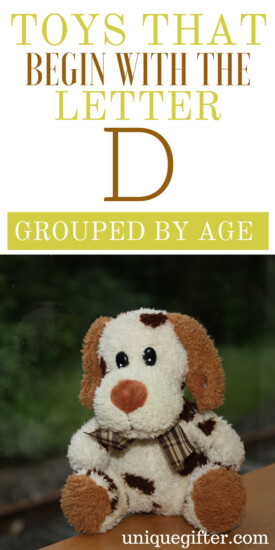 Are you looking for an inspirational toy that starts with the letter D? Then, you came to the right place! This list is full of them! From Darth Vader, to dancing, to discovering and decorating right from the comfort of home. We also have gift ideas for adults that start with the letter D too!
Find more toys for the rest of the alphabet:
Toys that Begin with the Letter D Age 2-5
Dog Electronic Toy
Children will have so much fun playing with this adorable interactive dog.
Dolls With Stroller
The littles ones get to play the role of Mom or Dad with this Doll and Stroller Set.
Dinosaur Take Apart Toys
Work on motor skills and hand-eye coordination with these Dinosaur Take Apart Toys.
Daffy Duck Plush
Children will love snuggling up with this Daffy Duck Plush.
Duck Puzzle
This is the perfect toy to assist with brain development and recognition of letters and numbers.
Drum With Sticks
The little rockstar on your hands, will enjoy jammin' out on this drum set.
Digger Ride On Toy
This Digger Ride On Toy makes sand play so much more exciting.
Dump Truck Construction Vehicle
Children can let their imagination run wild when playing with this Dump Truck Construction Vehicle.
Doc McStuffins LEGO Brick Set
This brick set is perfect for our little Doc McStuffins fans.
Doctor Pretend Play Set
Children will love taking on the role of doctor with this pretend play set.
Dollhouse with Toys and Furniture
This dollhouse set is portable, easy to access, and is great for young children.
Dragons Mini Play Set
For children that are familiar with the "Dragons Love Tacos" books, they will be super excited to get their hands on this Mini Play Set.
Doodle Mat
The little ones will love whipping up new creations on this Doodle Mat.
Dirt Devil Junior Toy Vacuum Cleaner
Let the kiddos fine-tune those housekeeping skills as they push around this Dirt Devil Junior Toy Vacuum Cleaner.
Dancing Duck Toy
This dancing duck toy will be a huge hit with young children. The flashing lights and fun music will definitely be an attention grabber.
Donald Duck Wooden Tray Puzzle
This 8 piece Wooden Puzzle is the perfect starter puzzle for young children.
Dynamo Kids Domino Set
This domino set is perfect for fine-tuning hand-eye coordination and teaching children the concept of cause and effect.
Digital Wrist Watch for Kids
Children can start to familiarize themselves with clocks while wearing this cute Cartoon Digital Wrist Watch.
Drill Toy Set
Buy Now

You may have a little handyman/girl on your hands. If so, this Drill Toy Set would be the perfect addition to their collection.
Toys that Begin with the Letter D for Ages 6-8
Cubes
These cubes are another really great toy to help with children's development, and they will absolutely love it.
Darth Tater Potato Head
If your kiddo loves Star Wars, they just may get a kick out of this Darth Tater potato head.
Danger Mouse Soft Plush Toy
Danger Mouse from the cartoons can keep them company and safe from Baron Greenback.
Dance Charades Game
I can't imagine a game more fun than a dancing charades game! They get to be active and creative.
Disney Pixar Cars 3 Crazy 8 Crashers Dr. Damage Vehicle
This Disney Pixar Cars 3 Dr. Damage vehicle will help them manage the damages made by their cars.
Darth Maul Double-Bladed Lightsaber
This Darth Maul double-bladed lightsaber is fun and great for role play, and more.
Double Doodle Board Drawing Tablet
While this double doodle board drawing tablet is originally for toddlers, it can be tons of fun for older kids too!
Dad/Chef Glove Puppet
Them, or dad, can play chef with their very own glove puppet.
Danger Adventure Strategy Game from Jurassic Park
Help them learn strategy and more with this Danger Adventure strategy game from Jurassic Park.
Death Star Revolution Race Track Set
If they love playing with their toy cars, they are almost guaranteed to love playing with the Death Star Revolution race track set.
Decorate This Journal Toy
While this Decorate This Journal toy is for ages 8+, it can certainly be used by younger kiddos with supervision. Plus it allows them to use more of their creativity and have fun at the same time.
Desert Props Party Accessories
Playing with desert props party accessories, even if they are not for a party, can be some of the most fun. They are all set for a wild time in the desert with these props.
Decorate Your Own Wooden Train Craft Kit
If they aren't into decorating a journal, they can decorate their own wooden train with this craft kit instead.
Die-Cast Military Vehicles
These diecast military vehicles make playing army, or another military, much easier and more fun.
Diamond Steve Action Figure from Minecraft
For the Minecraft lovers, the Diamond Steve action figure will bring them a lot of delight.
Disney Tangled Rapunzel Secret Journal
The Disney Tangled Rapunzel secret journal gives your kiddo a place to write out their thoughts, dreams, and goals.
Dinosaur Dig Kit from National Geographic
They can dig up dinosaurs with this dig kit from National Geographic.
Discover with Dr. Cool Lunar Telescope for Kids
Help them discover stars and space with their very own Dr. Cool lunar telescope! Plus, it is easy to set up too.
Diamond Party Favors
Diamond party favors will go far, whether or not they are used for an actual party.
Discover Paper Bag Puppets
They can make their own paper bag puppets with this Discover kit.
Dig it Up! Dinosaur Eggs
If digging up dinosaurs themselves is not their cup of tea, they can dig up the dinosaur eggs instead.
You don't have to worry about letting the kiddos down with one of these toys. They will definitely want to dive into a play session with these goodies. As you can clearly see, there are a lot of letter D toys to choose from for your youngster!


20 Toys that Begin with the Letter D for Ages 9-12
Even older children sometimes have a need for toys that start with a certain letter. D is a fun one though, between dogs, dance, decorate, Disney, and more, there are so many fun words. Those fun words turn into fun toys. If you don't want to take my word for it, check out this list of toys that begin with the letter D for ages 9-12 years old.<
Dazzler Ribbon
A dazzler ribbon is great for dancing, or simply waving around for fun.
Dance Charades Game
Games they can play with their family and friends, such as Dance Charades Game, are always a great choice.
DX DA XIN Light Up Gloves
These DX DA XIN light up gloves would be fun for putting on a glow-in-the dark puppet show or dance routine.
Diamond Select Toys The Dark Tower The Gunslinger Action Figure
If your youngster has read the Dark Tower, they may be interested in getting this Gunslinger action figure added to their collection.
DVSTICK Neo Splash Dive Stick
These DVSTICK neo splash dive sticks will keep them busy and active in the pool.
Dance Mania Mad Libs
Get them going crazy as they play Dance Mania Mad Libs.
Despicable Me Minions Sing N Dance Bob
You can't have a list of toys starting with D, without something from Despicable Me, such as this sing n dance Bob!
Deal With It Glasses
These deal with it glasses are pretty neat, huh?
Decorate Your Own Sweets Craft Set
They can now decorate their own sweets with this Melissa and Doug craft set at their fingertips.
Disney Frozen Color N Style Fashion Purse
What 9-12 year old wouldn't love coloring and styling their own Disney Frozen fashion purse?
Deep Sea Creatures
These deep sea creatures are great for water play, or even dry land play.
Despicable Me Dancing Minion Carl
Whether you get him to go with sing n dance Bob, or you get him on his own, dancing minion Carl is pretty neat.
Decorate Your Own Dinosaur Figurines Craft Kit
Now they can decorate their own dinosaur figurines too? How cool is that?
Deep Sea Starter Kit for LEGO Cities
If they are into the deep sea, or LEGOs, they will love this Deep Sea starter kit.
Dream Train Giraffe Toy
The dream train giraffe toy will keep them company at bedtime and beyond.
Dinosaur Pals Floor Puzzle
They will have so much fun putting together their dinosaur pals floor puzzle.
Disney Princess Cinderella's Dream Castle LEGO Set
If your princess is into Cinderella's dream castle, she can now build it with her very own LEGO set.
Desert Eagle Semi-Automatic Building Block Toy Gun
What child doesn't like playing with pretend weapons, even just on occasion?
Diamond Hand Spinner Fidget Toy
For the kiddo who "fidgets" often, a diamond hand spinner fidget toy is just what they need.
Desert Dragon Action Figure
Wow, this desert dragon action figure is pretty neat… and a little creepy!
So many awesome toys start with the letter D, which one will your youngster like the most?