Disclosure of Material Connection: Some of the links in this post may be "affiliate links." This means if you click on the link and purchase an item, I will receive an affiliate commission. Disclosure in accordance with the Federal Trade Commission's 16 CFR, Part 255. This site is a participant in the Amazon Services LLC Associates Program, an affiliate advertising program designed to provide a means for sites to earn advertising fees by advertising and linking to Amazon.
Light up your Fourth of July celebration with some super easy to prepare, make-ahead goodies with these patriotic pretzel rods! The new bakesale staple is a medley of melted chocolate and sprinkles that will add some sweet and salty flavor to your Fourth of July spread.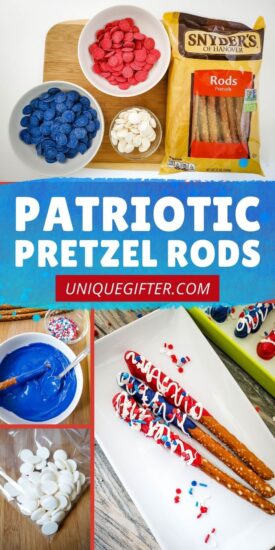 Irresistible Patriotic Pretzel Rods
Pretzels and chocolate are pretty much always a winning combination, no? These patriotic pretzel rods are crunchy, sweet, salty and really hard to put down! Using our detailed recipe and instructions below, you can make enough to satisfy everyone's sweet tooth this 4th of July!
Melting Chocolate Made Easy
We're going to keep things simple here. Simple, but delicious of course! The 'sweet' side here comes from the candy melting wafers. Note: If you do want to go the extra mile and go for 'all-cocoa' chocolate, be our guest! You'll just be better off with a double boiler, or a lot of patience!
Candy melting wafers give you that chocolatey taste and texture accompanied by some fun colors to help your treats pop. It's easy, too! These just need to be heated lightly in the microwave in order to melt to the desired texture for dressing your crunchy pretzel rods!
Drizzling The Chocolate
Here we're doubling a ziplock bag as both the container for melting the chocolate as well as the 'piping bag', where you'll snip the end of it to drizzle it over the pretzel rods easily.
Now, some like to use a wider shallow container to melt the candy melting wafers in but of course it's totally up to you! When it comes down to it, this way is just a bit tidier and won't leave your counters covered in melted candy!
Decorate These Patriotic Pretzel Rods for The 4th of July!
This is where you can really have some fun with this treat! Invite some of the kiddos to come help decorate, or use these chocolate coated pretzel rods as a canvas for all sorts of July 4th themed baking decorations you've been itching to try!
We recommend sprinkles, but there's unlimited potential with these crunchy delights. Another thing you can try is drizzling the red, white and blue candy melting wafers horizontally one after the other to create a dazzling Fourth of July themed pattern as well! Make sure you share your final creation with us once you're done.
Giant Valentine's Day Cookie Cake Recipe
Make Valentine's day extra special with these delicious giant Valentine's day cookies.
Ingredients
2 cup (240 g) flour
½ cup (115 g) butter
1 cup (130 g) powdered sugar
1 large egg 
1 tsp vanilla extract
Pinch of salt
1 tsp baking powder
1 tbsp cocoa powder
1/4 cup (42,5 g) chocolate chips
Red food coloring 
- For the Royal Icing:
1 egg white
3 tbsp lemon juice 
1 + 1/3 cup (175 g) powdered sugar
Instructions
1. Pre-heat the oven to 175 C / 347 F
2. Beat the sugar, with the butter in mixer.
3. Microwave the chocolate chips in total for 2 minutes but in 10 seconds intervals.
4. When the mixture is combined well add the egg, melted chocolate, vanilla extract, and red food coloring. Then continue to mix.
5. Sift the flour, cocoa powder, baking powder, and pinch of salt into another bowl.
6. Then add the dry ingredients to the mixture and continue to mix.
7. When it becomes a dough put on a stretch film and rest in the fridge for 30 minutes.
8. After, take out the dough and roll out to 2 cm thick.
9. Cut Gingerbread man shape into the rolled dough.
10. Take them into baking tray and cook for 10 minutes in the oven.
11. For the royal icing, mix the egg white, and powdered sugar first.
12. Then add the lemon juice for your desired consistency (It shouldn't be too thick).
13. Take out the cookies from the oven and rest for 10 minutes to cool down.
14. After it cooled down, decorate the Gingerbread man with royal icing. (Draw arrows or whatever you want)
15. ENJOY
Ingredients:
● 12 oz bag pretzel rods
● 1 cup blue candy melting wafers
● 1 cup red candy melting wafers
● ¼ cup white candy melting wafers
● Red, white and blue sprinkles

Directions:
1. Line a baking sheet or tray with parchment paper.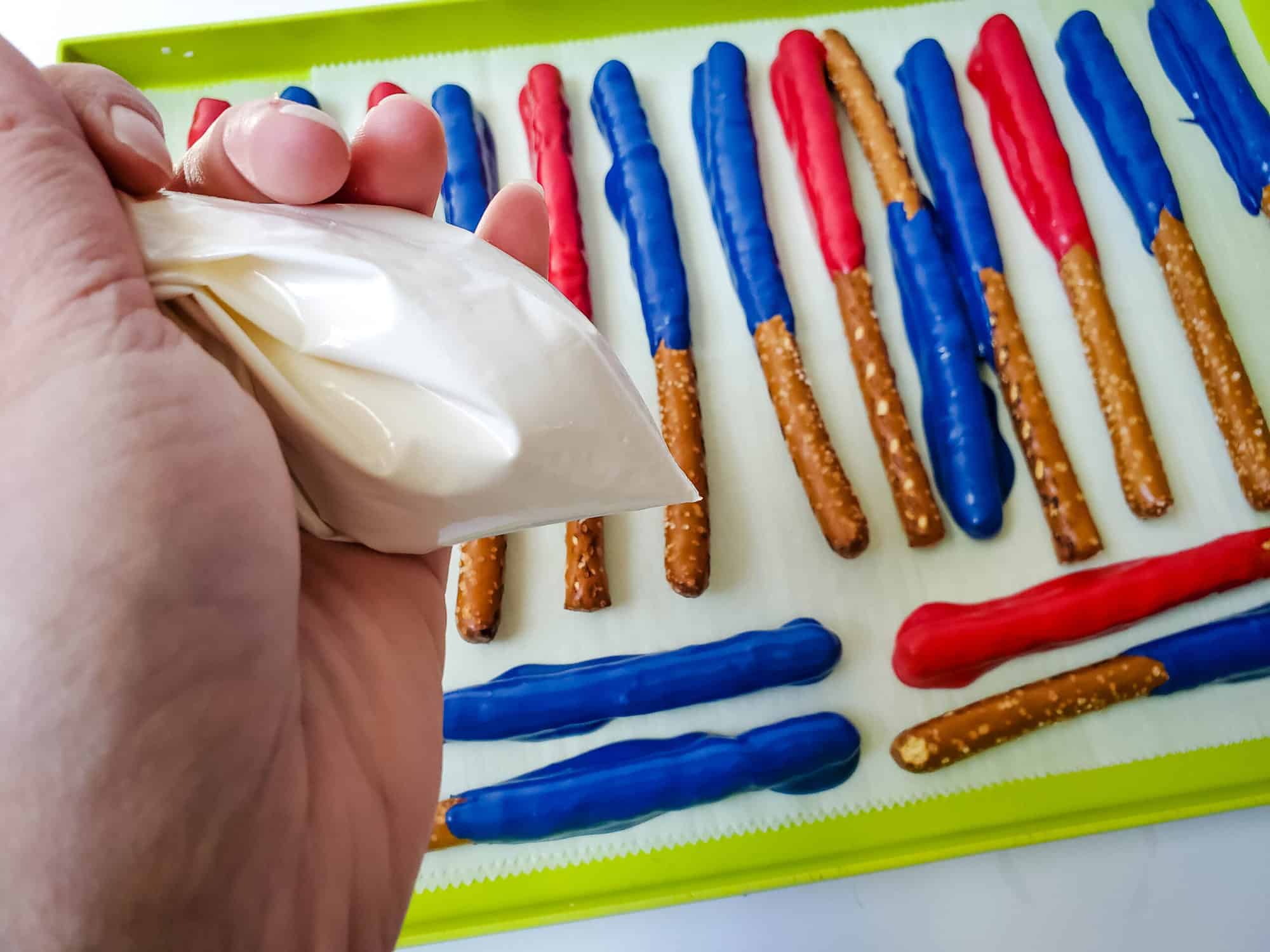 2. Add blue candy melts to a microwave safe bowl. Add red candy melts to another microwave safe bowl.
3. Heat in 1 minute increments, stirring between each heat session, until candy is fully melted.
4. Dip pretzels in melted candy, using a spoon to help pour the candy over, covering about half of each pretzel. Set on parchment lined baking sheet.
5. Add white candy melts to a ziplock bag and heat in the microwave for 30 second increments, kneading bag after each heat session, until fully melted.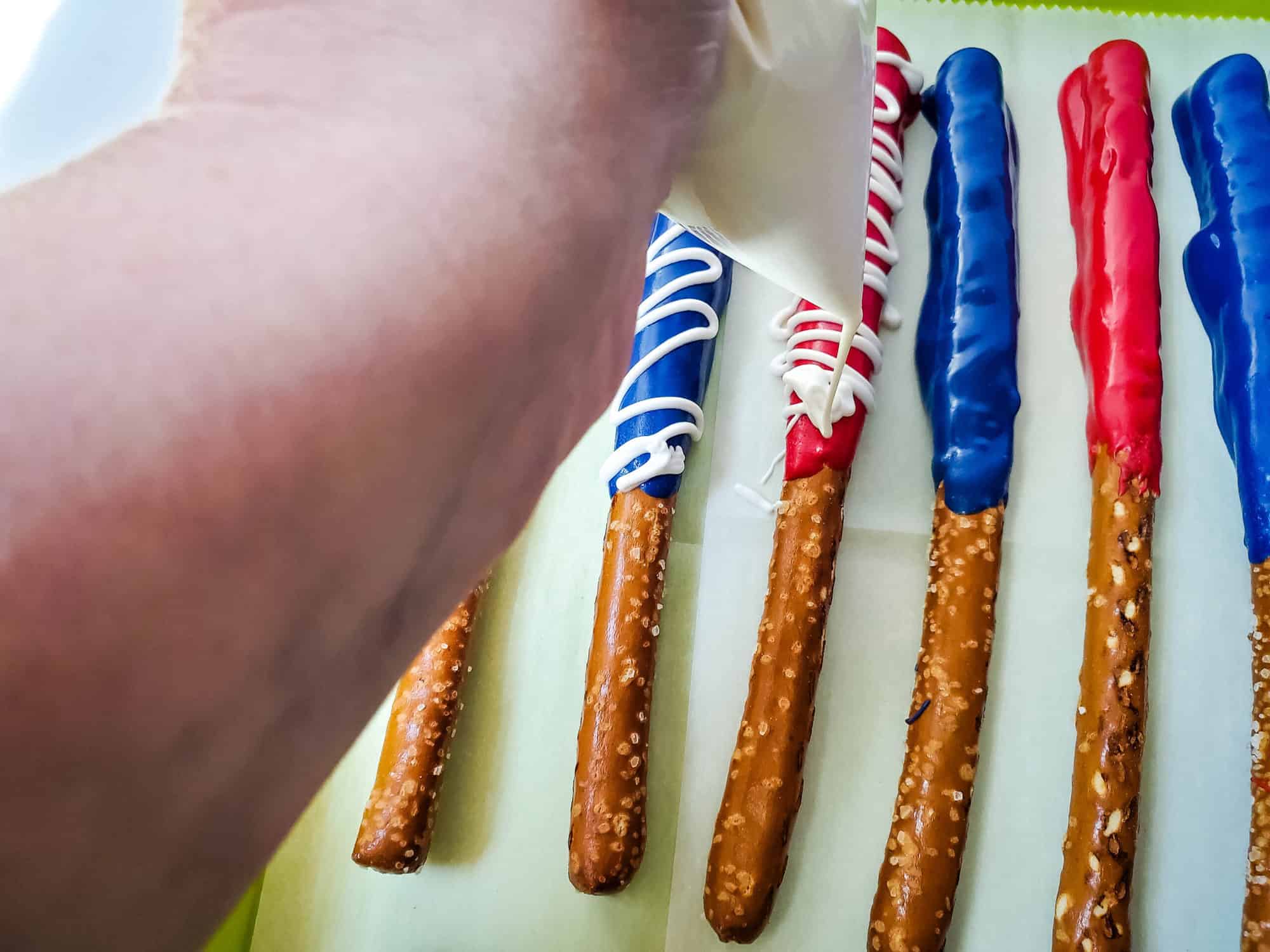 6. Snip the very corner of the bag off with a scissors, and using a back and forth motion, drizzle white candy over each pretzel.
7. Top with sprinkles.