Disclosure of Material Connection: Some of the links in this post may be "affiliate links." This means if you click on the link and purchase an item, I will receive an affiliate commission. Disclosure in accordance with the Federal Trade Commission's 16 CFR, Part 255. This site is a participant in the Amazon Services LLC Associates Program, an affiliate advertising program designed to provide a means for sites to earn advertising fees by advertising and linking to Amazon.
What do you get a mom-to-be for her very first mother's day? These gifts will help you pamper her so she feels special even before baby arrives. We have even more ideas here!
Expecting mother's are a discerning bunch when it comes to gifts, and for good reason! If you want to be sure your gift is practical and safe, check out Bump Boxes! Their products arrive subscription-box style, with the added excitement of a surprise!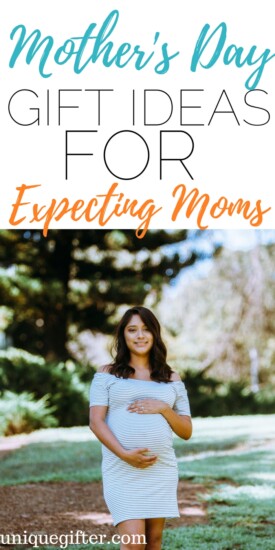 My First Mother's Day Shirt
This cute t-shirt will let the world know that yes, she's expecting, and this is her first Mother's Day.
Belly Butter
Help the mom-to-be feel a little bit more comfortable by giving her some good quality lotion.
Photo Frame
Unlike most picture frames, this one starts out during pregnancy so it's an ideal gift for expectant mothers. There's nothing worse than waiting with empty frames for the baby to arrive!
Mommy Coffee
Mom is being conscious of what she passes on to baby so she's not drinking the coffee that she used to. Give her a little bit of normal with this mommy coffee that's safe for pregnant women.
Pregnant Woman Necklace
This simple yet gorgeous necklace is definitely going to be a hit with the expectant mother on your gift list.
Mom 5 Year Journal
Help her remember everything in those exhausting first few months with this journal. It's specifically designed for moms so they can record their lives just as they are.
Bump Box
These gift boxes are a great way to show pregnant women that you're thinking of them. Packed full of special gifts and pampering, there's one for each trimester.
Pregnancy Stickers
It's never too late to start taking bump pictures and keeping track of weekly milestones! There's one for each week that mom can stick on her belly for a cute photo memory.
Nursing Infinity Scarf
Fashionable yet practical! This scarf is designed to look good and be used as a breastfeeding cover.
Baby Mama Cuff
If jewellery is more her thing, this stamped cuff makes a great gift for expectant mothers that can still be worn when the baby is born.
From Bump Mug
Get mama a little something from the bump! This mug has a cute saying on it that she'll definitely cherish.
Keep Calm Socks
She'll be all ready to deliver the baby after you gift the expectant mom these socks. Keep calm and push on. Good advice.
Sh!t No One Tells You
While she still has a bit of free time get her reading up on what parenting is really like with this hilarious book. Maybe reading this first will prevent mom from making dire mistakes such as buying "the cute onesies with a thousand impossible buttons".
Maternity Pillow
The best gift you can give to any mom, including expectant moms, is sleep. This pillow will help make her more comfortable as the baby does the opposite.
Mother's Day Sign
A great way to help her reveal her pregnancy or as a fun joke to hang up, this sign is custom made and available in multiple sizes.
Someday Book
This charming book will have the mom-to-be, and any mother really, bawling before she even reaches the end. A sweet story of how our kids grow up.
Mama Bag
Yup, this bag says it all.
Napping for Two Shirt
What did I say earlier about sleep? Don't make her feel bad about taking naps. After all, she is napping for two.
Gift Basket
If you're not sure what to get a pregnant mother for Mother's Day this gift basket is the perfect solution. It's full of nice relaxation gifts for her to enjoy.
Activity Book
For the expectant mom with a sense of humor, this coloring book is a perfect way for her to relax and enjoy her pregnancy.
Thanks to your her first Mother's Day is going to be memorable.